Though the market is flooded with high-capacity power stations, portable power stations still have their own position with huge benefits like the convenience of storing and transporting substantial energy. Historically, industry giants have benchmarked their offerings around $1 per watt or per watt-hour. However, in this ever-evolving market, newcomers are challenging this pricing norm. The VTOMAN FlashSpeed 1500, priced at just $870 at this time, does not only amplify utility but also bring a competitive price point of approximately $0.58 per watt-hour, recalibrating expectations for energy storage solutions.
Specifications
| | |
| --- | --- |
| Capacity | 1,548Wh (Expandable to 3,096Wh) |
| Battery Type | LiFePO4(LFP) Battery |
| AC Output | 3x 110V~ 60Hz, 1,500W (3,000W Peak) |
| USB-A Output | 3x 5V-2.4A |
| Quick Charge 3.0 Output | 1x 18W, 5-3A, 9V-2A, 12V-1.5A |
| USB-C Output | 2x PD 100W, 5V-3A, 9V-3A, 12V-3A, 15V-3A, 20V-3A |
| Car Output | 1x 12V-10A |
| DC Output | 2x 12V-10A |
| AC Input | 100-130V, 1,500W Max |
| Anderson Input | 30-60V, 400W Max |
| DC Input | 12-20V, 200W Max |
| UPS Function | Yes |
| Pass-Through Charging | Yes |
| LED Flashlight | 5 Modes (Weak/Medium/Strong/Strobe/SOS) |
| Net Weight | 41.5 lbs |
| Dimensions | 15.6″L x 10.5″W x 11″H |
Design and Build
Inside the box, you can find an AC charging cable, a DC (car) charging cable, a USB-A to USB-C cable, a USB-C to USB-C cable, and the power station.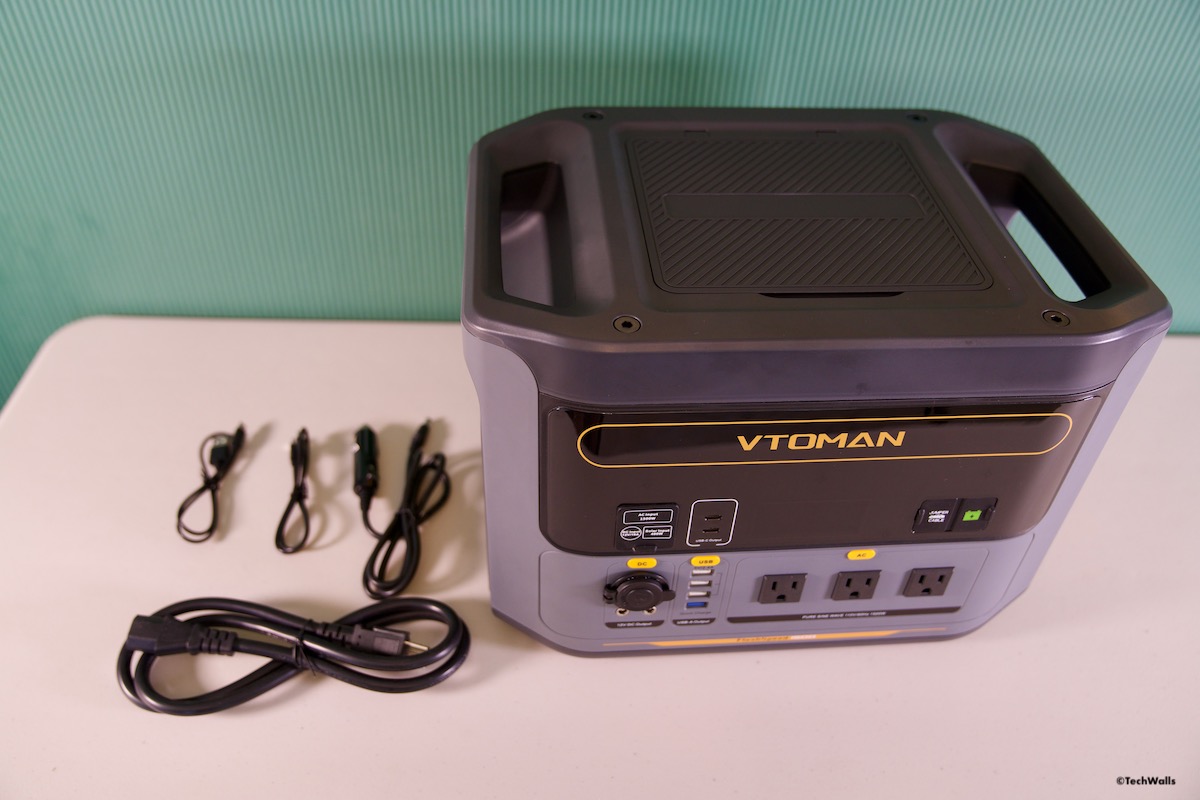 The VTOMAN FlashSpeed 1500 is certainly not for the faint-hearted, weighing over 41 lbs and resembling an oversized car battery. With sturdy carrying handles on each side, it is not a problem carrying the power station over a short distance, but any considerable distance would prove challenging. Its design is one of its strongest points. The flat top allows for stacking and also features a handy storage compartment for charging cables – a design choice I find more useful than wireless charging.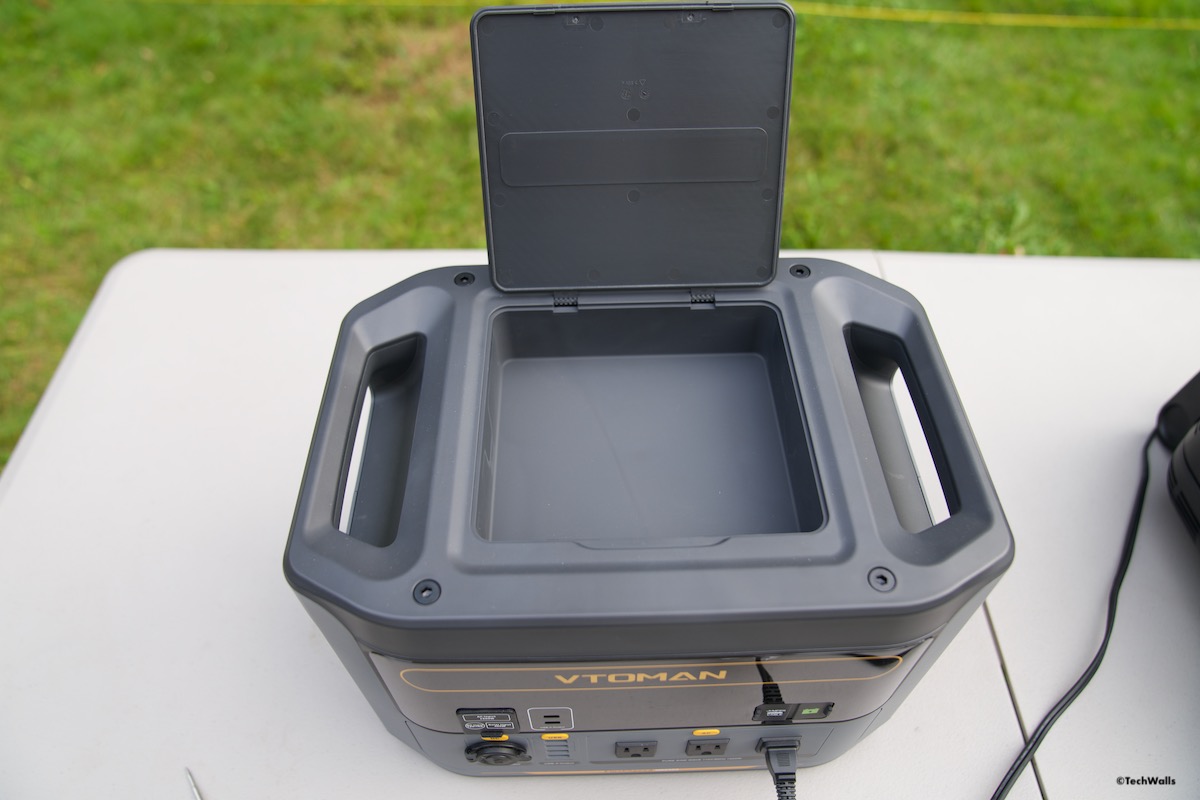 Power Output and Solar Charging
This power station is nothing short of impressive. Boasting a continuous output of 1,500 watts (with a 3,000 watts peak), it can comfortably run a blender, cooking appliances, power tools, and even a small refrigerator. On a practical note, its three-prong AC ports are spaced out generously, accommodating larger power supplies. The USB-C ports, supporting up to 100-watt Power Delivery, are very useful for charging my iPhone, iPad, and MacBook Pro, while the QuickCharge 3.0 USB-A port ensures rapid charging for other devices.
However, where the FlashSpeed truly shines is in its charging capabilities. A potential input of 2,100 watts ensures rapid charging, and in my test, a full charge via a wall outlet takes just about an hour. The AC charging is fast but I don't use it much because I want to take advantage of solar energy. I connect two 200W solar panels to the FlashSpeed via the Anderson port and manage to charge at around 200-300W during the Fall. This is not bad at all and I still can fully charge the power station on one sunny day.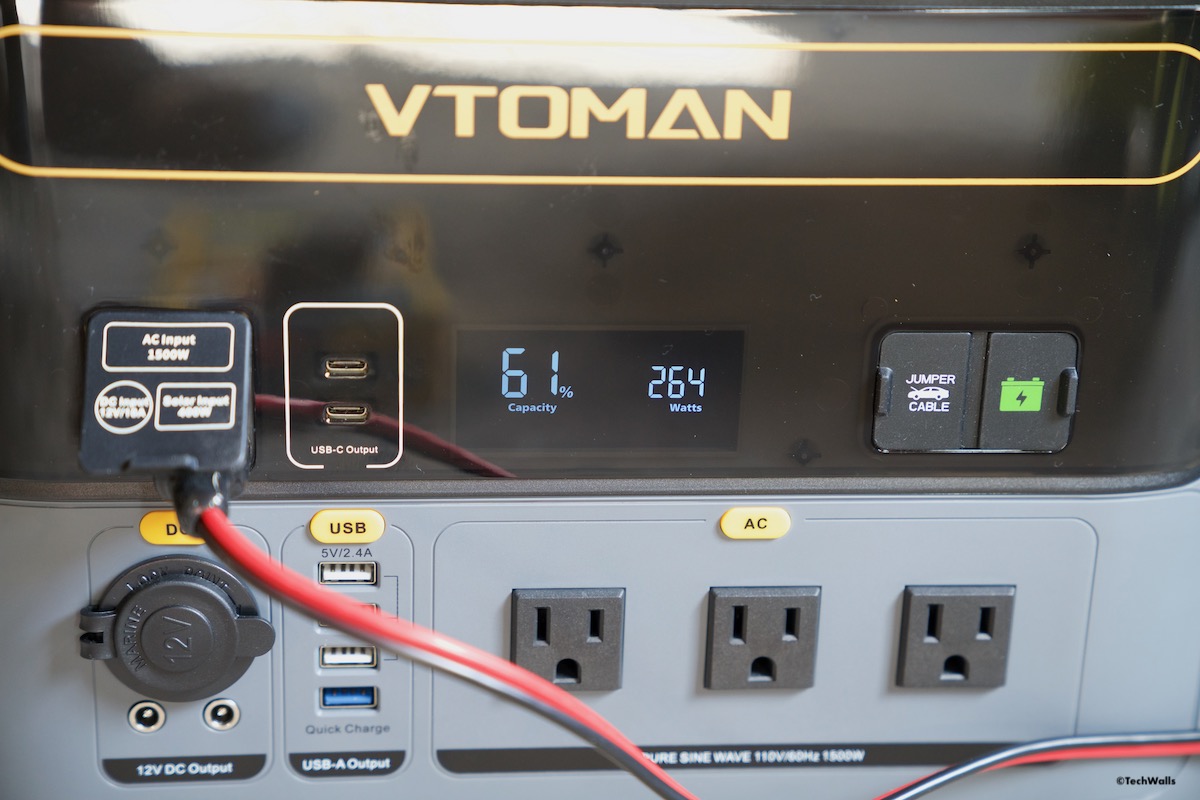 Battery Performance and Safety
The shift to LiFePO4 batteries is commendable. VTOMAN promises over 3,000 cycles with enhanced safety, a substantial upgrade from its predecessors. Coupled with the native LiFeBMS system, the FlashSpeed assures protection against various battery-related concerns.
One of the strongest selling points of the FlashSpeed 1500 is its versatility. From acting as a home backup solution, powering up professional tools, assisting during outings, and even functioning as a UPS or jump-starter, its applications are broad and impressive. Another benefit is that you can connect it to a FlashSpeed 1500 Extra Battery (sold separately or as a bundle), to expand the capacity from 1,548Wh to 3,096Wh.
I had a power outage at my house last month and that was a good chance to test the FlashSpeed. It came really useful with built-in LED light on the back and I still could use my tower fan for the whole day.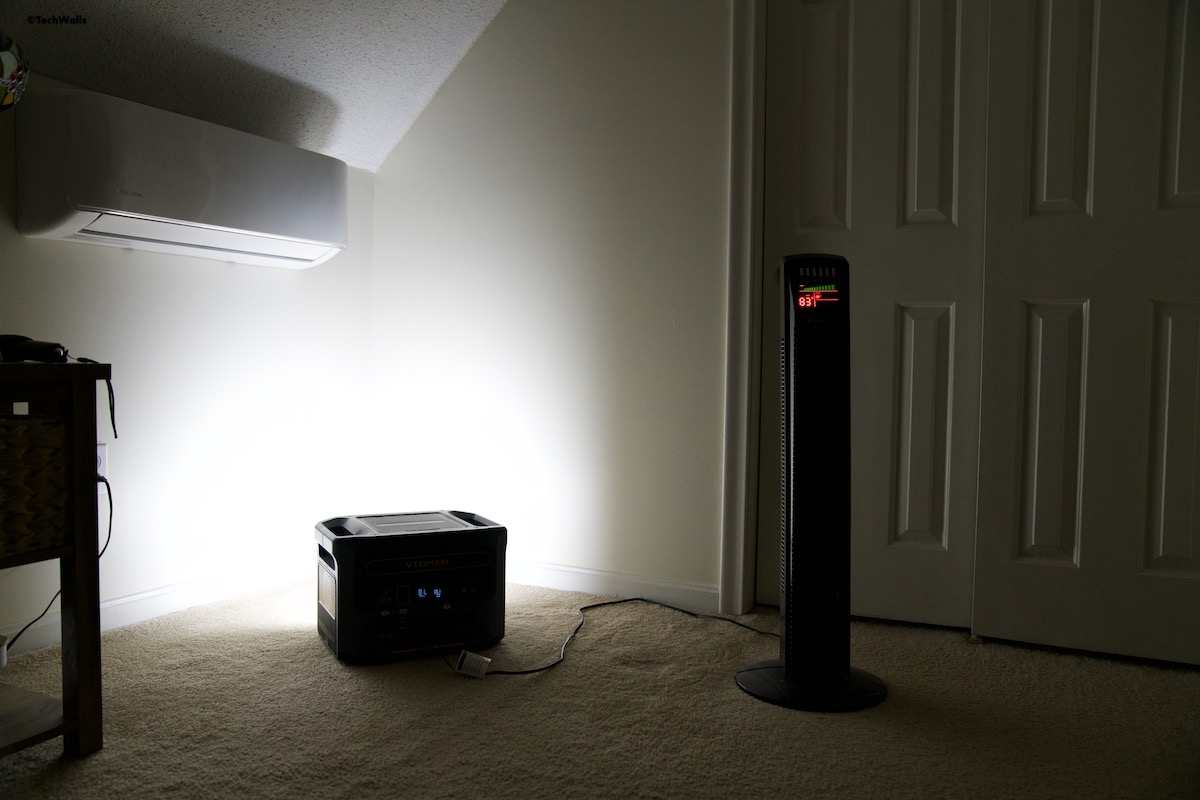 I also test the battery efficiency by putting a continuous 1,550W load on it. The battery state of charge drops from 100% to 20% in 40 minutes and completely drains out after 48 minutes. So, the battery efficiency is estimated at around 80%. The number is quite good as compared to some recent power stations that I've tested; Some of them had much lower efficiency (around 60%).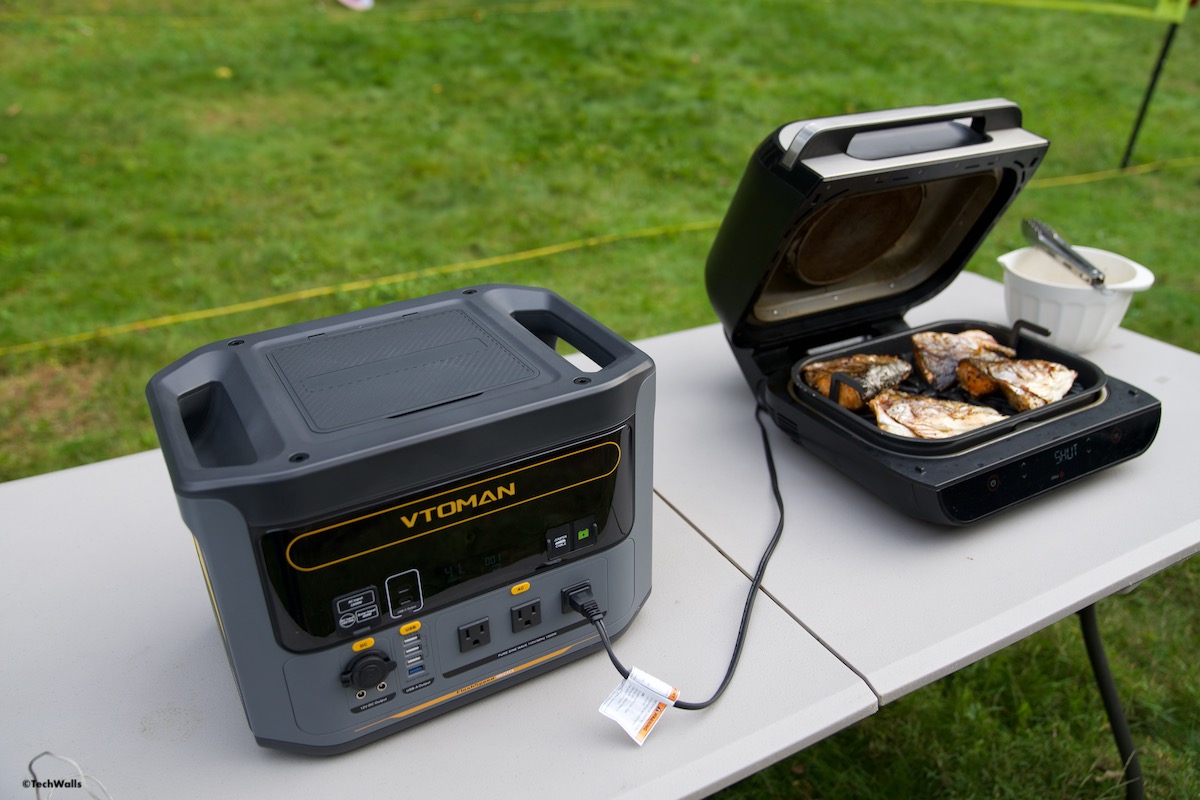 If you take it out for camping, you can bring an air fryer with you; And the power station can last long enough to cook a meal for your whole family.
Drawbacks
The FlashSpeed has really good performance and I was completely satisfied with it. It has just a minor shortcoming. The lack of an ETA on the display during usage can be slightly inconvenient. The display is really simple and only shows the remaining battery percentage and current input/output power. While this might not be a deal-breaker, it's an area where VTOMAN can improve in future versions.
Final Thoughts
The VTOMAN FlashSpeed 1500 Portable Power Station has done a lot of things right. It does its job really well without any gimmicky features. I've tested it for a few months and I'm still very happy with the build quality, charging capabilities, and safety features. Moreover, the potential to expand its capacity with an additional battery or use it as a jump starter further extends its utility.
In essence, whether you're a professional needing power on the go, an outdoor enthusiast, or just someone looking for a reliable home backup, the VTOMAN FlashSpeed 1500 ticks almost every box. It's a versatile power station at an affordable price, making it a good choice for those who value performance and reliability.
Disclosure: We might earn commission from qualifying purchases. The commission help keep the rest of my content free, so thank you!