After four previous generations of racing wheels, PXN has brought out the V10 racing wheel and it's a real treat, and probably the best force feedback wheel you can buy until you have to upgrade for a real direct drive wheel, which are in a whole different price class. Let's have a look why I love this wheel for my racing games, and what makes PXN so special.
The product
The V10 is the most complete package for a racing wheel I've ever seen. It's a modern wheel with lots of buttons, three pedals, and an H-shifter. Which is insane for this price. It works on PC, PS4, Xbox One, and Xbox Series X & S.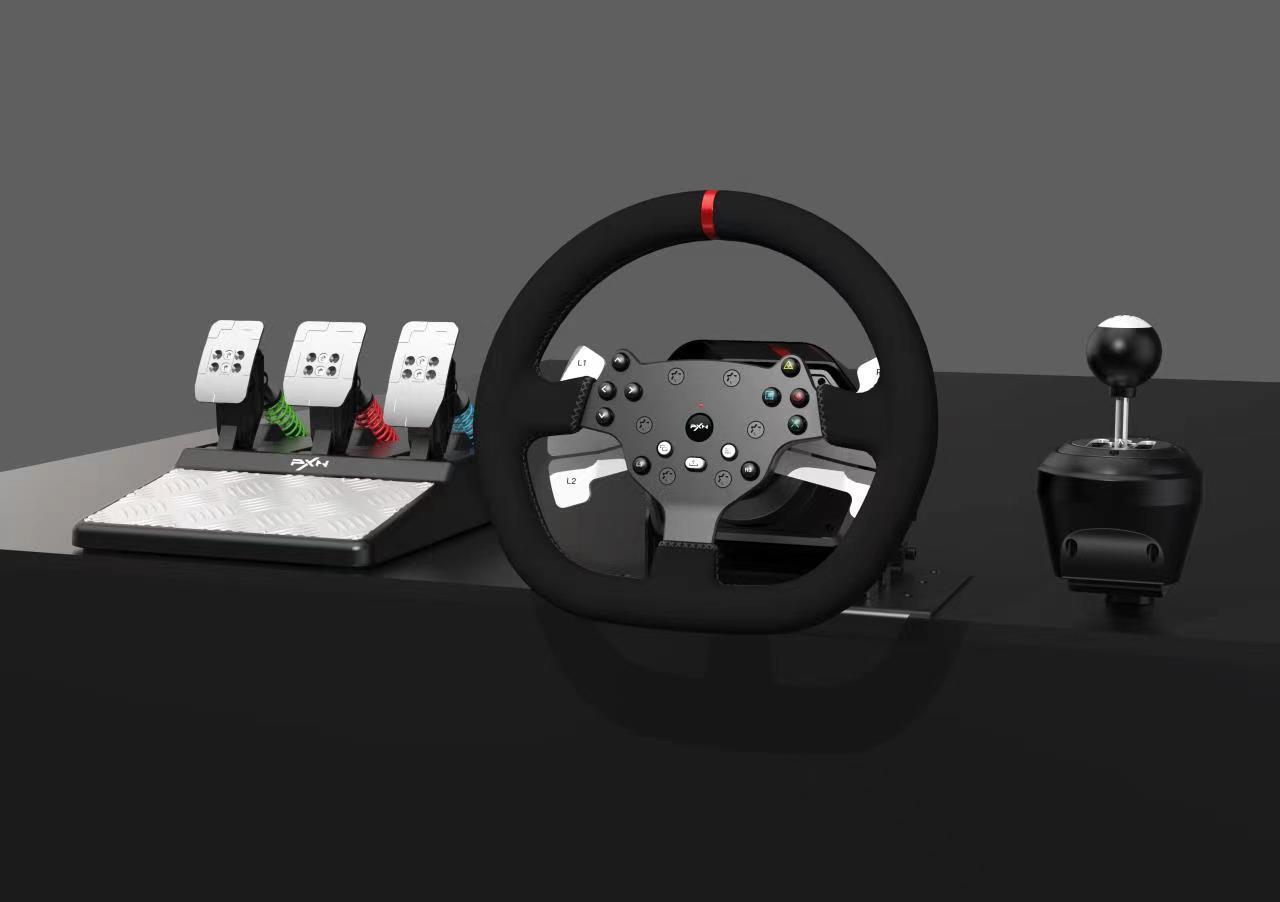 I love the way the racing wheel looks; something like an early 90s F1 car's wheel, or something you see in GT3 racing now. There are 14 buttons and four paddle shifters so it's easy to configure for in-game functions like brake bias, radio, pit limiter or even browsing through a menu while you're racing (the left side of the racing wheel has four arrow buttons). It's also detachable from the base so it's easy to store.
The pedals are solid, with a big baseplate to rest your heels. They're fully adjustable, not just the position but also the strength of the springs in the pedals. Some people like to have their braking and throttle very light, but if you train yourself to use heavy springs, you can train muscle memory and perfect your braking on every lap. The pedals use Hall effect sensors, which are magnetic but they measure the gradual input, so not just "on-and-off" but exactly how much throttle or braking you're applying. And very precise, which is what you want when you're braking for a corner in either an F1 car or a big truck.
There's also a clutch pedal — something you don't see in all racing wheel sets. You may not use the clutch pedal if you're racing in F1 games from Codemasters, but if you're driving a sixteen-wheeler in Euro Truck Simulator you may want to, as well as using the H-shifter.
The build quality is solid. There's no slack between the panels nor the steering column, and the wheel comes with two clamps to install it on your rig or table, so it sits stable there too. The base looks slick in its matte black finishing and the wheel itself is covered with suede leather for better grip. In fact, there's none of that cheap plasticy feel you get from other wheels in this price class.
How the V10 came to be
So PXN has shared some information about how this racing wheel came to be. They realized that the gaming market had very few affordable force feedback racing wheels on the market, or that those racing wheels had very little torque in their motors — which cannot meet most user needs. PXN is from Shenzhen (China) so they were also inspired by the first Chinese F1 driver, Guanyu Zhou, and thus set out to produce the best force feedback racing wheel on the market.
The wheel builds on the success of PXN's previous wheels, the V3, V900 and V9, although those could be seen as more toy products — while the V10 is a real racing wheel for adults — so good that even professional drivers could train with it. Not just that: The V10 is also the stepping stone to the future V11 & V12, which will be direct-drive wheels according to PXN. And PXN says there will be more wheels to put on the V10's base, but possibly these will also be compatible with the V11 & V12.
Anyway – the V10 itself is built to be high-performance as well as cost-effective.
Powering this all is a motor with a torque of 0.2Nm, which delivers its force feedback without a drive belt. This is amplified 16 times by several gears, so despite this being plug & play the output is up to a maximum of 3.2Nm. It's not a real direct drive, but it's as close as you can get. Without a drive belt but with gears, the V10 maintains both strength and precision, which isn't just more enjoyable but also enables higher performance. You get instant feedback from your car's tires hitting the curbs, losing or gaining grip.
Force feedback racing wheels have 2 modes of transmission, a gear drive and a belt drive. The V10 is a gear drive racing wheel,
I've tried both a professional sim racing rig and the PXN V10 in Assetto Corsa Competizione, and while it's true a direct drive delivers more power, with 3.2 Nm force the V10 delivers more than enough. After racing over an hour at full force feedback strength, your arms may start to feel a bit worked out, but the precision is fantastic and way better than regular 'toy'-like force feedback wheels.
Then PXN realized another thing, mostly for console players, is that it's impossible to install a driver to configure the wheel on an Xbox or PS4. So you simply use an Android or iOS app, continually upgraded by professional technicians, to set your key bindings and sync with your wheel. It's not just key bindings but also the force feedback strength and input sensitivity, further helping your racing performance.
PXN to become a mainstream gaming brand?
PXN keeps impressing me. I already own a Konlin Ⅱ headset, but I know they also have TWS Earbuds, Arcade sticks, and several gaming controllers.
They're releasing products quickly and innovating with each new generation. PXN isn't a drop shipping or working with other factories — so everything is in its own control, from the factory to customer care. So if there's a problem, PXN will solve it for you. Plus they're real gamers. Jeremy from PXN posts regular updates on GTPlanet and listens to what racers want, and it reflects in the V10.
PXN is already endorsed by several prominent gamers and reviewers, from Beverly (DragongirlGamez) to Jasmine (whiteliongames), SDeal Gaming, April & Davey, and GriffoMedia.
The thing I like most about PXN is that they create affordable products, controller (9607X), headset (Konlin Ⅱ), arcade joystick, flight joystick etc. But the products still look great, and everything is thought about pretty well, from the hardware in the product itself to dedicated software and apps.
Disclosure: This is a sponsored post. We were compensated to publish it on our website.
Disclosure: We might earn commission from qualifying purchases. The commission help keep the rest of my content free, so thank you!