Yadea, the globally renowned electric two-wheeler brand, has recently introduced an enhanced high-power motor edition of their flagship e-bike, the Trooper 01 Electric Bike.
In a testament to the growing demand for environmentally friendly and efficient transportation options, the market value of e-bikes in Europe and America soared to a staggering $22 billion in 2022, marking a remarkable 33% increase compared to the previous year. Drawing in a rapidly expanding user base, e-bikes captivate consumers with their unparalleled blend of eco-consciousness, high performance, and unique entertainment features.
Riding the wave of this burgeoning trend, Yadea, as an industry pioneer, seized the opportunity to introduce their flagship product, the "Yadea Trooper 01," in 2023. Boasting not only impressive power but also an abundance of exhilarating and highly customizable attributes, Yadea Trooper 01 brings fresh energy into the e-bike market.
Empowering Riders with Advanced Technology, Features, and Unparalleled Performance
Yadea Trooper 01 has ELSD Electronic differential Active-passive suppression integrated algorithms to prevent slippage loss of control during starting and climbing and have better safety performance. As it is equipped with a dedicated TFT-LCD display, the status of the front and rear motors is displayed in real time. Front single drive, rear single drive, timely dual drive, full-time dual drive, multiple modes can be switched by the riders. 
The high energy density LG 21700 lithium cells (48V20AH) were used to effectively increase single cell capacity by 35% and energy density by 20%. The Trooper 01 also features a speed sensor system and 3 pedal assist modes, so bikers can adjust their speed depending on the terrain. Depending on the chosen terrain and pedal assist mode, the e-bike can provide a biking range of 25-55+ miles on a single charge, with the biking range maximized under eco mode.
The rear motor version of the Trooper 01 comes with a 750W rear drive hub motor. There's also a 1000W dual hub motor version which is equipped with a 5.5-inch display screen. The retro straddle-style motorcycle design, as the owners claimed, will appeal to the Gen-Z and Millennial bikers who are environmentally conscious. Also, the personalization options will meet the personalized DIY requirements of individual bikers.
Yadea uses an intelligent battery management system for safety and durability. The full suspension system provides much more stability, rollover obstacles with ease dual suspension provide better comfort and stable feeling. In addition to that, the TEKTRO front and rear hydraulic two piston disc brake provides bikers with more braking power. At the same time, five-year warranty on the motor offered by Yadea.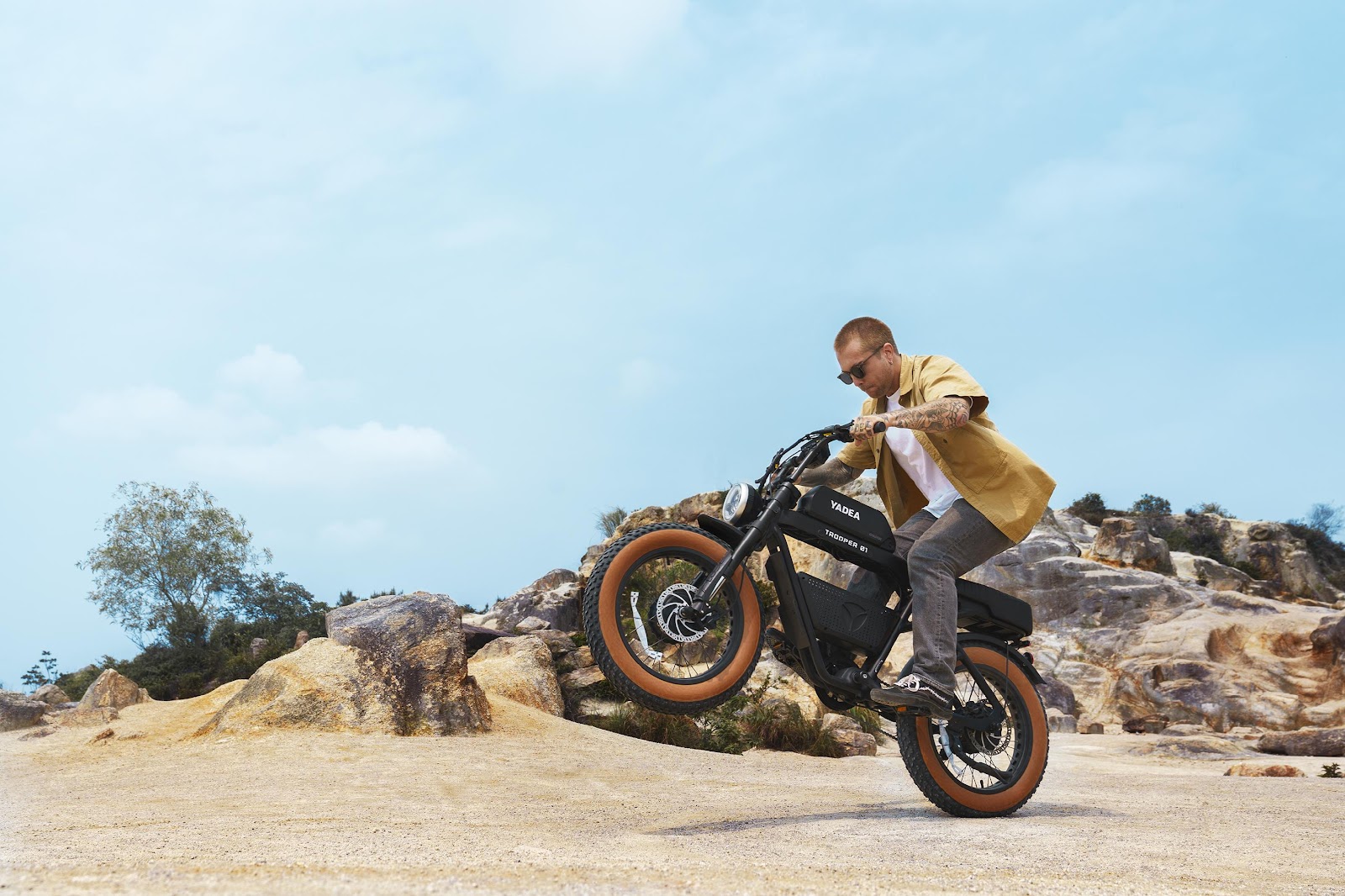 Yadea has the world's largest production capacity of e-bike, and has a technical team comprising top talent from China's Top 5 universities. This team is dedicated to developing core components, as well as collaborating on appearance design with premier global firms. 90% of the motors in its products are the outcome of independent research and development.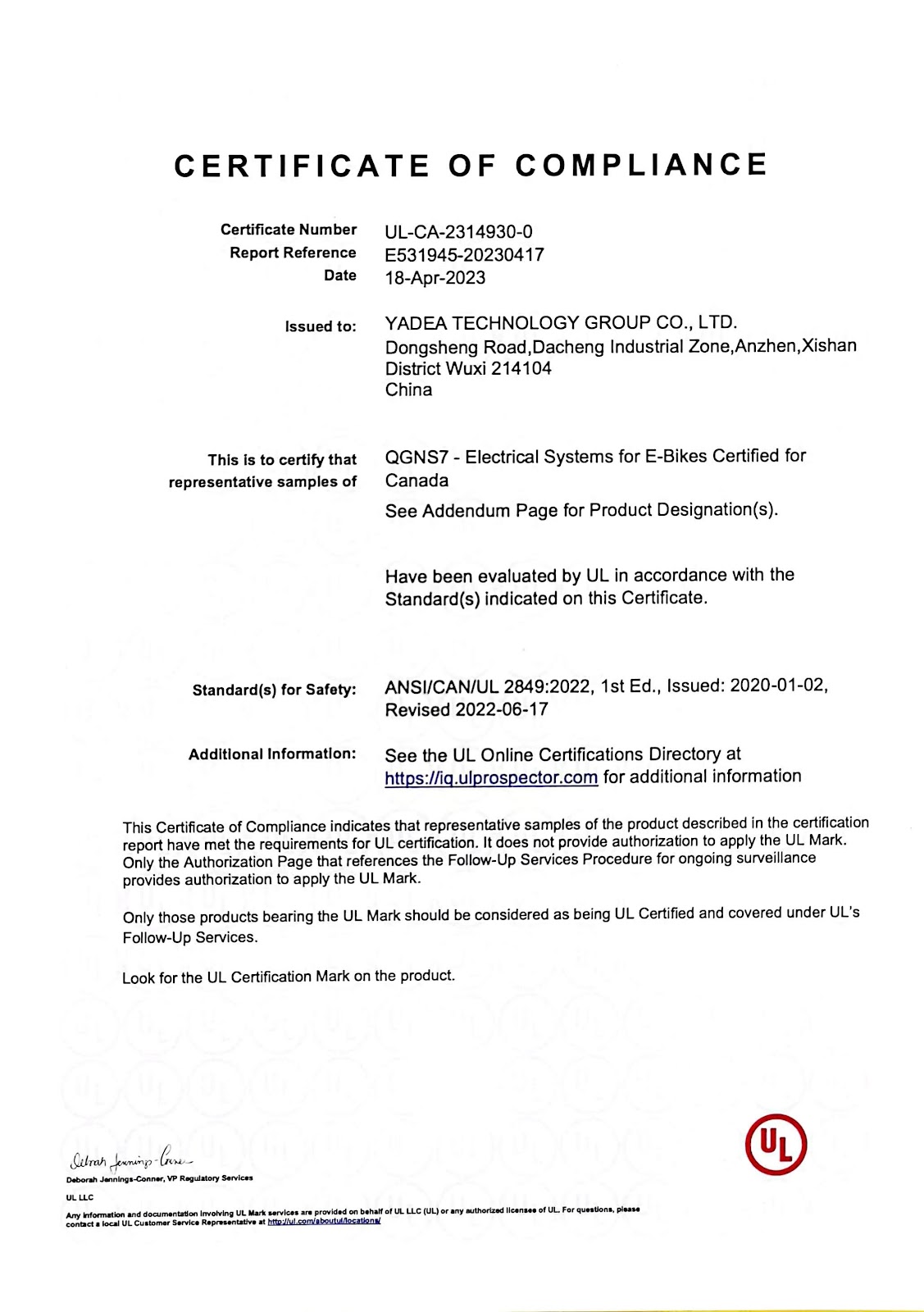 According to the executive, the old-school style Trooper 01 contains a high power motor and straddle-style motorcycle looks brings the unforgettable and strong visual effect on riding experiences. The straddle-type alloy frame has a disruptive design as it is very different from traditional e-bikes. Yadea has already patented the design in various countries.
The e-bike is also equipped with the BMS battery protection that extends the battery life. The extra-bright headlights and taillights are easy to recognize from a distance, which makes it easy for riders to bike at night. In addition to that, they can use the hydraulic disc brakes at the front and back to ward off dangers on tough terrains. The bike also comes with IP65 waterproof LED lights that keep it clean on rainy days.
Yadea Trooper 01: Redefining Your Cycling Experience
"Hitting the road with Trooper 01 is easy. The biker just needs 15-20 minutes to assemble the e-bike and it's even easier if they follow our assemble specification and instructions. To ensure smooth operation, rider safety, and longevity, bikers just need to do pre-ride and post-ride checks as a routine, and they should also check the bikes annually or bi-annually to see if everything is ok. We also have guidelines on the site as to how to do the checks of core components periodically. Regular bikers should do the checks more frequently than amateur or casual riders", said an executive of Yadea.
He maintained that inspecting the rims and tires is necessary for biker safety and cleaning the frame with a dry rag is also recommended. In addition to that, bikers need to check the battery life and charge the e-bike as necessary before each trip.
"It's an all-terrain bike, and suitable for off-road expeditions but since there are electrical components, bikers need to check the health of their bikes regularly. We follow the IP65 water-resistant standard, which indicates that the components are safe from multidirectional water jets. Therefore, it's safe to ride the bike when it's raining lightly or moderately. The bike is not ideal for snow-covered terrains or places where it's snowing incessantly. The general rule of taking Trooper 01 on the road is any weather condition that impacts the rider's visibility and affects the bike functionalities is not safe and bikers should practice caution in such scenarios", he said.
Yadea: Pioneering the Global E-bike Revolution
Yadea, a leading Chinese manufacturer, is revolutionizing the electric mobility industry with its cutting-edge research and development. With a wide range of electric motorcycles, mopeds, bicycles, and kick scooters, Yadea has gained recognition as a prominent e-bike brand, boasting an impressive customer base of over 70 million in 100 countries. Spanning across 40,000 retailers worldwide, Yadea has maintained its position as the top seller in the e-bike industry for six consecutive years. Beyond its commercial success, Yadea is committed to promoting sustainable transportation solutions, championing a cleaner and greener future for all.
Disclosure: We might earn commission from qualifying purchases. The commission help keep the rest of my content free, so thank you!