When you want to get the answer to a question, chances are you'll simply Google it and walk away satisfied. Yahoo Answers might even be a close second in a venue you'll go to when in need of an answer. However, many people have found that discerning the correct answers from those that aren't based on fact is much harder on Google and Yahoo Answers.
For three years, Quora, a portmanteau of "Question or Answer", has been the go to site for many individuals who want detailed answers to their questions, a place to perform research, or simply a place to give out your knowledge on a specific topic. How do you get started? Today, we will discuss how to dig into Quora.
Getting Started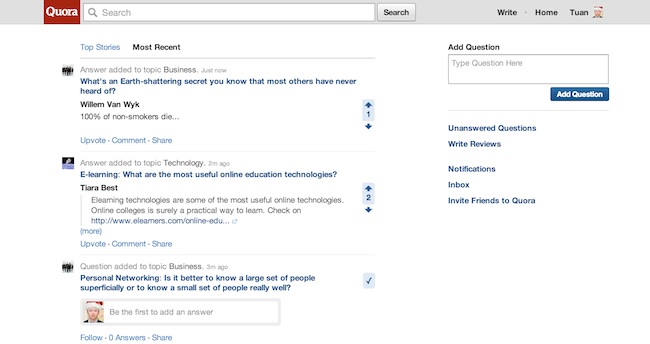 Without registering, Quora allows you to read a sample of answers to questions, but you can't post any questions, answers, or take advantage of the other aspects of Quora. But registering on Quora is very simple and easy to do, with Facebook and Twitter signup options available as well. After signing up, it's recommended to download the Quora mobile application as well. This is the perfect and quickest way to stay connected to Quora.
Quora for iOS and Android
Building Your Knowledge Base
After you sign up, Quora will ask you to follow a couple of topics. Whenever you update your profile with a city, occupation, or interest, you will also be automatically added to follow that topic. When you follow a topic, this allows you to receive on the homepage the top questions of that category. Topics range from everything imaginable, startup companies, health, food, travel, etc. But they aren't as general as what I've listed above, topics are meant to be as specific as possible.
Of course, if things get out of hand and you find yourself with too many topics coming in, you can always unfollow a couple in the Settings section of Quora. To ask a question, simply type what you'd like to ask in the search bar, if you don't find the question, ask it on the right hand side of the results page.
Sharing Your Knowledge
Quora is based mostly on searching around to absorb information, but it is also just as much about answering questions you have knowledge about as well. As you answer questions, you are able to gain credits. Also, when you have an answer "Voted Up" you gain credits as well. To vote up or down an answer, you'll find two arrows located at the left of an answer.
You will have credits deducted when you ask a question or when you request for someone to answer a question. You can even charge to have people ask you to answer a question. Your going rate can be adjusted in Settings.
The Strengths and Fault
There is a lot that Quora has going for itself. The website is very appealing and when coupled with the mobile application, it is very addicting. However, some individuals, including myself, didn't know how to get started. It seemed like it was a bit difficult to find questions to answer. However, once you get a hang of the network, you'll be hooked.
Ten Great Questions
To get you started on Quora, here are ten amazing questions that will allow you to get a feel of how diverse Quora is in its questions and answerers.
Quora is a great website to build knowledge. As you can see from this Quora thread, it can even be addicting. Quora is a great mix of serious topics, interesting stores, and a lot of funny ones. But Quora isn't exactly for every knowledge seeker. However, you won't know if it's for you until you try it. Check out Quora today, and let us know what you like the most about the website.
Disclosure: As an Amazon Associate, I earn from qualifying purchases. The commission help keep the rest of my content free, so thank you!