Twitter is at it again. The social network released a pretty nice update on Tuesday, allowing users to get better notifications and an improved user experience. In terms of features, the first feature that was unveiled was expanded tweets. Expanded tweets now allow you to read a snippet of a linked news article and even watch a linked video, right from the tweet.This is a bit similar to what we can already do on Twitter.com.
For example, on the website, when an individual links a photo or video, you can view it when you click to expand that tweet. However, due to the fact that this is very dependent on a website's content, support isn't universal just yet. This may come across as a bit glitchy for you to expand for a couple of weeks while it gets rolled out.
Twitter also allows for a better user experience when viewing hash-tagged (#) events. For example, if you are watching the MTV Music Awards at home. If MTV, for example, had the hashtag #MTVAwards, tweets about the awards and photos officially from MTV would take precedence. It's a bit different from sponsored tweets, and more on creating an event experience on Twitter, rather than just having a sponsored tweet appear first in a search. Influential individuals also are one of the first tweets shown as well.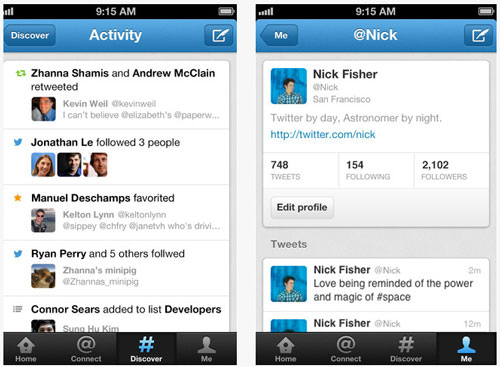 The application now allows you to choose to receive notifications from tweeters you are following. If you want to get push notifications from you favorite presidential candidate sent to your phone, for example, that is possible along with any other user. Want to keep up with your daughter's tweets? That's possible as well. From anyone influential to mundane, you can receive their tweets pushed to your phone.
When you receive a notification to your iPhone or Android device, instead of having it pop up as a separate window, it now appears quietly at the top. This allows you to continue what you are doing without being distracted. Aside from this, there are better autocomplete searching and more.
Twitter for iPhone and Android is available for download today in their respective app markets and stores. Twitter for iPhone and Android is still free and ready for you to enjoy now! Let me know in the comments what possibilities you see with the new features released. I feel that with the new push notification features, it will make it easier to know and respond about breaking news and developments that occur in the world.
Disclosure: As an Amazon Associate, I earn from qualifying purchases. The commission help keep the rest of my content free, so thank you!