Finally the year 2011 has passed and it is now the first days of 2012. Many people are still enjoying the holiday and I could see its effect on my blog, the traffic to my blog in the last few days has dropped significantly. However, it is not a big problem because I know the visitors will come back soon. To celebrate the new year and new milestones my blog gained in the last month of 2011, I will share the report on traffic and revenue stats in the first post of the year.
If you followed my old blog, I mentioned my 5 goals set for last year, they are:
Write more high-quality articles
Get 3000+ unique visits per day
Reach top 50,000 in Alexa Ranking
Interact more with readers and other bloggers
Increase the income to around $1,000 per month
The goals have become more difficult to reach after I sold my old blog to concentrate on TechWalls, which was created in February 2011. The fact is that I couldn't accomplish all those goals and probably I will need a few more months to complete them. Although there is still a long way to go, I am still proud with what I've done in the last year as TechWalls has been more well-known and it also reached some important milestones. Here are the results for the 5 goals above:
1. Publishing 1 Article each day
The post frequency of my blog was just about 2-3 posts each week till September 2011. I would have never increased the frequency if my blog hadn't been affected seriously by the Google's freshness algorithm update. The traffic to TechWalls dropped by 70%, then I had to find some solutions for the issue. The first thing is writing more articles and my blog now is updated daily with new articles. I couldn't accomplish the task without helps from the writer team including some great bloggers like Emmanuel Banks or Ali Waqas. I am keeping the rate at 1 post/day and trying to increase it to 2 posts/day in 2012.
2. Get 1,500 unique visits per day
The unique visits are just as half as the goal I set earlier. Actually I reached the goal in September but I couldn't keep it because of the Google Panda update. The traffic to this blog has been recovered now but it is still far from the 3,000 visit milestone. Maybe I will need at least more 6 months to reach it.
3. Listed on Top 50,000 Sites by Alexa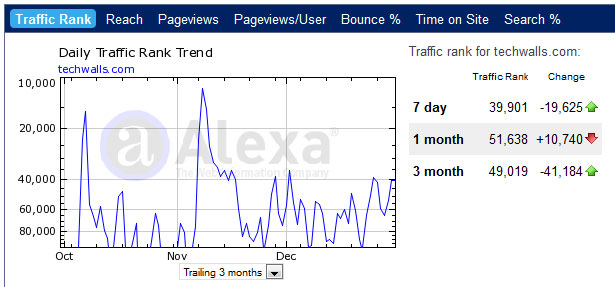 Finally TechWalls has joined the top 50,000 Alexa club on the last day of 2011. I never consider Alexa rank as an accuracy metric to determine the popularity and traffic of a website but undoubtedly it is still very important. I've got a lot of chances since the rank keeps increasing and this is the highest ranking I've ever had on all my blogs. Even my old blog, which is over 3 years old, could just reach the top 70,000 in Alexa ranking.
4. Trying to interact more with bloggers
This is another goal I failed last year. I couldn't find enough time to visit and comment on other blogs. All I can do is spending just about 30-60 mins at weekends to interact with bloggers. I will try to leave more and longer comments on relevant blogs in the upcoming time. This seems simple but I find this is quite a time-consuming and daunting task, especially recent blog posts don't have strong and unique points.
5. Reach the new milestone of $1,000 in revenue
December is the 2nd time in 2011 that TechWalls reached the milestone of $1,000 in revenue. In fact, it is even higher than I expected. The gross income reached $1,547 and here is the breakdown of my revenue sources:
Google Adsense: $514
Teliad: $147
SocialSpark: $271
Private Sponsored Posts: $528
Affiliates: $30
Amazon Associates: $57
How about the traffic and revenue of your blog in the last year? Did it get what you expected? Share your thoughts in the comment section below.
Disclosure: As an Amazon Associate, I earn from qualifying purchases. The commission help keep the rest of my content free, so thank you!