Ever since the launch of the Model S back in 2012, Tesla has been leading the technological revolution in cars with many industry-first features offered over the years. Tesla also leads the pack when it comes to their in-house software which controls every aspect of their cars. The system is capable of providing updates to almost everything including the core systems, unlike competitors who mostly update their infotainment system. This helps owners update their cars without the hassle of taking them to dealers.
Tesla currently uses a standard LTE connection to update their cars, but plans to use Starlink satellite internet are currently in the pipeline. Unlike regular IC cars, EVs require little to no maintenance thanks to their simple nature, and over-the-air updates allow customers to improve their cars without even taking them out of the garage.
Even though Toyota is one of the biggest automobile manufacturers in the world, producing excellent SUVs like the 2021 Toyota Land Cruiser which is built to take on any type of terrain, and even smaller crossovers like the 2021 Toyota RAV4 which is also surprisingly capable off-road. The Land Cruiser received minimal changes this year other than a few feature changes on the Heritage edition. The RAV4 can now be bought with a new plug-in hybrid drivetrain that also offers the most performance in the line-up. Both these SUVs are very capable but lack in terms of software and updates especially when compared to Tesla.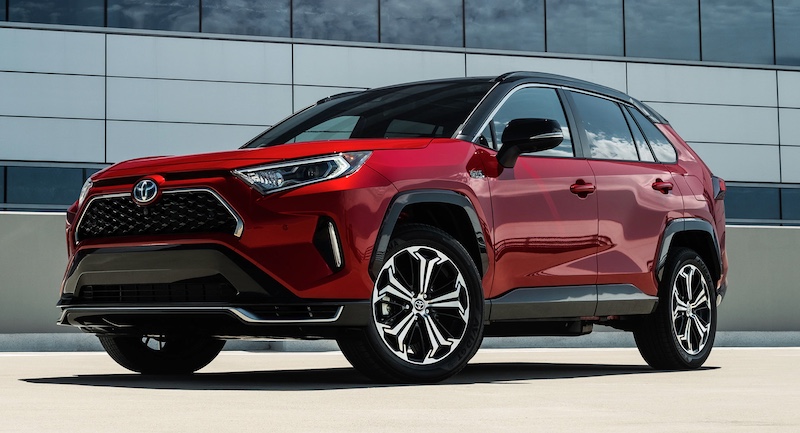 To take on Tesla at their own game, Toyota have also started their own research with the formation of TRI-AD (Toyota Research Institute- Advanced Development) back in 2018 with the sole purpose of developing innovative products, creating new technologies, and advanced safety systems. In January 2021, TRI-Ad announced its expansion and will improve its operations into a holding company and two operating companies. Woven Planet Holdings will be the holding company with both Woven CORE and Woven Aloha under it. Woven CORE is responsible for developing Tesla rivaling automated driving technologies in the market.
Toyota has also developed a new operating system under research arm Woven Planet Holdings called Arena. This system will allow Toyota to install new features into the car's existing hardware through over-the-air updates, while also providing a platform for developers to create their own software. Toyota has hired James Kuffner, a former Google engineer to lead Woven Planet.
Kuffner was part of the initial team that developed self-driving cars for Google and has a lot of experience in the field. Even though Tesla has been upgrading its vehicles remotely since 2012, we can expect Toyota to offer the same in coming years. In fact, Kuffner stated in a recent interview that Arene can run on Tesla hardware after Tesla announced its willingness to license its software to third parties and is already negotiating with several OEMs.
Arene can be described as a vehicle development platform with APIs, best tools, and safety building blocks that allow rapid integration by shortening the time for development. Arene also provides developers with a lot of options including a set of tools and services to turn their ideas into reality. Developers will also be able to deploy updates to any vehicle running Arene OS.
Arene also allows app development by providing both tooling and services which include App SDK to develop, test, and deploy apps to real vehicles, simulation, and testing service which provides virtual scenarios with a variety of vehicle models to emulate software and hardware. Cloud-based infrastructure services are also provided which process and index data through Ansible and Terraform templates.
Recently, a tech research firm compared OTA updates of the different manufacturers, and unsurprisingly, Tesla came first with the ability to update every part of the car including performance, range, braking, acceleration, and even autonomous systems. BMW comes second with limited functionality. Japanese manufacturers like Honda and Toyota come near the bottom with only lightweight OTA updates offered on some models. With these new developments, future Toyota models will be able to stand toe-to-toe with Tesla when it comes to software, OTA updates, and autonomous driving tech.
Tesla also leads the pack when it comes to autonomous driving ever since it released the Tesla Autopilot feature back in 2014 with the Model S. Tesla has improved it extensively over the years and is expected to be completely autonomous in the coming years with minimal driver input. With its new research team, Toyota has a promising start in autonomous vehicle development.
It is predicted that Tesla will see more than $1.1 billion in deferred software income this year, which will further increase to $1.5 billion next year. For 2021, Tesla is launching a completely refreshed Model S and Model X with several updates. The 2021 Model S receives a completely refreshed interior with a new yoke-style steering wheel that has divided fans, and a new 17-inch center display that controls everything. The Model S also ditches the steering wheel stalks and will now rely on buttons.
The new 2021 Tesla Model S is expected to start at $81,190 for the long-range model which gets a dual-motor setup that produces a massive 670 hp and has a healthy range of 412 miles. Upgrading to the Plaid model increases the power output to an absurd 1020 hp, giving it a 0-60 time of just 1.99 seconds, which will make it the fastest production car in the world. Unlike the Plaid model which gets just 390 miles of range, the Plaid + model adds 80 hp more and extends the range to 520 miles, all for an eye-watering price of $141,190.
Recently, Toyota showed off its advanced drive-assist features with OTA updates and AI on the new models of Lexus and Mirai in Japan. Both these models are equipped with advanced driver assistance features which include the new advanced drive feature which provides a level 2 autonomous system that helps keep the car in its lane, maintain distance from other vehicles on the road, and even change lanes under the driver's supervision. The system is even capable of handling lane merges and also includes a camera to monitor the driver's actions and level of attentiveness. If any inconsistencies are detected, the car will pull itself over to prevent any mishaps.
Both these models will also be Toyota's first products on the market to feature OTA updates and come with AI technology.
As of now, there is no release date on these features for the U.S market.
Even though Tesla currently leads the pack when it comes to onboard technology, we can expect a lot more manufacturers to offer similar features in coming years, starting with Toyota.
Disclosure: As an Amazon Associate, I earn from qualifying purchases. The commission help keep the rest of my content free, so thank you!