Nowadays, our life is almost impossible without technology. We use the modern technological devices and applications in various spheres of our activity. The technological progress helps to manage tasks faster and with a higher level of accuracy and safety. Business, economy, manufacturing, and other spheres of our life reap amazing benefits from the implementation of technology. Undoubtedly, education is no exception either.
What is educational technology? This is a quite profitable combination of technology and education. Students and teachers actively use innovations to solve academic assignments. The implementation of all kinds of applications and digital devices sufficiently improves the quality of learning. Students find the needed solutions much faster. For instance, the use of a free plagiarism checker for students helps to deal out the non-unique content and replace it. The information about any historical event is accessible in a blink of an eye.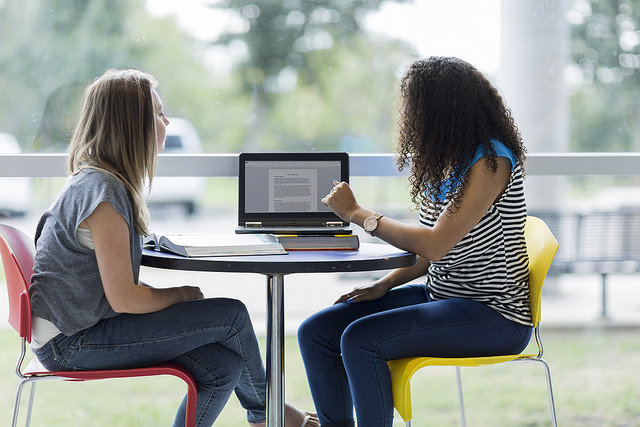 It's possible to receive answers and effective solutions. The collaboration amongst classmates is improved too. The teacher-student relation has obtained a new understanding and likewise produces outstanding benefits. It seems that the educational technology is the best solution to most probable issues.
Nevertheless, there are still some troubles with technology in education. We have studied multiple technology articles to identify the most troublesome aspects concerning the implementation and exploitation of technology in schools, colleges, and universities. Consider the following issues:
Laziness
Dependence
The old-timer
Social media
The Band-Aid
Funding
These issues are critical and quite typical for any educational system throughout the globe. Most of them are related to one another, and if one emerges, the other ones appear as well. This is why it's important to recognize them all. Afterward, it will be much easier to cope with them properly and effectively.
What Problems Does Technology Education Induce?
The first step to a solution to any problem is to identify it. Then, we should understand it and only after that, it will be reasonable to create a plan for how to solve it. Therefore, we should shed more light on the mentioned above education problems.
The advantage of receiving instant access to the information helps us to determine the most effective solution. Simultaneously, it induces a disadvantage. This is laziness or the so-called "the lazy thinker". The open information offered via the Internet sufficiently quickens the problem-solving process. Students find the needed information, examples of how to overcome the issue and turn it to their advantage.
Unfortunately, they don't use the power of their brain at full. They use only some percentage necessary to specify the keywords and get the desired answer. All the calculations, writing techniques, and other things are completed by smart devices and applications. At times, students even violate the copyright of other authors to write their assignments more quickly.
This leads to another trouble. Youngsters become overly dependent on the assistance of smart machines. All the grammar, spelling, or punctuation errors are eliminated with the help of such programs as Word and similar ones. Students know that such things will be corrected and they don't give heed to the numerous mistakes they make. However, when they should write something on paper, they experience really huge difficulties.
The next issue is the low competence of teachers. Instructors don't receive the updated explanations cornering how to exploit this or that application. Accordingly, the resourcefulness of technology is almost useless.
Other Drawbacks
There is likewise the bad influence on students. Tech in the classroom has several important disadvantages. People get addicted to technology. As a result, they are helpless without it or use some programs, online courses and textbooks ineffectively, which is a pure waste of time.
Many teenagers are strongly bound to social media. This induces other essential drawbacks. They can't get rid of the habit of accessing their pages on Facebook, Instagram, Twitter, and other social media sites. Most of them do it even during the classes. This is a great distraction, and the rebukes and warnings of teachers may have no power. The frequent use of social media and technological devices, in general, is the new and very strong form of addiction. As we know, no addiction is good.
This also makes such people socially isolated. They get used to communicating via the Internet. Nevertheless, they are simply confused when they should talk to somebody in real life.
The next problem is recognized as the Band-Aid. At times, students who use technology and those who don't, have the same academic results. Some folks aren't good at technological support, and this doesn't give them an advantage. It may even worsen their academic progress.
Another important problem is the lack of finances. The technological progress never stops. It seems to be on a constant move. The needs of people change almost every day. In order to satisfy the needs of the humanity, technology should improve and develop daily. Therefore, the newer versions of computers, interactive devices, and/or applications appear very often. Many schools do not possess a budget, which is able to cover all the expenses for purchasing the new prototypes.
Consequently, students are forced to use out-of-date technology. This is a step back. In comparison with schools with richer budgets, they fall behind for many a time. This creates a huge gap amongst students. A lot depends on their background and financial status. This is rather unfair.
The Final Thoughts
The usage of technological progress has its own difficulties in education. However, every obstacle can be solved. The main point is to know how to implement such support correctly to receive the highest level of effectiveness. Students and teachers/professors should actively collaborate. Both sides are supposed to be eager to learn how to use the technical support appropriately.
Teachers ought to be well taught to know all the peculiarities about the functionality of different applications and programs. Students should use the resourcefulness of technology only when it's needed to avoid laziness, degradation, addiction, and similar complications.
About Author: Sandra Hayward is a famous and popular writer at Edu Birdie and other trustworthy resources. She covers different aspects of the human life to discover the most troublesome points and offers some solutions.
Disclosure: We might earn commission from qualifying purchases. The commission help keep the rest of my content free, so thank you!