On the market, there are plenty of WordPress frameworks to look out for. But when it comes to versatility loaded with unique features, no one comes near Thesis and Genesis. These two frameworks are quite efficient for extensive publishing purposes and it's tough to decide that between these two, which one is better. So I took up the challenge to find out myself that which of these two is better at different performance levels. But obviously your choice will change according to your needs.
Similarities-What's common:
Both are solid frameworks.
Both of them load quite fast.
They are quite efficient for business purposes.
They are mainly used by those WordPress users who encashes maximum advantage from SEO.
Need of right framework:
You may ask – What is the need of selecting the most appropriate framework for your blog? I would say it forms the most important part of a blog as it will play a major role on the revenue earning part of your blog. Proper theme makes your blog very user friendly.
Again, changing from one framework to another is a tedious job and a costly affair too. So it is necessary to pick an appropriate theme that will suit your blog and to make the necessary settings to get optimum SEO traffic. Always have knowledge about all the frameworks and be absolutely careful while choosing, as majority of the things depends on your framework itself.

Loading of Frameworks:
The page loading time is almost same for Thesis and Genesis. However, they are much faster than its contemporary competitors. Loading of a webpage depends very much on the framework. So this is a n important point to look after while you choose theme for your blog.
When a webpage is loaded, a number of HTML requests are processed. They include CSS styles, HTML content, Javascripts, images and more.
When the number of style sheets is reduced, the page loads faster. Nowadays both Genesis and Thesis are trying to reduce their page load time as much as possible. So there is nothing to differentiate on this aspect except one that Thesis has some additional style sheets in Internet Explorer which genesis doesn't possess.
Coding and Design:
First of all, you need to know some coding to give your blog a pro look. This is where Thesis fails to impress whereas Genesis just mesmerizes with its customizable 'Child Themes'.
Thesis
When you will install Thesis, it will give you a plain white blog in which you have to scribble and add uniqueness with your coding skills. If you don't know coding and you have some money that you can spend, then you can hire someone to do the coding for you. But if you succeed in doing this, you can make your blog look totally unique and out of the crowd. It will give you better results than Genesis.
So if you are Thesis user, you need to code it all by yourself to make your blog look different from others.
Genesis
For beginners, it's the best framework I would say to kickstart their blog by just picking up one of the 'Child Themes' from its package.
You can also customize those child themes as per your wish- like changing the font, text colour.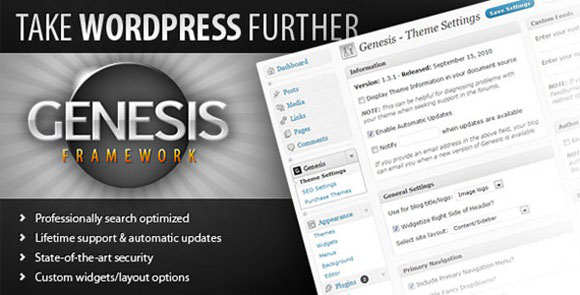 SEO Options:
In terms of SEO options, both Thesis and Genesis is all the same. Both provides high chances for optimization. You can set 301 redirects for any post or URL for both of them. The best part is that both of them doesn't need any third party SEO plugin.
But if we see as a whole, I would definitely rate Genesis higher in this case as it has more customizable options for single posts under its belt like its- layout, custom body, class and redirect, custom tracking code etc. These are much easy to implement in Genesis than that of Thesis.
Support:
The user always expects thorough support from whatever framework they choose. For both Thesis and Genesis, the support team and development team are quite efficient. But still, Genesis lags in attracting customers or community members.
On the other hand, Thesis buzzes with updates and activity with exhaustive tutorials to guide the users thoroughly. Genesis doesn't give such support, maybe their users are happy with the 'Child themes' they offer with the package.
Note that Genesis has an auto-upgrade feature while upgrading Thesis is really a tough task because if something goes wrong during the update, your whole site will crash! That's awful.
Pricing: (approx.)
Thesis:
For personal users- $87
Developer's Version (for unlimited sites)- $164
For client sites, the user needs to pay $40 extra.
Genesis:
Framework only- $59.95
Child theme + Framework- $ 79.95
Genesis Pro Plus- $349.95
In Genesis, the best part is that for usage in client sites they will not charge you.
So in terms of pricing, Genesis clearly emerges as a winner.
Conclusion:
Thesis and Genesis – both are fast growing giants in the blogging world. With all my experience, I can say both these frameworks are wonderful in their own way.
Like if you are kind of a person who wants to make a unique website and want to spent time and money on coding and themes, then Thesis is the best option for you.
And if you want to just start your blog with everything readymade, then Genesis is 'the framework' for you. The point is that your site won't be unique as others also use same child themes, unless you highly customize it.
So it goes like this – choose a correct and appropriate theme considering all the constraints I mentioned. Choice varies from person to person and according to their business. So opt for the framework which suits and matches your business.
Disclosure: We might earn commission from qualifying purchases. The commission help keep the rest of my content free, so thank you!