Although many software products are advertised as being PDF editors, not all of them are equal. For instance, some of them will only allow you to overwrite text rather than edit or delete it. In many such cases, they are merely PDF readers with some added functionality like annotations, file format conversion, etc. If you're looking for a proper PDF editor that will allow you to modify various elements of a PDF file, you can choose from one of the following products we've showcased for you today.
1. Adobe Acrobat Pro DC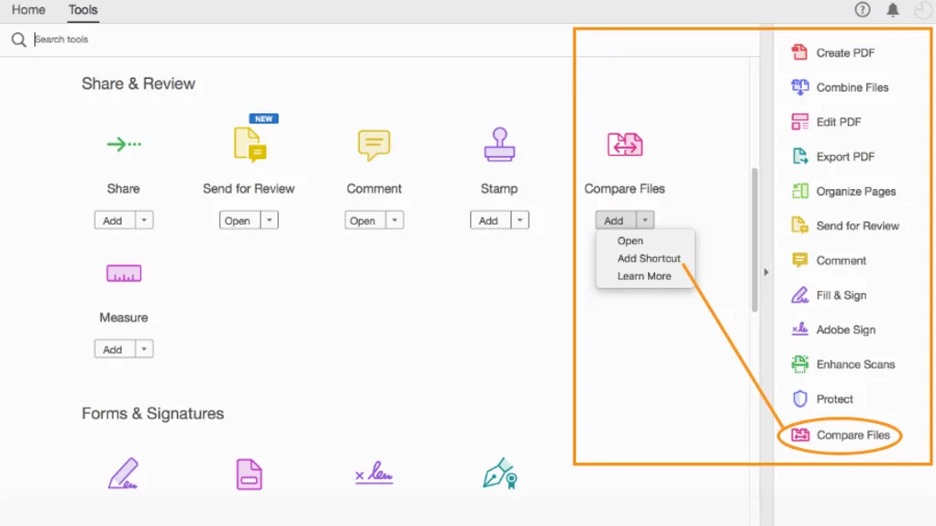 System:
macOS & Windows
Overview:
Adobe Acrobat Pro DC is the PDF editor of choice for a vast majority of business users, particularly in the Enterprise segment. It is one of the most comprehensive and holistic PDF solutions available today and leverages the power of cloud computing (DC = Document Cloud) to offer a compelling case for professional use. You can handle any PDF task with this software, including creation, editing, converting, protecting, form-filling and signing, file management, converting scanned PDFs into editable documents, and so on. The interface is fairly clean after the upgrade to DC, and the menu options are conveniently laid out in the right-hand panel as well as under the Tools section of the menu.
The feature-rich environment is its best selling point but also a major detractor for users because of the complexity it brings to the interface. The DC version is an improvement over earlier iterations but it's still hard to navigate to a particular feature unless you're familiar with the software. Moreover, most PDF users typically only use a handful of features such as editing, conversion, security, and reading; as such, the overwhelming capabilities of Acrobat Pro DC can be overkill. Unfortunately, going with the standard version means losing out on a lot of useful features such as text recognition and PDF/A creation.
In terms of performance, Acrobat Pro DC is second to none, with high processing speeds, accurate conversions, and bulk processing tools.
Pros:
A mature product with advanced features to handle any PDF task
Large user base and ample learning resources
Cloud-connected; ideal for collaborative work
Cons:
Free trial limited to 7 days
You must fill in your account information to get the trial version
Too expensive for individual users and smaller companies with limited software budgets
Price:
Subscription starts at $14.99/month
2. PDF Expert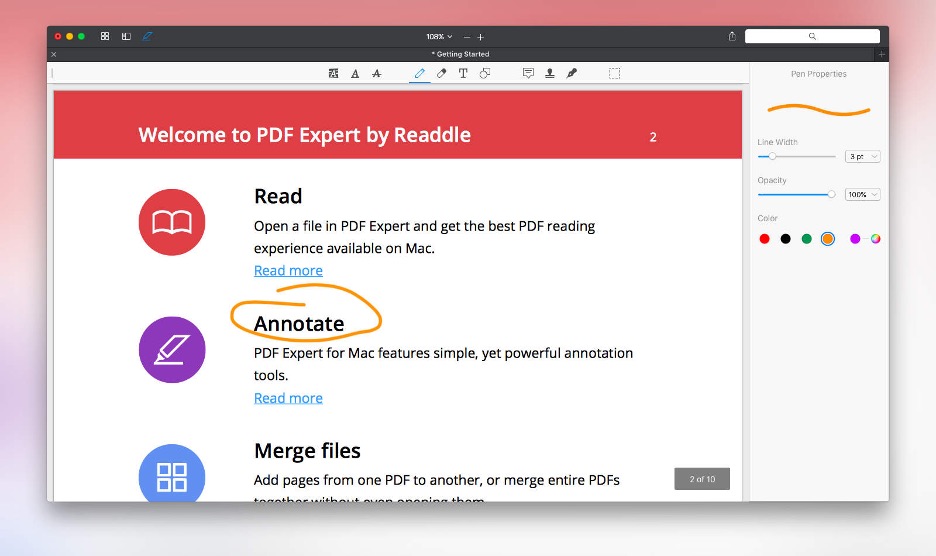 System:
macOS only
Overview:
PDF Expert is a well-known PDF editor among Mac users and a slick product that matches the macOS app ecosystem. The user interface is very clean and user-friendly, while the features are clearly laid out for the user; in other words, a gentle learning curve for new users.
The features are adequate but PDF Expert misses some key functionalities such as PDF security, OCR, and others. Performance-wise, PDF Expert is quite responsive, conversions are accurate and processes are typically executed in a fast manner.
One of the unique features in PDF Expert is the ability to customize your tools so you always have everything you need at your fingertips. This is a highly user-focused feature and one of the things that make PDF Expert among the top PDF editors for Mac users.
Pros:
User-focused design and features
Customizable tools
Fast response
Cons:
Free version comes with limited features
Price:
Lifetime license – $79.99
3. Mac Preview App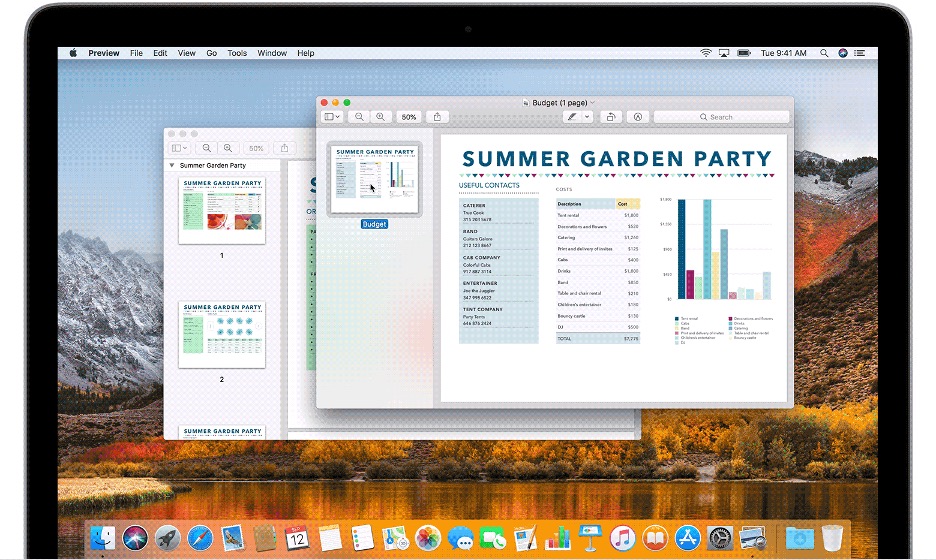 System:
macOS only
Overview:
Preview is your fall-back PDF tool for Mac. It's not a PDF editor in the real sense but it does have a lot of useful features. You can't edit existing text, for example, but one workaround is to mask it with a white box and then add text on top of that as an annotation. It also offers a few conversion options that are useful in a pinch.
The best part about Preview is that it is pre-installed on Macs and gets regular updates along with your macOS updates. As such, it is well-integrated with the macOS ecosystem and functions as smoothly as possible. The biggest drawback is that the features are quite limited, but it's a good backup utility to keep in mind.
Pros:
Free with Mac computers and laptops
Useful features like annotations, conversion, etc.
Cons:
No editing of existing PDF content
Limited feature set
Price:
Free
4. Nitro Pro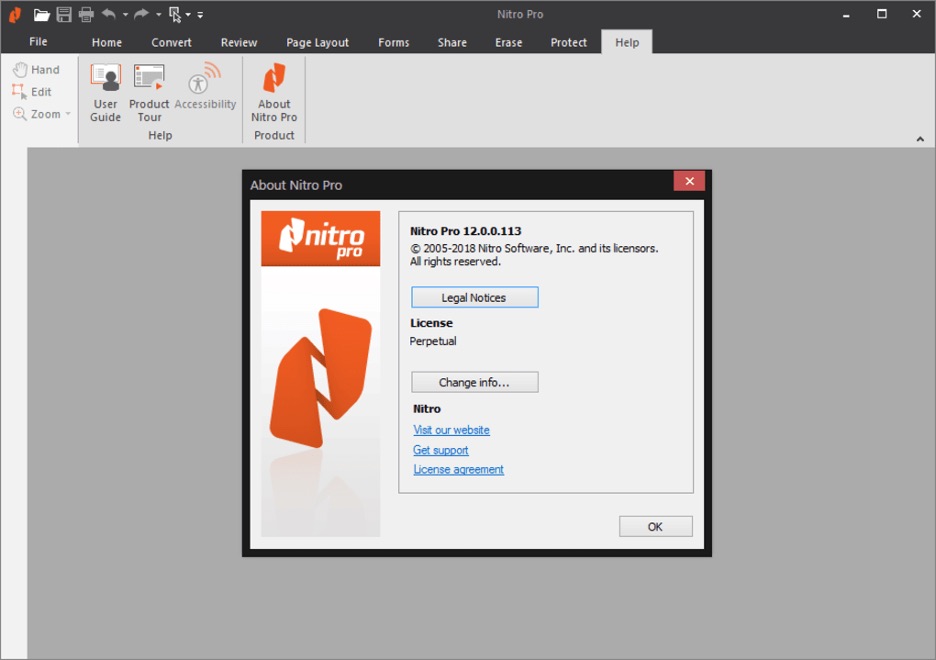 System:
Windows only
Overview:
Nitro Pro is a powerful PDF editor for Windows that comes with optional cloud integration for enhanced collaboration. It offers the full range of PDF capabilities, including creating, editing, converting, organizing, form filling, security, editing scanned PDFs, and more. The product is fairly expensive but is definitely feature-rich, which works out well for professional users.
Although the main software itself is an offline one, Nitro Pro does offer some basic cloud service integrations, so you can save your workloads in locations like Google Drive, Dropbox, and so on. In addition, the company offers Nitro Sign, an online eSignature platform with online file conversion capabilities, and that's included in the Pro plan.
Pros:
Extensive features
Document comparison function
Online eSignature service
Accurate conversion quality
Cons:
A little expensive for individual users
No free version – 14-day free trial only
Price:
$159/user for the Individual Plan – Team and Enterprise licensing available
5. ABBYY FineReader PDF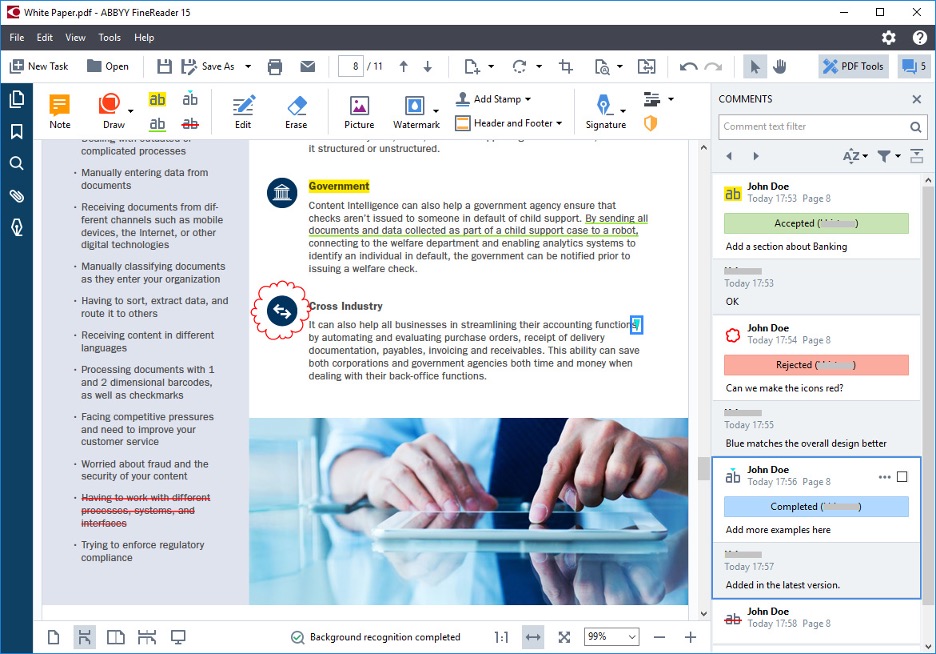 System:
Windows only
Overview:
ABBYY FineReader PDF is one of the few PDF readers that uses artificial intelligence for OCR conversion. Apart from highly accurate text recognition, it also offers a full suite of features such as editing, creation, conversion, security, form filling and form creation, document comparisons for different file types, automation, and more.
One of the major issues with PDFs is that the formatting is lost when you copy-paste content. FineReader solves that issue and gives you accurate copy-paste capabilities without sacrificing content integrity. There are also extensive tools for reviewing and commenting on PDFs, as well as the ability to remove hidden data prior to sharing documents. You can also merge documents of different file types into a single PDF, a feature seen in only a few other PDF editors like Acrobat Pro DC and Wondershare PDFelement (both reviewed above.)
Pros:
Mature product with rich functionality
Extensive and deep features for holistic PDF workflow management
Highly accurate conversion technology
AI-driven OCR capability
Cons:
Free trial but some features are limited
A little expensive for individuals or small companies
Price:
Lifetime – $199
6. Kofax Power PDF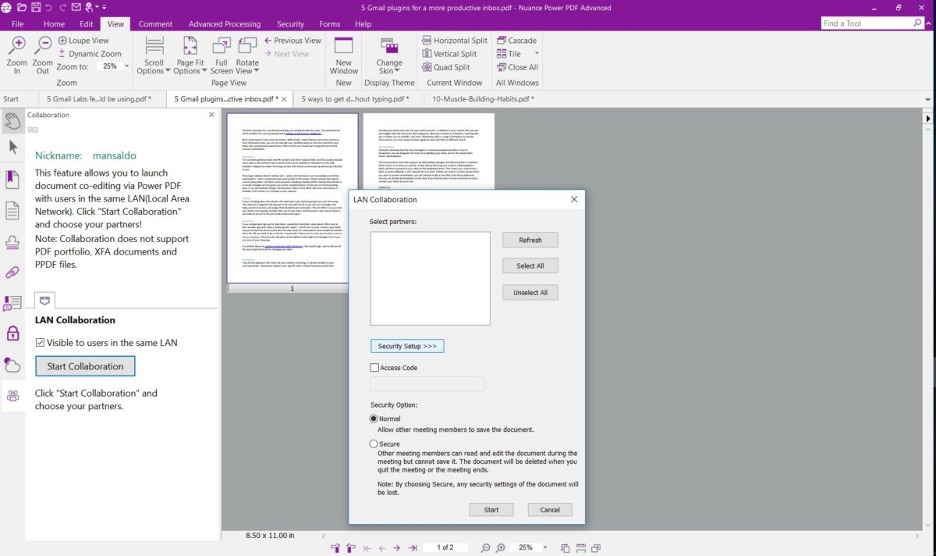 System:
Windows and macOS (Only Standard version for Mac)
Overview:
Kofax Power PDF is yet another Windows-only PDF editor for professionals and beginners alike. Although the name is different, this is a continuance of the Nuance Power PDF editor that was quite popular for Windows-based environments. Available in Standard and Advanced editions, Kofax Power PDF offers a lot of features similar to other top PDF editors but has also reserved more critical functions to the Advanced version. For example, the Standard version does not offer cloud connectivity or redaction.
The core functions of editing, creating, and converting are fairly robust, but there are also a lot of essential functions that are missing, such as easy file and page organization, PDF security, and so on. Nevertheless, it contains most of the frequently-used PDF functions that are typically required by an individual user.
Pros:
Easy to use
Useful feature-set
Affordable
Network-based collaboration
Cons:
Free trial available with limited features
Price:
Standard – $129; Advanced – $179
7. PDFelement Pro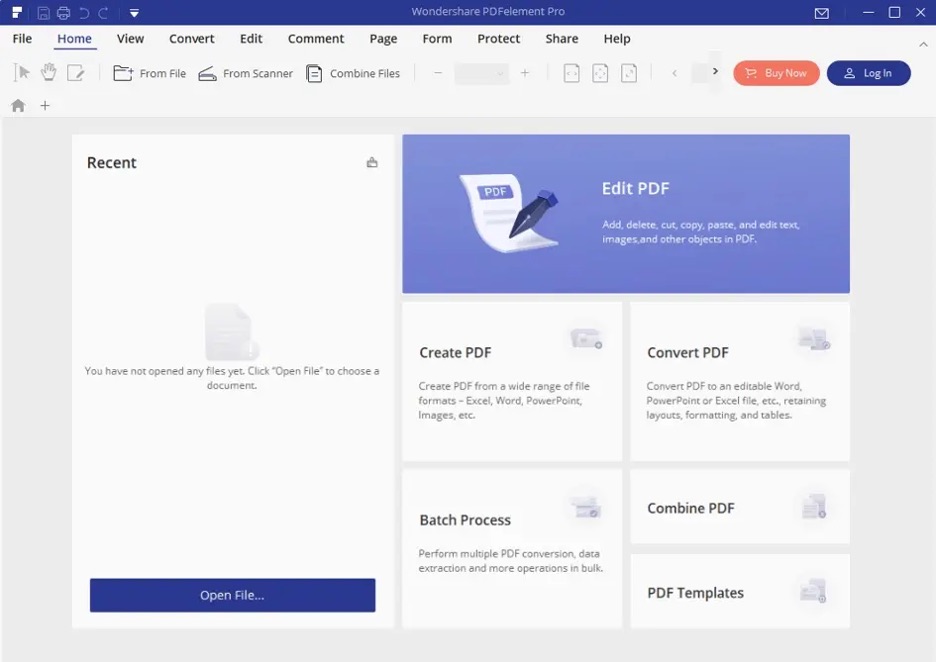 System:
macOS & Windows
Overview:
PDFelement Pro is known for its simple user interface, affordable pricing, and a powerful feature set. It addresses the needs of personal users as well as small and medium business users with its intuitive interface, extensive functions, and fast processing speed. As an example, converting a different file format into PDF is as simple as dropping the file into the program and selecting your output option. It also gives users full control over editing PDFs, converting them into several other file types, securing them with encrypted passwords, applying legally binding digital signatures, redacting content, adding watermarks, etc., filling forms, making a scanned PDF editable, and more.
It also acts as an excellent PDF reader with its zoom controls, multiple page view modes, rich annotation tools, bookmarking, and other capabilities. Probably the most compelling feature is the minimalistic interface that brings the features upfront, unlike the more ubiquitous but bulky Adobe Acrobat Pro DC, where you often have to dig deep into the Tools menu to find what you need. Another major highlight is the ability to accurately convert image-based or scanned PDF documents into editable or searchable PDFs with the OCR (Optical Character Recognition) plugin.
One feature that makes PDFelement Pro stand out from the rest of the crowd of PDF editors is that new capabilities are added based on user feedback. In other words, the developers responsible for upgrading the product value the user's voice, and it shows in every new iteration of the software.
Pros:
The simple interface with extensive features make it ideal for new and experienced users
The functions cover the gamut of regularly executed PDF tasks, most of which can be completed in just a few clicks
Faster processing times translates to greater efficiency and higher productivity rates across teams that use the product
Accurate OCR allows users to fully digitize their paper documentation
Advanced security features ensure the safety and integrity of confidential, private, or sensitive information contained in PDF documents
Several batch process features make it easy to handle large workloads
Flexible conversion options to and from PDF make it easy to work on documents in their native applications and use PDF to distribute content
More affordable than the top PDF editors on the market today; additional discounts for
Cons:
The free trial version has some feature limitations
Price:
Dual pricing model (Subscription and Lifetime), starts at $29/quarter
Based on your specific requirements and the tasks you regularly need to execute with respect to PDF documents and general document workflows, you should be able to find the best PDF editor for Windows and Mac from this list of the top PDF utilities on the market today.
Disclosure: We might earn commission from qualifying purchases. The commission help keep the rest of my content free, so thank you!