Buying a new MacBook is an exciting moment and a great investment. Since MacBooks often come at a hefty price, careful selection should be made when choosing one. Each MacBook has its own features and systems. Depending on your budget and the ways you use your computer, you may need a MacBook Pro or a MacBook Air.
Apple has taken its newest computers and taken out the Intel processors and replaced them with their own Apple Silicon. Right now, it is called the M1 chip and has gained serious traction. It is the fastest performance seen in any MacBook and the most basic MacBook can now be used for gamers.
We will go over the pros and cons of each one to help you decide which MacBook is the best selection for your lifestyle and work habits.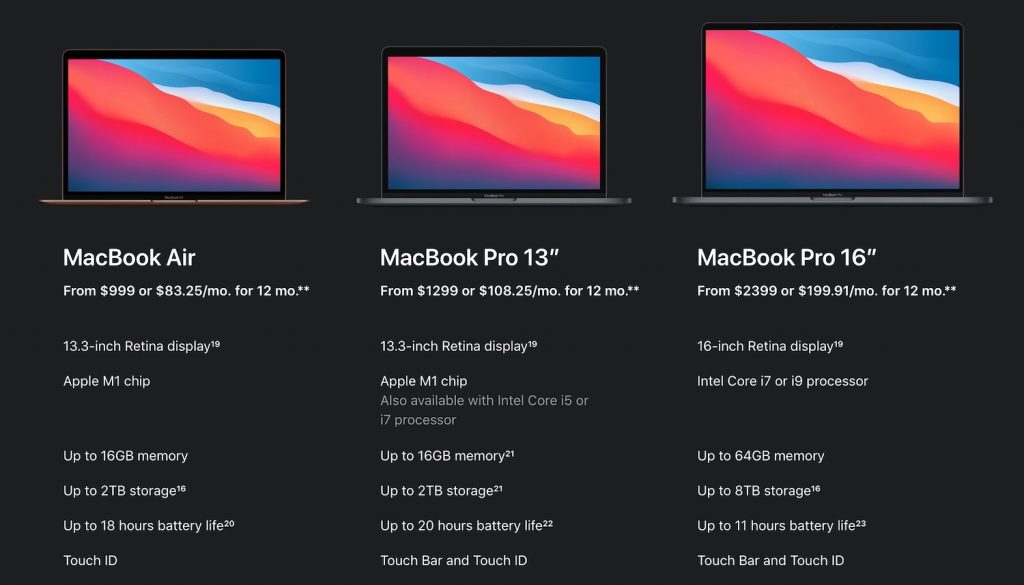 13-inch MacBook Pro
The starting price for this one from Apple is $1,299. It weighs in at just three pounds making it lighter than some of the other MacBook Pros from previous years. It has the longest-lasting battery of any of the choices, so it is ideal for long workdays, traveling, or streaming.
It has a magic keyboard and a 2560×1600-pixel retina display. The CPU is Apple's new M1 8-core, and the GPU is Apple's M1 8-core. RAM can be purchased at 8GB or 16 GB. The storage ranges from 256 GB to 2TB SSD.
It was rated to have the best overall performance as well as gaming performance. It is the perfect option for people who regularly play games on their Mac rather than on a console.
The only cons found were that were not enough ports and pretty thick bezels.
MacBook Air with M1
This is overall the best MacBook for people who are looking for a cheaper computer that still has amazing performance. It is a solid choice for people who just use their computer for basic activities such as typing, studying, or streaming.
It is 13.3 inches with a 2560×1600 pixel display. The CPU is Apple M1, and the GPU is the integrated 8-core. It is slightly lighter than the pro at 2.8 pounds. RAM can be bought at 8 GB or 16 GB and storage can be bought between 256 GB to 2 TB SSD.
The webcam has an M1 chip which can improve color accuracy and clarity. This makes it perfect for Facetiming or Zoom meetings. It also has a magic keyboard.
While the MacBook Air used to be slightly inferior to other MacBook models, this new one completely changes the game because it also has the M1 processor.
Cons are that it does not have many ports and also has pretty thick bezels. Port adaptors are a great choice for someone who needs several plug-in options.
16-inch MacBook Pro
This option still features the original intel core of either i7 or i9, instead of the M1. It is large at 16 inches with a 3072×1920 pixel display. The RAM can be between 8GB and 32GB. The storage can be purchased between 512GB to 2TB SSD. It is heavier than the other options at 4.3 pounds, so it is not the best option for commuting or traveling.
The sound on this laptop is amazing. It has a battery life of almost 11 hours and has a magic keyboard. Since it does not have the M1 processor, video editors and web designers may want to choose another option.
The display on this one is also not 4K. Some video editing software operates on the Intel system though, even if the Final Cut Pro by now operates on Apple Silicon. Therefore, this laptop could still be a good choice for editors that exclusively use applications like Adobe Premiere Pro. Video editors may also need to get a memory card reader since the new MacBooks have fewer ports.
13-inch MacBook Pro with Intel 2020
For those nervous to jump into the M1, Apple still sells its MacBook Pro with the intel processor. It has a 13-inch retina display with 2560×1600 pixels. The CPU comes in a few different options from the 1.4GHz quad-core eighth-generation to the 2.3GHz tenth generation with Core i7.
The GPU is Intel Iris Plus 645 and the RAM can be between 8GB to 32GB. The storage can be between 256GB to 4TB SSD and it weighs 3.1 pounds.
The bezels are pretty thick and the 10th generation can be very pricey, so most buyers buy the lower end option which is still a solid choice. It also has three ports, two more than all the other choices.
Key Takeaways
New MacBooks are an awesome addition to your professional and personal life. Check out this link to make Mac faster both for old and new macs. It is a great guide to get the most out of your MacBook's performance and speed.
Disclosure: We might earn commission from qualifying purchases. The commission help keep the rest of my content free, so thank you!