The online fax industry shows significant growth, despite the advent of many other technologies. This is because online digital faxing is a far more efficient, inexpensive, secure way of sending important documents than its analog counterpart.
Moreover, online fax vendors provide flexible, automated solutions to organizations. They are scalable through a software as a service (SaaS) model and offer superior service. If you routinely deal with multiple clients and departments and need to transmit documents with utmost security, an online fax service could be the answer.
You don't need to invest in a fax machine to send faxes. There are free services that send faxes from your computer to a fax machine over the Internet. You can also send faxes from your smartphone. Such services help you to send faxes through a web portal, by email, or even via mobile apps.
FaxDroid and FaxZero: A Comparison
FaxDroid and FaxZero are the two best free online fax sending services. Neither of them requires you to sign up or register to use their services. The following is a comparison between them, based on their pricing structure, interface, features, mobile access, etc.
Pricing Structure
FaxZero allows you to send up to five free faxes daily in the United States or Canada. You can send a maximum of three pages per fax, which means 15 free pages a day. Your quota of fax pages to send replenishes every day. They also give you a free cover page, with the FaxZero logo and slogan on it.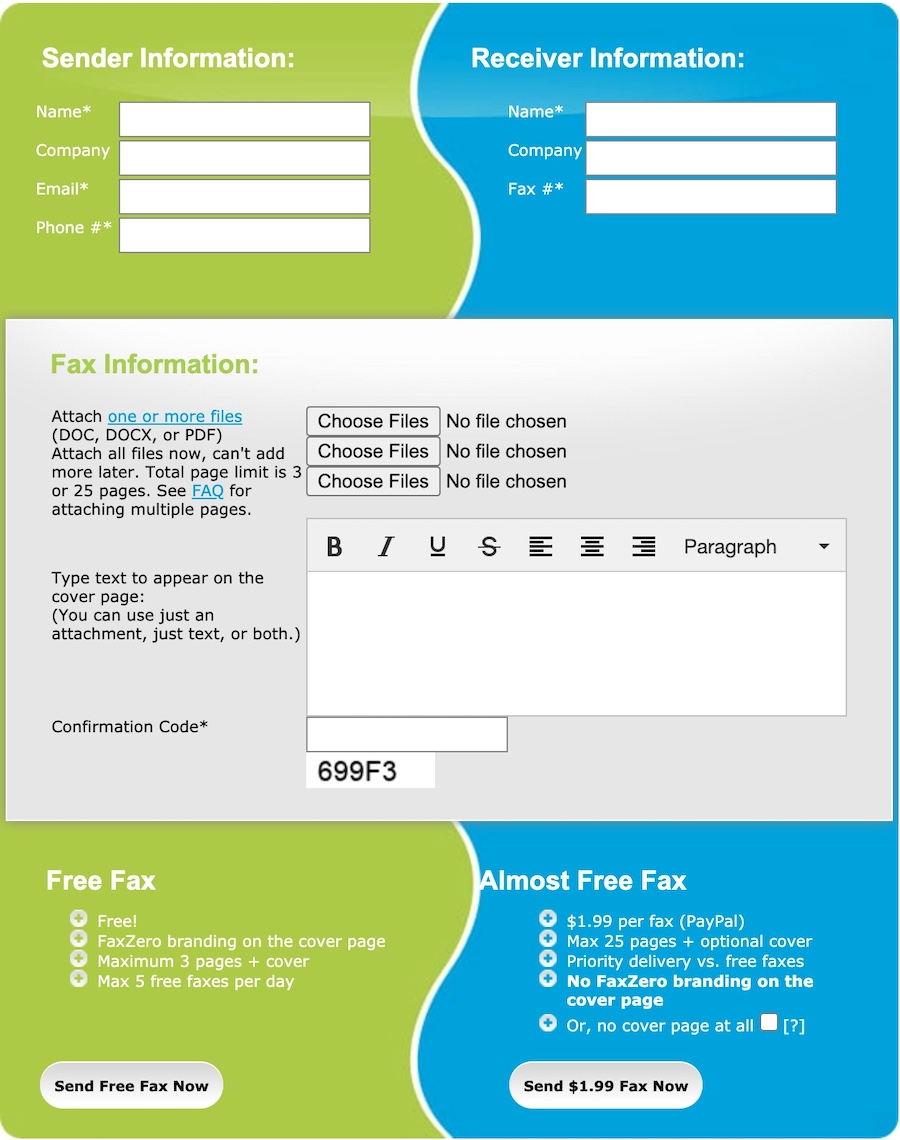 If you wish to send more faxes, you can choose their paid option. At $1.99 per fax, you can send up to 25 pages. You can choose whether you want a cover page or not. The paid option comes without any FaxZero branding.
The costs of international faxes are billed individually and vary depending on the target country. For most countries, it is $3.63 for up to 15 pages. For others, the price depends on the cost to dial that country.
With FaxDroid, you can send faxes to anywhere in the world. They also offer a free fax service to around 27 destinations. A detailed list of countries and prices are given on their website. You can also submit their fax sending form and receive a quote.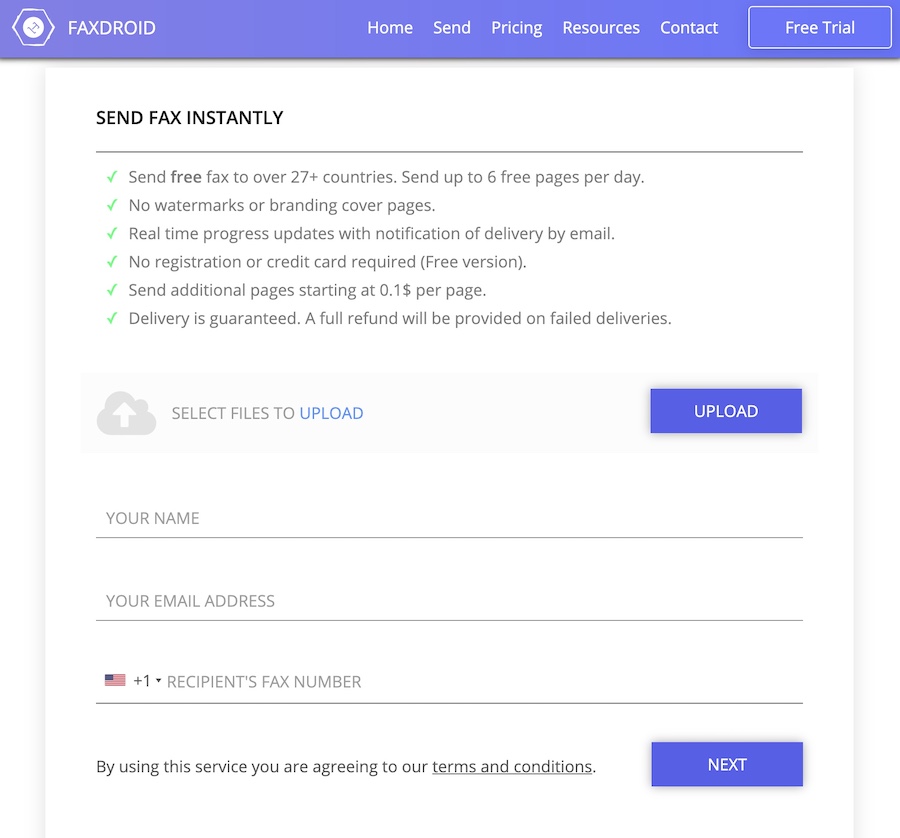 FaxDroid does not have any special page requirements. Fax charges start at $0.1 per page. You need to pay only according to the number of pages you send. They do not place any form of branding on your faxes.
Interface
FaxZero's home page is their interface. It is simple and functional. The online fax sending form is easy to follow.
The FaxDroid website has a separate home page and send page. Although they have a more modern interface, the fax sending form is simple and easy to use.
In both cases, you only need to fill up sender information and receiver information, choose the file(s) to attach, and enter the confirmation code generated by the site to prove you are not a robot. Then choose the free or paid option at the bottom of the screen.
In the FaxZero sending form, you also have to enter the text for the cover page.
Sending Faxes
FaxZero does not assign a dedicated number when using their service. With FaxDroid they offer dedicated fax numbers but you would need to sign up for one of their monthly plans for that.
FaxZero does not instantly send the fax. You will receive an email with a link to your fax. You have to click on the link for them to deliver it.
FaxDroid sends the fax and notifies you via email that it has been sent. They also provide you with a link that gives you updates about your fax.
Both services notify you via email when the fax is delivered and even if they fail to do so. FaxDroid re-attempts six times to deliver the fax.
File Support
The FaxZero online sending form seems to support just DOC, DOCX and PDF files. However, you can also attach many other formats, such as RTF, PNG, XLS, XLSX, TXT, HTML, BMP, GIF, and PPT. The form allows only three attachments at a time.
The list of supported formats given on the FAQ page of FaxDroid are PDF, JPG, JPEG, DOC, DOCX, and BPM. There is no indication of any limit on attachments.
Mobile Access
FaxZero and FaxDroid do not offer a mobile app, but their websites adapt well to mobile browsers, allowing you to send faxes from your phone.
Security
FaxZero will not share any of your information with anyone, unless asked by court order or subpoena. All user information is encrypted and submitted through HTTPS protocol to their server, and all communication from the server is secured with either SSL or TLS encryption. They accept all payments via PayPal.
All communication with FaxDroid site is secured with SSL encryption. They also process all payment through their secure PayPal payment gateway.
Refund Policy
If the US/Canada-based premium fax you send via FaxZero fails, they refund the full amount. If an international fax fails, they refund 90 percent of the money.
FaxDroid guarantees delivery. If your fax is not delivered, they resend it five more times. If the fax fails to reach even then, they refund the full amount.
Conclusion
While functional and free, FaxZero has a rather simple interface and a two-step fax sending process. FaxZero is a great option if you have to send only a few faxes occasionally and slight branding or page limits do not make much of a difference. Although both services offer good pricing for higher page counts, FaxDroid has better pricing when the number of pages is less. FaxDroid can handle both light and heavy faxing loads well. They have a much more polished interface. They don't have any limits on the number of pages you can send and do not place their branding on your faxes.
Disclosure: We might earn commission from qualifying purchases. The commission help keep the rest of my content free, so thank you!