The holiday season is a great time to surprise the tech enthusiast in your life with a new mini PC. Here's a holiday gift guide to the best mini PCs under $500.
Who Should Buy a Mini PC?
Mini PCs have emerged as a game-changing technology in the world of personal computing, offering a powerful alternative to traditional desktops. These compact devices, often not much larger than a standard wallet, pack a remarkable punch, delivering the computing power most users need while taking up only a fraction of the space. Their small footprint makes them ideal for environments where space is at a premium, such as small apartments, dorm rooms, or cluttered office desks. Despite their size, mini PCs are versatile enough to handle a range of tasks, from everyday web browsing and document editing to more demanding applications like graphic design, video editing, and even light gaming.
One of the biggest advantages of mini PCs is their portability. They are easily transportable, making them a perfect choice for people who travel frequently or work in multiple locations. Additionally, these devices consume less power than their larger counterparts, contributing to energy efficiency and reduced utility costs. They are also generally quieter, owing to their smaller fans or fanless designs, which is a significant plus for users sensitive to noise.
The adaptability of mini PCs extends to their use as media centers. They can be connected to TVs or projectors and used for streaming services, playing movies, or even as a hub for digital home entertainment systems. For businesses and educational institutions, mini PCs offer a cost-effective and space-saving solution for workstations. They can be easily mounted behind monitors or tucked away out of sight, maintaining a clean and uncluttered workspace.
Furthermore, the rise of cloud computing has increased the practicality of mini PCs. With more applications and data being stored in the cloud, the need for large local storage capacities has diminished, making these compact machines an even more attractive option. Whether you're a tech enthusiast looking for a secondary device, a student in need of a space-saving workstation, or a professional seeking a portable and efficient computer, mini PCs are an excellent choice that balances performance, size, and cost. This guide will explore some of the best mini PCs available for under $500, perfect for a range of users and needs this holiday season.
Top 6 Mini PCs of the Year
1. Apple Mac Mini
Starting at $499 for Mac Mini M2, cheaper for previous generations.
Dimensions: 7.75″ x 7.75″ x 1.41″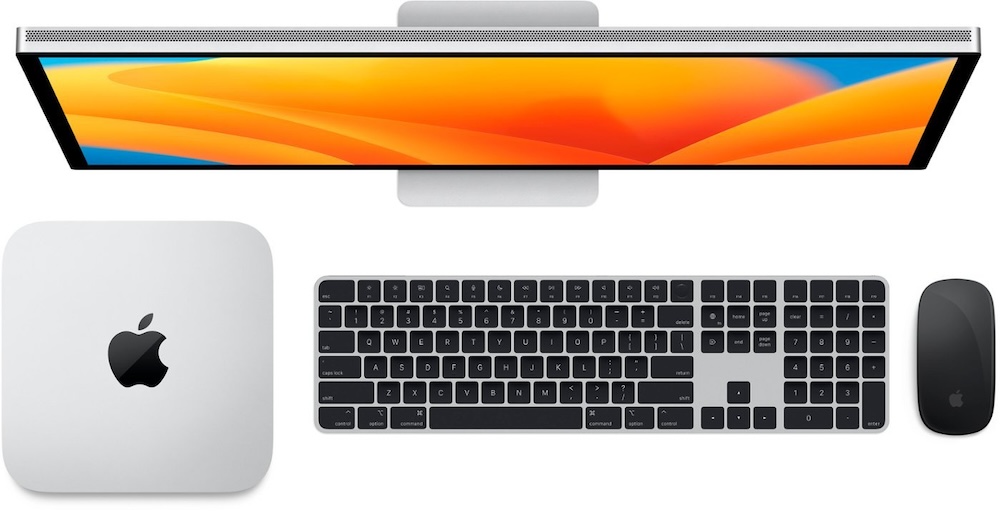 The Mac Mini stands out for its remarkable blend of Apple's minimalist design and powerful performance. It's an excellent choice for those who prefer the macOS ecosystem. The Mac Mini is versatile enough to handle everything from everyday tasks to more demanding creative workflows. Its compact size makes it an ideal desktop computer that can fit into small spaces, yet it's powerful enough to drive up to two monitors simultaneously.
It typically features the Apple M1/M2 chip, known for its energy efficiency and performance. It offers 8GB of unified memory and 256GB of fast SSD storage. Connectivity options include two Thunderbolt/USB 4 ports, HDMI 2.0, two USB-A ports, Ethernet, and Wi-Fi 6 support.
2. Azulle Byte4
Starting at $299.99 – Byte4
Dimensions: 6.6″ x 4.5″ x 1.5″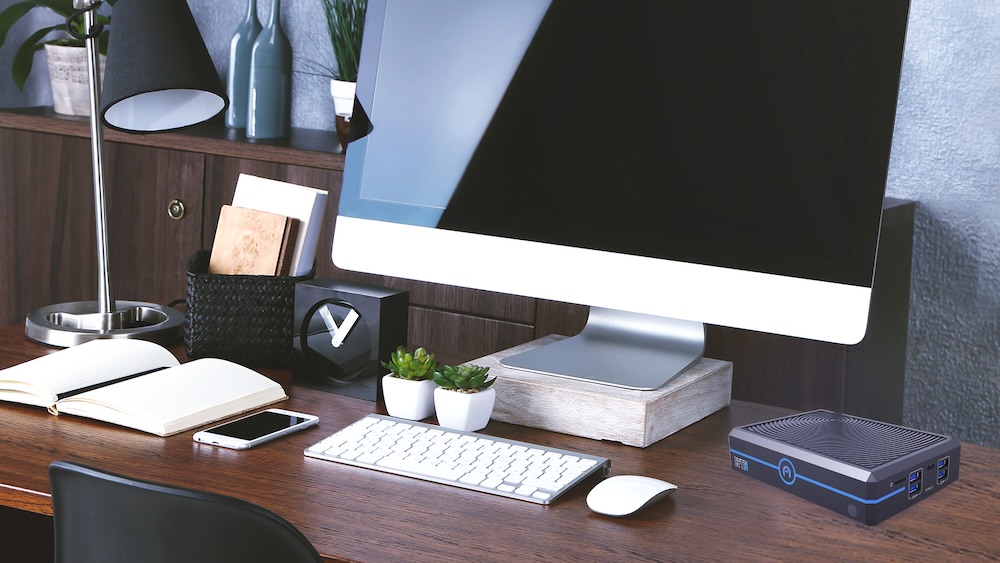 Powered by the latest Intel processor and available with Windows 11 Pro, Windows 10 IoT Enterprise (LTSB) and Linux, and a comprehensive range of connectivity options, the Byte offers the best combination of computer features to run your business solutions – from digital signage to IoT. With options like Active Cooling to ensure smooth performance in severe environments (up to 130F), 4G LTE (AT&T Certified) for reliable connectivity and broader coverage, and PoE for simplified setup through a single Ethernet cable, users can customize it to fit their specific needs.
Powered by an Gemini Lake N4020 or Jasper Lake N5105 processor, it comes with 4GB of RAM and 64GB of eMMC storage, expandable via microSD or external drives. It runs Windows 11 Pro and offers a variety of ports including USB 3.2 and USB Type-C, HDMI, VGA, and Ethernet.
3. Minisforum EM680
Starting at $430 on Amazon.
Dimensions: 3.15″ x 3.15″ x 1.69″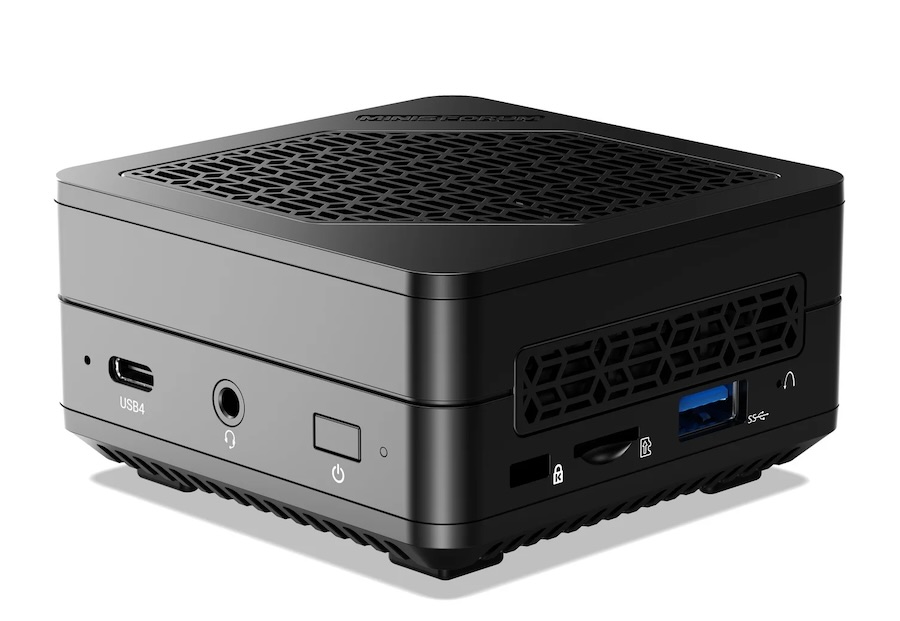 The Minisforum EM680 Mini PC, part of the Mercury Series, boasts a powerful AMD Ryzen 7 6800U processor (8 cores/16 threads) and an AMD Radeon 680M GPU, delivering stunning visual effects and robust performance for everyday tasks such as work, web browsing, and video streaming. It features dual USB 4 ports with Alt-mode, enabling efficient data and video transfer, and the capability to power the PC and transmit video to a monitor via a single cable if the monitor supports 65W USB PD (USB Power Delivery).
This mini PC stands out for its impressive multi-display output options. It can support a 4K display at 60Hz through its HDMI port and two 8K displays at 60Hz via the USB 4 ports, perfect for expanding workspaces or enhancing video enjoyment. Storage is ample and speedy with 32GB LPDDR5 RAM and 512GB PCIe4.0 SSD, ensuring quick operating system performance. Additionally, expandable storage options are available through the TF card slot, providing ample space for movies, digital photos, and more without worrying about running out of storage.
4. ASUS Chromebox 5
Starting from $500 on Amazon.
Dimensions: 6.56″ x 6.53″ x 1.81″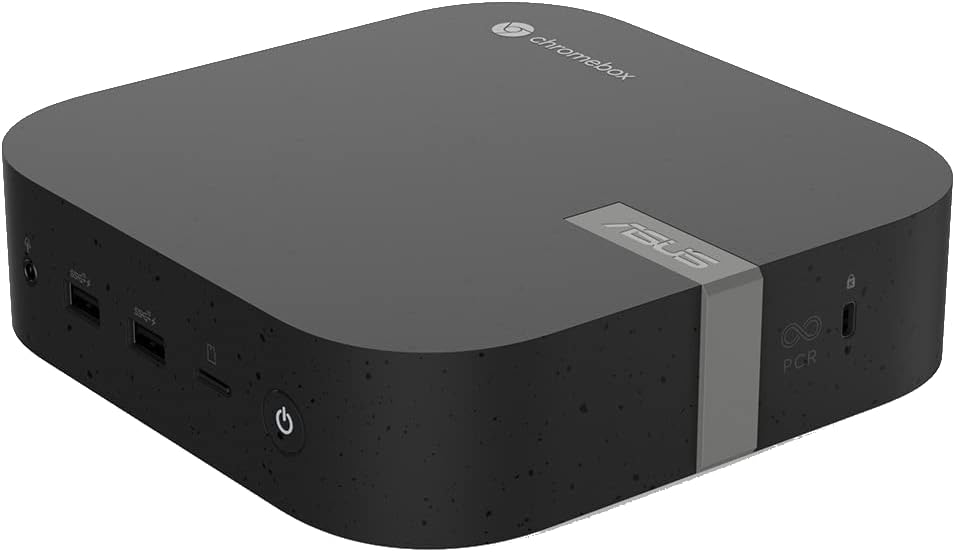 The ASUS Chromebox 5 is an excellent choice for those deeply integrated into the Google ecosystem. It offers quick access to Google apps and cloud storage, making it perfect for educational purposes, basic computing tasks, and streaming. The device is also known for its robust security features, thanks to Chrome OS.
It features an Intel Core i3-1220P Processor, 4GB RAM, and M.2 128G NVMe SSD, suitable for cloud-based applications. It runs Chrome OS, ensuring a fast, simple, and secure computing experience. It has Dual HDMI, one DP, one Thunderbolt4, supporting up to four 4K displays.
5. MSI Cubi 5
Starting from $329 on Amazon.
Dimensions: 4.88″ x 4.88″ x 2.11″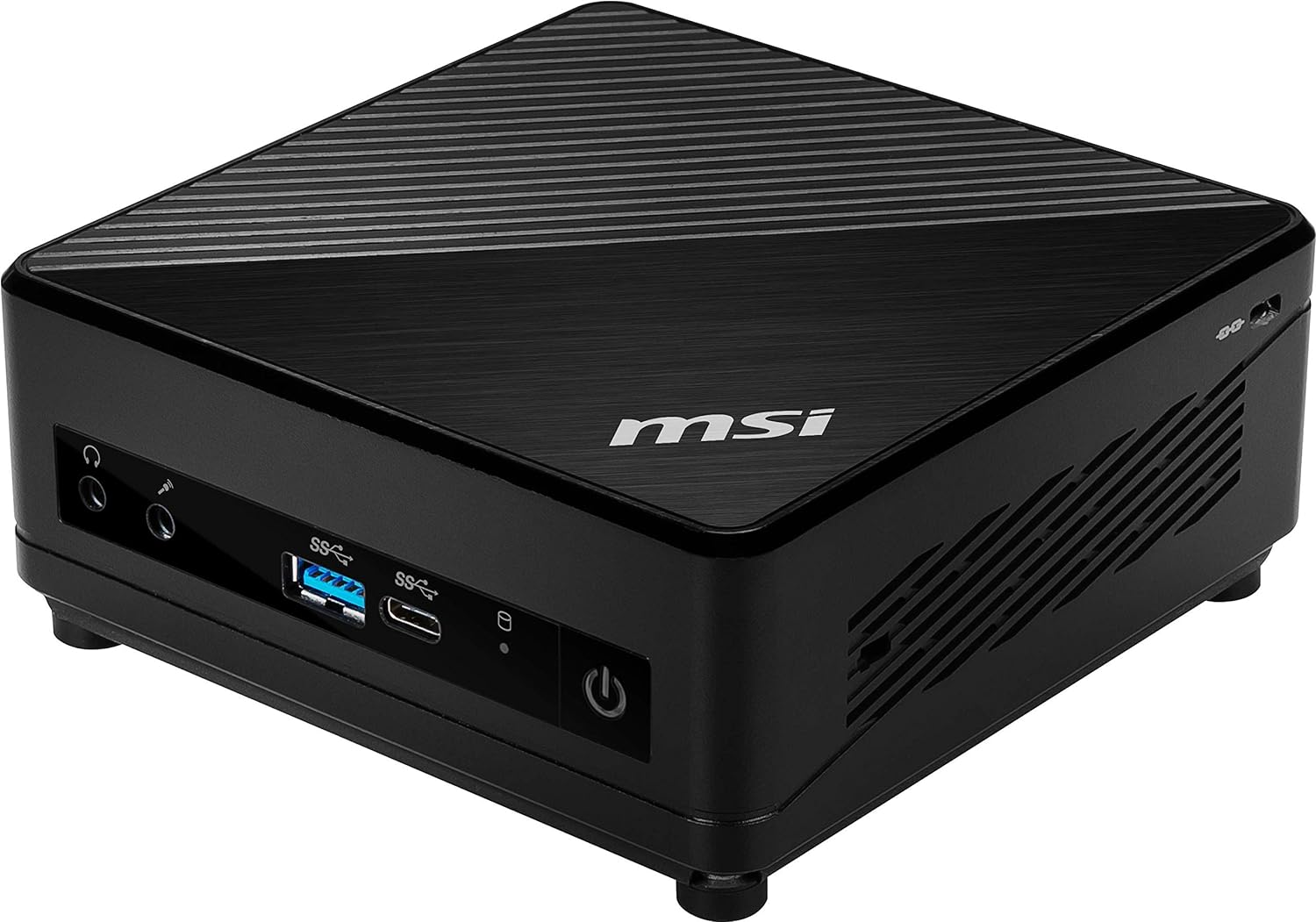 The MSI Cubi 5 is a stylish and compact mini PC that offers a balance of performance and aesthetics. It's suitable for everyday computing tasks and can handle light photo and video editing work. The Cubi 5's small footprint makes it ideal for space-constrained areas while maintaining a sleek look.
It comes with the Intel Core i5-10210U processor, 8GB RAM, and 250GB M.2 NVMe SSD, providing sufficient speed and storage for regular use. It features Wi-Fi 6 for fast wireless connectivity and includes multiple ports like USB, HDMI, but no microSD card slot.
6. Beelink SER5
Starting from $349 on Amazon.
Dimensions: 4.9″ x 4.4″ x 1.6″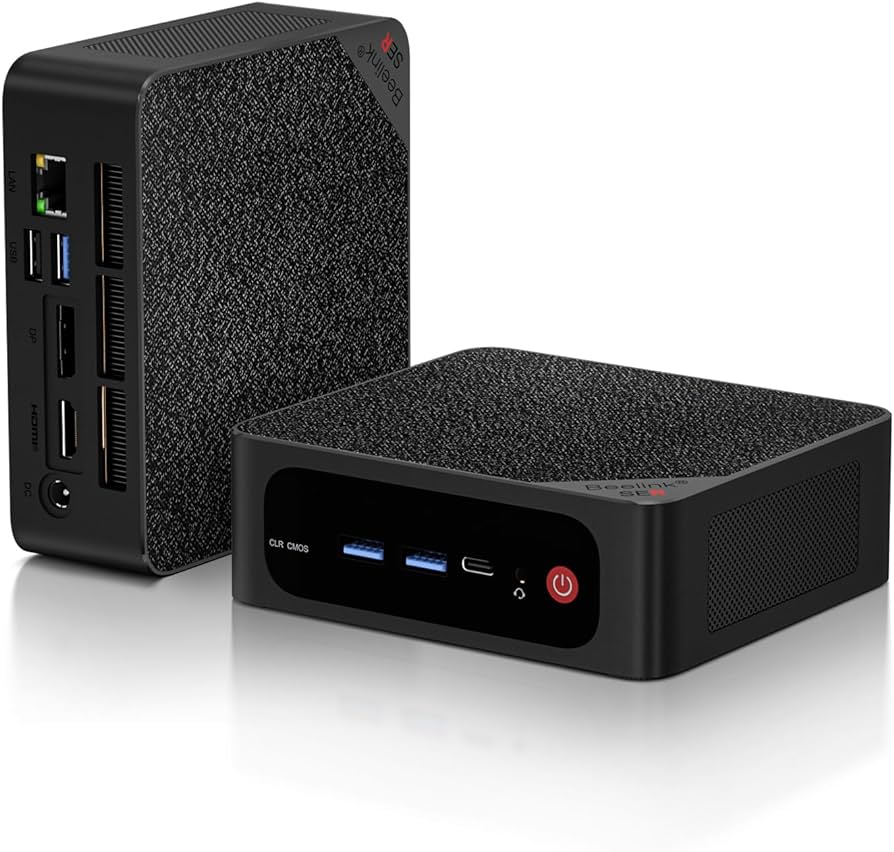 The Beelink SER5 is a high-performance mini PC designed for users who need more power without breaking the bank. It's great for advanced multitasking, light gaming, and media creation. It is equipped with an AMD Ryzen 7 5800H (up to 4.4GHz), 32GB DDR4, 500GB NVMe SSD, ensuring speedy operations. It supports 4K resolution, has 3x USB 3.0 ports, an USB Type-C port with power delivery, HDMI, and Ethernet, making it versatile for various connectivity needs.
Each of these mini PCs offers a unique set of features and capabilities, making them suitable for a range of uses and preferences. When selecting one as a gift, consider the recipient's specific needs and how they're likely to use the device. This will ensure you choose a mini PC that perfectly matches their requirements.
Disclosure: We might earn commission from qualifying purchases. The commission help keep the rest of my content free, so thank you!