In today's modern world, cloud storage is one of the fastest-growing technologies in the world, offering various features of cloud storage services to free and paid customers. One of the main reasons behind this is that users of cloud storage platforms get the best incentive to move their valuable data from one storage cloud to another.
In this article, you will know about the benefits of cloud migration, and how to transfer your data between different clouds services, like "transfer dropbox to google drive" and "migrate dropbox to onedrive".
Benefits of Cloud Migration
Demand for this online cloud storage feature has grown significantly. To that end, several online platforms such as Google Drive, Amazon S3, Dropbox, and OneDrive are working to provide storage services. However, some cloud service platforms help you move your data from one cloud account to another. Well, let's talk about the benefits of cloud migration.
1. Scalability
Maintain a high level of consistency according to your needs. This saves you money on unused data. It also gives you opportunities to increase or decrease resources according to business needs. This reduces your workload and so we can focus on key business needs. Using Cloud Services you can easily move google drive to dropbox, migrate google drive to onedrive and migrate dropbox to onedrive.
2. Better working life balance
These types of cloud services have better balanced the tasks of your life, enabling workers to choose to work from home and work comfortably. Many services are independent of platforms and operating systems that can be easily operated on any device such as mobile, tablet and laptop.
3. Better storage
Many online cloud services solution providers offer high security data storage at minimal cost. Cloud computing is both easy and inexpensive to expand and shrink storage based on your needs.
4. Recovery from disaster
Recovering data using cloud-based backup and recovery solutions is easy. This saves time and investment in these recovery tasks. Cloud-based solutions are ideal and realistic.
5. Security
Security issues such as hacking, data theft, unauthorized access, intrusion and identity theft are locked into the cloud computing environment. It provides maximum protection under these conditions.
Transfer Data between different clouds
You can easily transfer your data from one cloud to another by installing this software on your computer and connecting it to the Internet. With this software easily transfer dropbox to google drive your data and migrate dropbox to onedrive easily. With this platform's app, you can perform your cloud migration process. There are no further complications with transferring or syncing files between different cloud accounts to Windows. Check out the steps below to learn how to transfer Dropbox to OneDrive using Wondershare InClowdz.
Below you will learn how to transfer your data via dropbox to google drive and migrate dropbox to onedrive. It's very easy to transfer or migrate your data between these drives. All you need to do is read the procedure carefully and follow it.
Easy way to transfer dropbox to google drive
Here's the best and easiest way to transfer Dropbox to Google Drive using Wondershare InClowdz.
Step 01: First of all, download Wondershare Enclosures software to your Personal computer.
Step 02: After downloading this App just click on this app icon and install it on your computer.
Step 03: Once you have this app installed on your computer, run this app. If you have already created an account, you can either log in or create your own account first.
Step 04: Go to the left side of this app's homepage and click the Migrate button.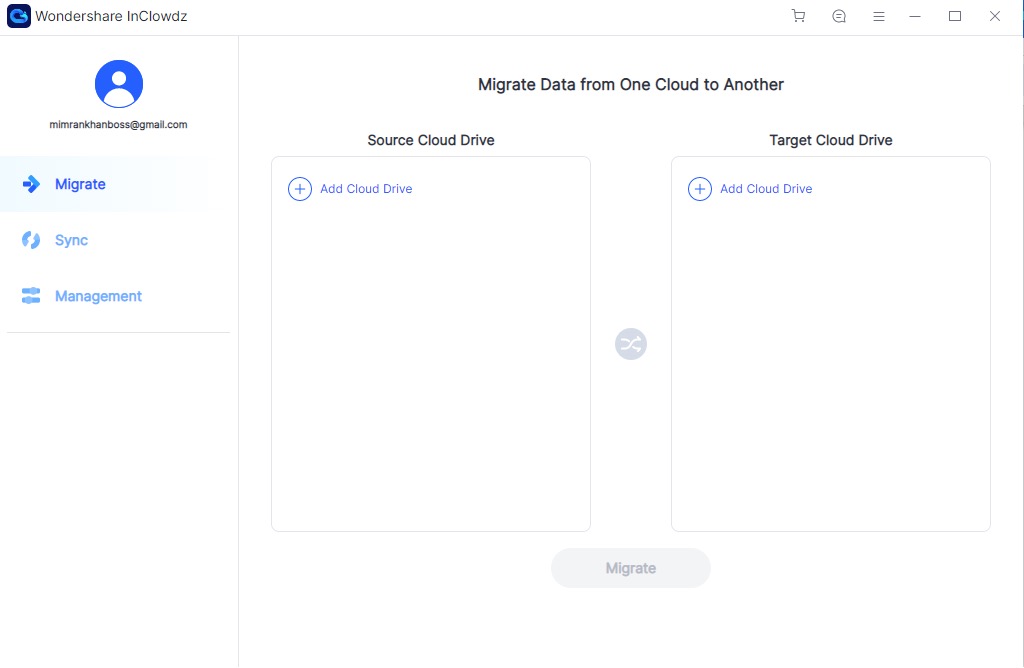 Step 05: Now select the source and target the cloud accounts as per your need by clicking on "Add Cloud Drive". Follow the on-screen instructions to authorize your cloud account.
Step 06: Now click on the source drive (Dropbox) and select the files you want to transfer from one cloud drive to another.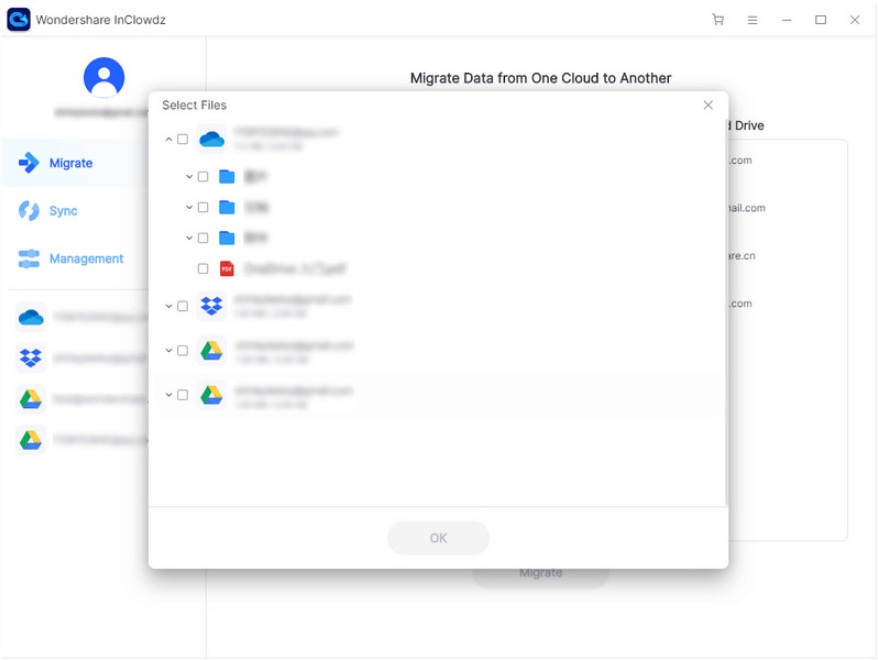 Step 07: At this stage, you select your target folders and click migrate to start the migration process.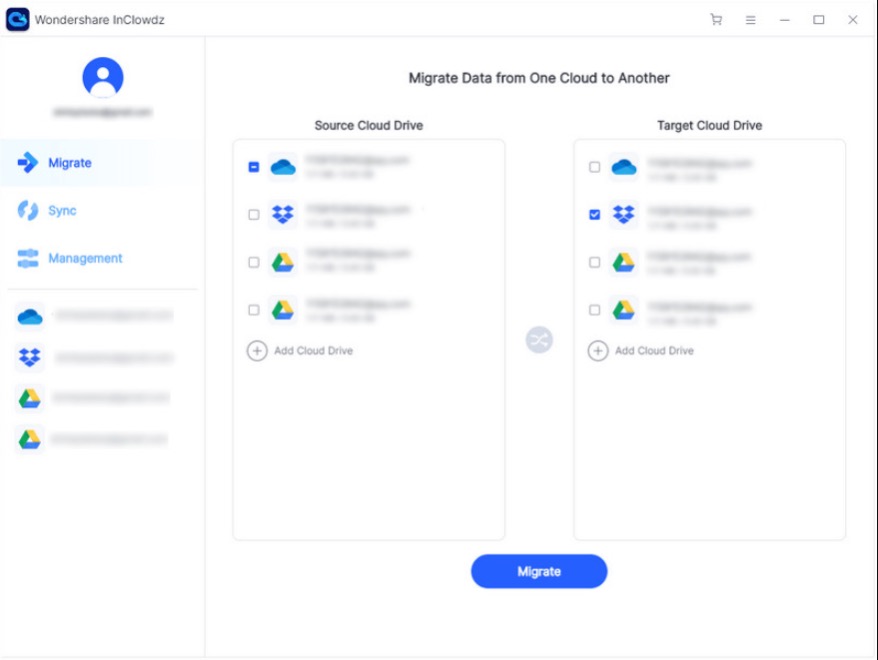 Step 08: After carefully completing all of these steps, wait a while until your data transfer process is complete. When this process is complete, close this Swift window.
Easy way to Migrate Dropbox to Onedrive by Downloading & Uploading
Cloud storage has become an important part of our daily lives and businesses. If you are using Dropbox to store your files and now you want to store your files in Onedrive, So here is an easy and best way to help you migrate your data from dropbox to onedrive.
Step 01: First, open the Dropbox online platform through your web browser. Then log in with your email and password.
Step 02: Find and download the file you want to transfer.
Step 03: Click on the file you want to download and download it.
Step 04: After downloading your desired file, it's time to upload your files to OneDrive. Also make sure that the required file downloading process is complete and that the file is not damaged in any way. Here's an easy way to upload your files to OneDrive.
Step 05: Open your File Explorer and locate the files you want to upload.
Step 06: Open OneDrive in your web browser and login to access OneDrive account.
You can also migrate from dropbox to onedrive using wondershare cloud migration software.
Final Thoughts
Many of us use cloud services to secure our valuable files. Cloud Services assures us that our personal data is secure and we can access our data from anywhere, but sometimes we have to migrate our data from one cloud service to another for some basic reasons. Therefore, the tool you need to accomplish this goal is called "Wondershare InClowdz". This software allows you to migrate google drive to onedrive, move dropbox to google drive, transfer onedrive to google drive.
Disclosure: We might earn commission from qualifying purchases. The commission help keep the rest of my content free, so thank you!