Freedom to customise your Android device is taking the Operating system to new heights day by day. Sometimes we see new launchers, then we see custom ROMs and now when people got bored on switching open apps in traditional way a developer named Mohammad Adib made a app named which Switchr which takes away all the boredom to switch.
Though there are many other similar apps present in Android Play Store but I found this one interesting and more fast than others. We have two versions of the app: paid and free where free version has some restrictions about which we will take in a while. I advised you to try free version first and if you find it worth then you can update to paid version anytime.
Functionality difference between paid and free version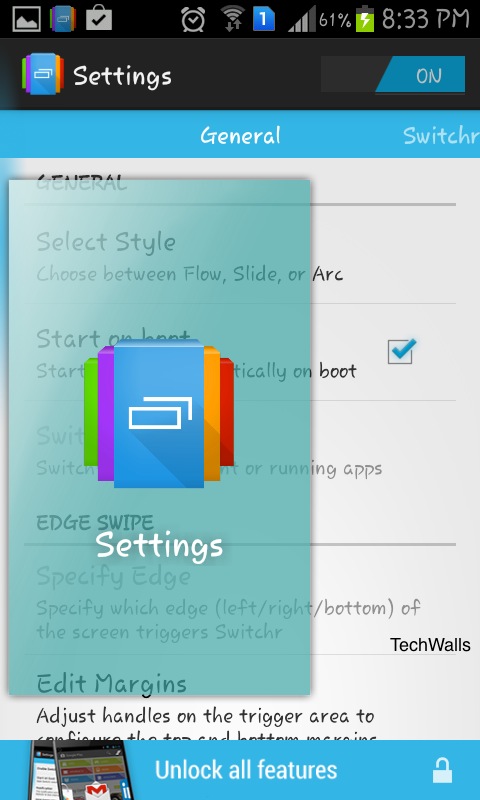 As far as the functionality of the app is concerned it does it well. If you happen to have a free version then you can't change the edge which triggers its functions but you can do the same in paid version. Other functionality which is excluded in free version is ability to add/delete apps in whitelist and blacklist. In paid version you can see unlimited number of open applications also you can change the visual appearance. Lastly paid version gives you the ability to use more custom gestures which are absent in free version.
Working
Working of Switchr is damn easy, all you need to do is swipe your finger along the activating edge and then lookout for the app to which you want to switch if it's there then great otherwise simply create a random gesture to cancel the action. There are three types of app layouts such as: Flow, Slide and Arc.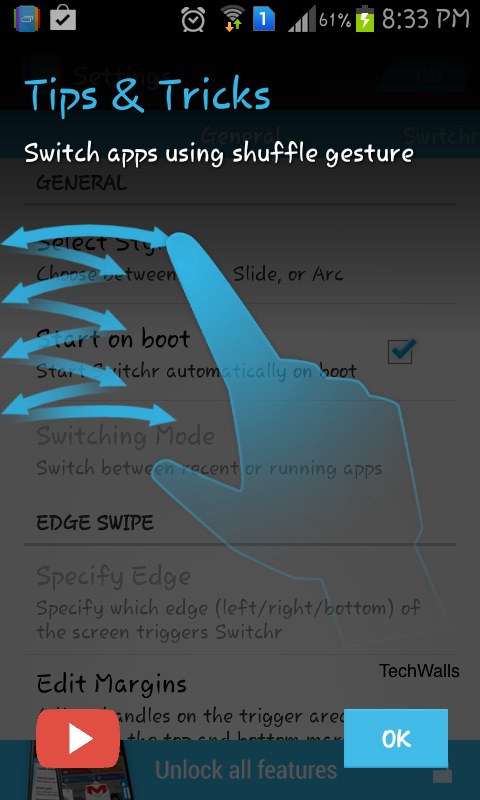 In Flow mode you will see apps in the way similar to what we see in Windows while using ALT + Tab option. While Slide mode shows you one open app at a time and you can choose from the various simply by sliding. Coming to the third type i.e. Arc shows the number of opened app in the form a circle and you can choose you from various open apps easily.
Verdict:
Personally I felt that this app is worth for those who do a lot of Multi-tasking on their droids as this app tends to save their time though difference is not much but it feels great and a change from old way.
Downloads:
You can download the free Version from here: Switchr free
If you find the free trial version useful then you use this link anytime to upgrade to paid version: Switchr Paid
If you find this app useful make sure you download and leave a review to the developer so that he/she can improve more and your experience better.
Disclosure: As an Amazon Associate, I earn from qualifying purchases. The commission help keep the rest of my content free, so thank you!