One of the problems I have when playing games on mobile devices is that the touch controls are so horrible. Some titles are even unplayable with the touch screen because the touch inputs are very inaccurate sometimes and they totally ruin the gaming experience. I purchased some interesting games on App Store like Riptide GP 2 or Castle of Illusion but I gave up very soon just because of the touch controls.
Then I have the chance to review the SteelSeries Stratus wireless gaming controller which is touted as the first Apple's authorized wireless controller for iOS devices. Can it solve the issue of gaming on iPhone or iPad? Check out my review below.
Unboxing and Testing Video
Design
The SteelSeries Stratus has quite a good design in my opinion. It is packed in a small plastic shell but still includes all buttons you need for gaming. On the front, there are a big pressure-sensitive D-pad, 4 face buttons, 2 analog sticks, a pause button and a LED bar indicating player number. The power button can be found on the right side, the mini-USB port for charging is on the bottom and there is a Bluetooth pairing button on the back. You can also see the shoulder buttons on the top, including L1, L2, R1 and R2.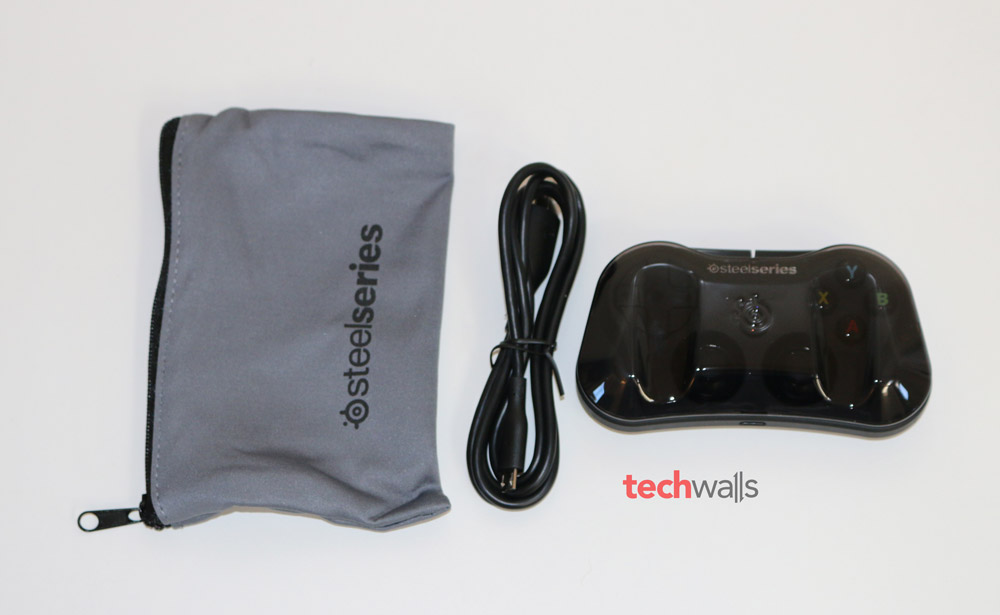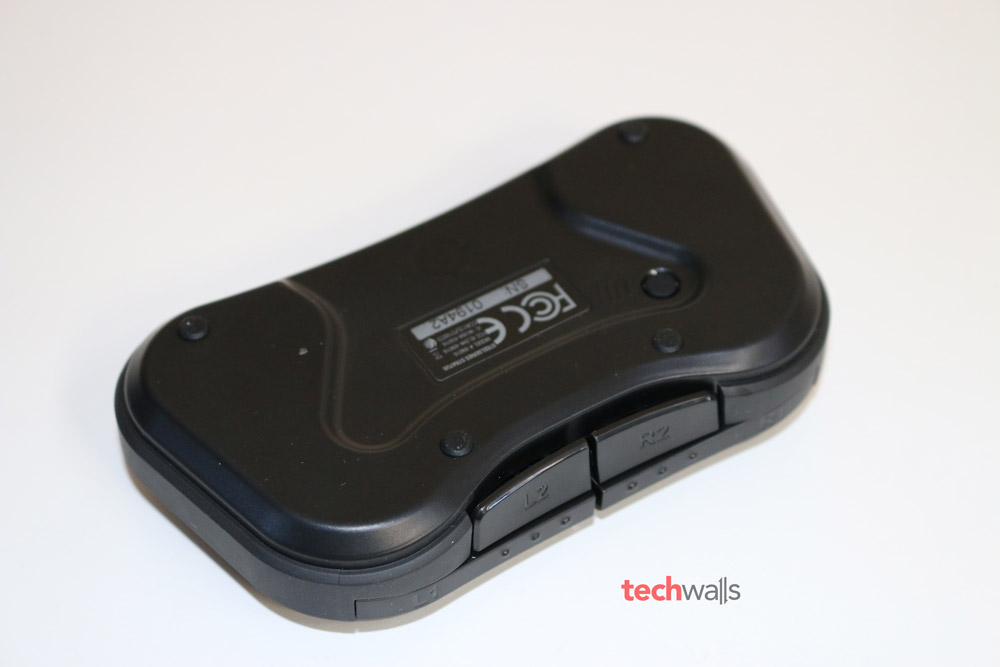 While the L1 and R1 is quite easy to press because they are lengthened, the L2 and R2 buttons are very difficult to reach because they are smaller and centered. I don't understand why SteelSeries doesn't just place those buttons near the sides.
I've seen many complaints that the controller is uncomfortable but I don't have the problem at all, probably their hands are too big or they just prefer full-sized controllers on Playstation or Xbox. We have to sacrifice to for the portable design. The controller has a footprint of an iPhone 5S and a little thicker, however, it totally can fit into your pocket. A cover is included so that you can protect the button, you can also attach it to the back for better grip.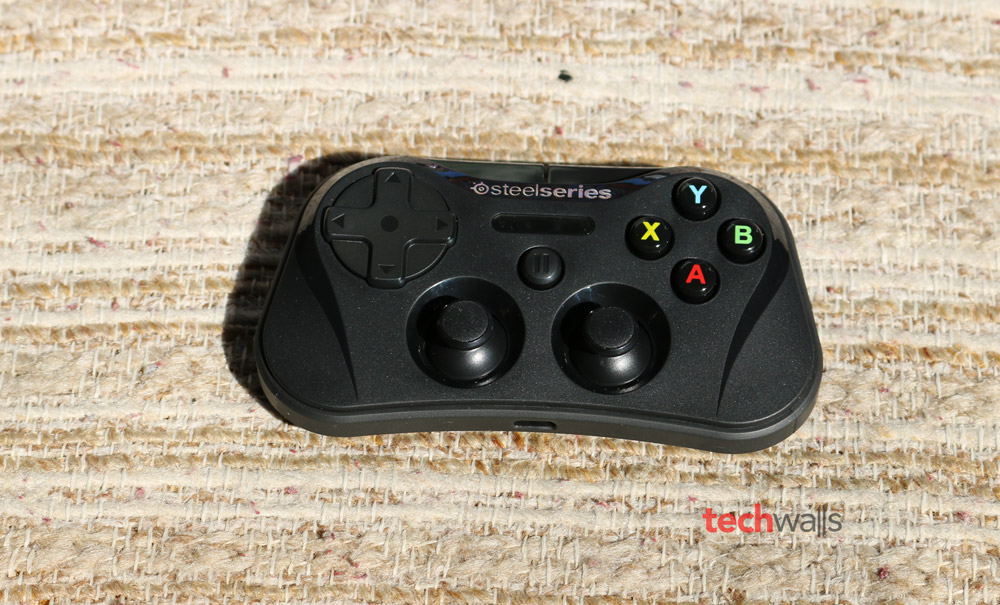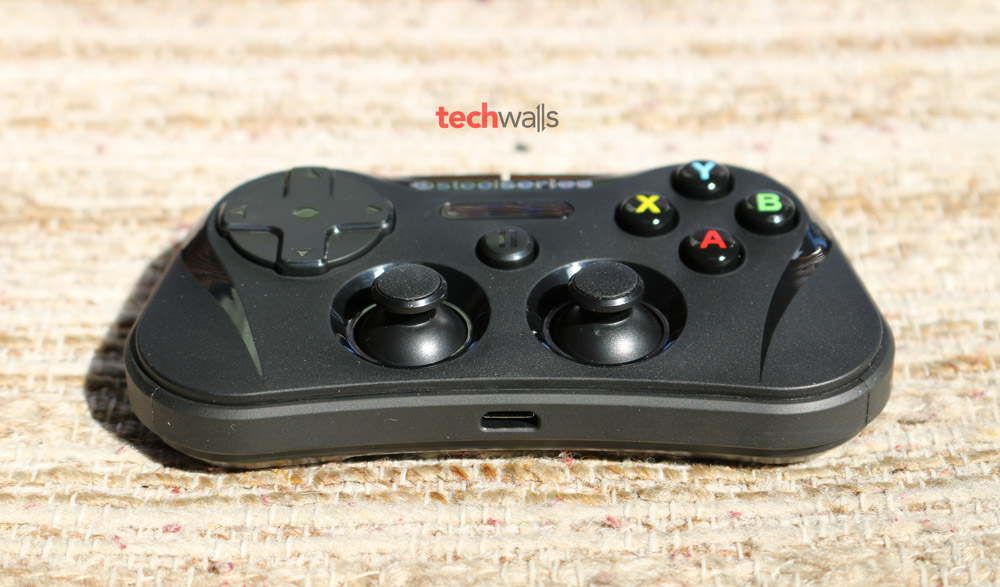 You might need a dock for your iPhone or iPad because the controller can't hold your device. Therefore, it is not really practical to use it on airplane or subway. I hope that SteelSeries can improve it in the next generation.
Performance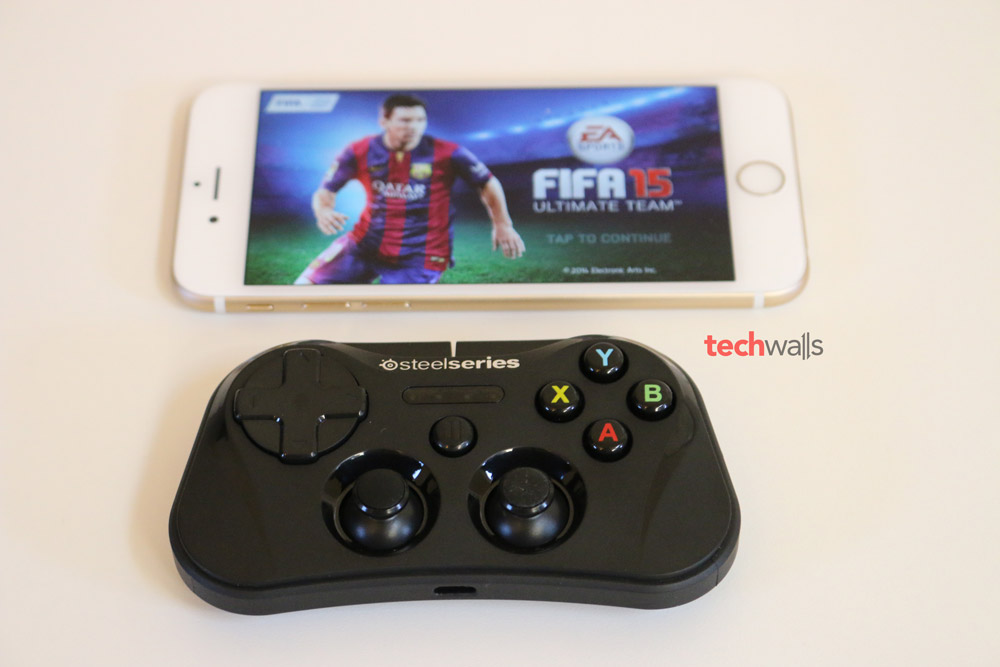 The controller is completely wireless and it connects to our iOS devices via Bluetooth. I had no problem pairing it with my iPhone 6 and haven't got any interrupt with the connection yet. The buttons are sensitive and respond smoothly to my inputs. I mostly use the joystick instead of the D-pad and it works perfectly, the sticks are tiny but it is easy to maneuver and seems very durable.
I tested the Stratus with some games like Riptide GP2 and Fifa 15. The controller makes the gaming experience much more enjoyable. I always had problems using touch controls with those games because it is very difficult to play and look for the on-screen virtual buttons at the same time. However, the controller still lacks of consistency with some game titles, I couldn't use it with menu screens and sometimes I still have to use touch inputs for those screens.
The battery life of the Stratus is quite good. SteelSeries claimed that it could last for up to 10 hours, I've used the controller for over a week without recharging.
Conclusion
Pros
Portable and lightweight design.
Good battery life.
Controls are very responsive.
Compatible with most games.
Cons
Doesn't have a dock to keep your iOS device.
The controller doesn't work with menu screen sometimes.
Awkward L2 and R2 button placement.
No Android support.
Pricey.
The SteelSeries Stratus is available on Amazon for $79. I love using this controller because it can improve my mobile gaming experience but the price is a little difficult to justify. If it costs about $50, I will totally recommend it.
TechWalls Rating
Design - 8
Performance - 8.5
8.3
Good
A good choice for mobile gamers.
Disclosure: As an Amazon Associate, I earn from qualifying purchases. The commission help keep the rest of my content free, so thank you!