When you walk into a Starbucks near you, chances are if you aren't running in just for a quick cup to-go, you are probably sitting for a little bit to read the newspaper or surf the web. If you choose to surf online, you might notice that finding an outlet for your laptop or cell phone is hard to come by on a busy day.
However, Starbucks is currently in the works to bring wireless charging stations to thousands of stores across the country. Could this change the standard for other shops and even restaurants? Today, we will assess what Starbucks's plans mean for the company and for you as a customer.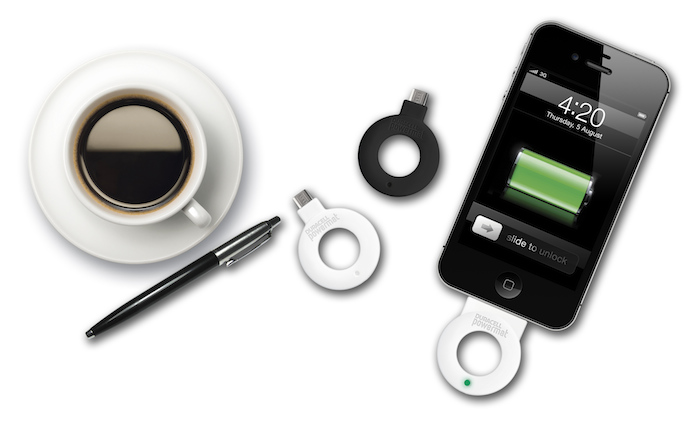 On Thursday, the plan was announced that Starbucks will begin to roll out wireless Duracell Powermats to various stores across the country, with a full roll out expected over a number of months or even one to three years. It is expected that Duracell Powermats will be available on the same scale as code scanners, in most stores but not all. For almost two years now, there have been trial runs in Boston and Silicon Valley, with a full San Francisco roll-out by year's end.
They will work by having round adapters in various parts of the store. Customers can then attach their smartphones to rings, like the ones pictured above.
"Starbucks is a highly regarded global brand and its decision to rollout a Powermat network is both empowering and transformative for consumers and the mobile industry as a whole," said Jeff Howard, vice president, Mobile Devices and Accessories, AT&T Mobility.
Starbucks previously had the reputation of being simply a place where you grab your morning coffee and head-out. In many respects, this reputation is still true. There are a good number of Starbucks locations across the nation that offer drive-thru service. However, Starbucks moved toward a more sit-in environment recently, especially with the push toward a more filling and hearty menu choice rather than the pastries we are used to. With the wireless charging, Starbucks is finally starting to say "stay for a while".
Wireless charging has gained popularity due to the lack of cords needed for the process. Apple's Lighting cord push made it even more vital because that decreased the chances that individuals without a cord would be able to ask the individual next to them who may very well have an iPhone 4 or 4S.
Wireless charging is seamless and easy, simply drop and your ready for charging. By seeing this technology make its way in Starbucks is the first time wireless charging was implemented in an organized way across the board for a big corporation. If there is success in Starbucks's endeavour, we could see this occur in other sit-down situations, like restaurants.
The Starbucks CEO stated that trial runs in both the Boston and San Francisco markets showed that individuals were more likely to use the charging stations for a need basis, rather than to reach 100%. This can translate to us that Starbucks's move is of great convenience to individuals, especially those who may be waiting in line or have a little bit of time to spare. Wireless charging support was found for all post iPhone 4 devices (this includes the 4 as well as the 4S, 5, and 5S). Notice that the PMA's wireless charging solution is not as well adapted as Qi charging standard.
While it is easy for us to say based on the trial run results that the wireless charging stations won't put a dint in the stay times for customers, we have to remember the location of these trial runs. In Boston and Silicon Valley, individuals may not find themselves sitting for a long period of time in a Starbucks. There are a myriad amount of coffee shops out there. However, in many other locations, you may find that individuals will look to this as a welcoming mat to stay longer, rather than simply a Powermat.
Disclosure: As an Amazon Associate, I earn from qualifying purchases. The commission help keep the rest of my content free, so thank you!