The last two ranges of tablets launched by Sony might not have been as successful as expected but it can be clearly seen that Sony learns quickly from its mistakes. The new Sony Xperia tablet S has prepared itself to catch up with the competition.

This tablet is said to be slim and light weight than the previous versions of its and are expected to give a cut throat completion to Apple iPad and Asus Infinity Tablet.
Key Features
The key feature of Sony Xperia Tablet S includes
9.4 inches display screen with Mobile BRAVIA engine and a captive touch screen resolution of 1200 X 800 pixels.
64/32/16 GB of inbuilt memory
Android 4.1 ice-cream sandwich OS
8 MP Rear and a 1 MP front auto focused camera
Stereo Blue tooth V3.0
TV out and USB host
GPS with A-GPS support digital compass
Three axis Gyroscope, proximity sensor and Accelerometer
6,000mAh battery
Splash proof and lot more
Sony Xperia Design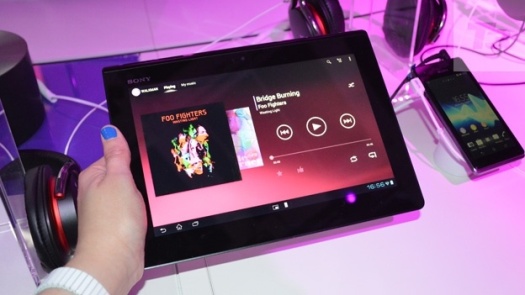 The Sony Xperia tablet has dimensions of 239 X 174 X 8.8mm which makes it noticeably compact than its close rivals in the market in terms of price and specs. The Asus transformer and Acer tab are not as compact as the new Sony Xperia S tablet but also lacks in weight and other features. The new Sony Xperia S Tablet is much lighter than the previous mentioned by about a 150gms. However the weight is not considered as a topic of discussion so far, the Sony Xperia S tablet is having an awesome BRAVIA screen which gives a 15% screen estates to its users for an evident everyday use. The Sony Xperia S tablet comes in folded magazine design and with an extra depth it might be a bit heavier to handle with one hand but it this design also gives its users an excellent portrait orientation grip.
Sony Xperia S Multiple User Inteface
The Sony Xperia S tablet does have an Android 4.0.3 Ice cream sandwich operating system but it has fairly kept it away from any modifications. There are some very useful features of this tablet like Guest Mode which gives a multiple users interface to this tablet. A user using the guest mode will be able to share all the admin files but will not be able to access those files. The Sony Xperia S tablet provides five home screens to its users and their guests, the number of screens could be added or removed as per the users will and also allows a user to add shortcuts and folders to home screens.
Sony Xperia S Gallery, Music and Video
The Sony Xperia S tablet comes with two apps galleries; the one gallery is album where as the other one is a standard looking Android gallery. In the Android gallery a user can add up pictures into the internal memory of the gadget along with any desired Picasa album. While viewing a single image users can also crop, cut and edit images simultaneously. The images are arranged in a grid of thumbnails grouped by date location and tags. Where as in the album mode the images are stored in a stack of thumbnails over the screen and are sorted by dates. A user viewing an image can categorize them into – pictures, map or online screen stacks.
Sony Xperia S tablet is enhanced with walkman branded music players applications for a better and clear audio interface which is reviewed as the eye candy feature of this tablet. The 3.5 mm audio jack enables a user to listen music with a complete pleasure.
As earlier mentioned, the Sony Xperia S tablet comes with a 9.4 inches BRAVIA screen interface which makes it so much easier for a user to share and watch videos over the tablet as it gives an excellent resolution with a depth. The video player of the gadget supports almost all kinds of video codec as because it has an inbuilt media player of its own.
Sony Xperia S Connectivity
The Sony Xperia tablet comes in two models the 3G + Wi-Fi and Wi-Fi. The version enabled with 3G comes with a quad 2G mobile data support band and HSPA+ enabled 3G with quad band. Both versions support Wi-Fi a/b/g/n, which means that they both will work with 5 GHz and 2.4 GHz networks and gives a transfer speed of 150Mbps.
The Sony Xperia S tablet comes with a default inbuilt browser app and a Chrome for Androids browser. The browsing speed of both the browsers is excellent while the user can cut down to short customized apps so that multiple apps can be accessed simultaneously.
Sony Xperia S Price
Sony Xperia S is available for 399 USD.
My thoughts on Sony Xperia S tablet
Sony Xperia S Tablet is a very nice and a big improvement over its predecessors but unfortunately there are a lot of other Android Based tablets in the market which provides a tough completion to Sony Xperia S tablet. The price of the tablet starts from 399 USD.
Disclosure: We might earn commission from qualifying purchases. The commission help keep the rest of my content free, so thank you!