Recently, during the holiday season, Sony has decided to reduce the price of their 16 and 32 GB tablet, the Sony Tablet S, from $500 to $400 and $600 to $500.
To give a clearer idea of what we are dealing with here, the Sony Tablet S boasts a 9.4-inch 1280×800 display, front and rear cameras, Android Honeycomb, 1GB system memory, and eight hours of rated battery life. However, although Sony is quite a reputable company and therefore the subject of this article, they are by no means the first company to jump on the bandwagon and cut down their prices to the mid range level.
Another good example of such an instance would be the Motorola Droid Xyboard 10.1, which, at launch, sold for $530, $ 630 and $730 for the 16, 32 and 64 GB models respectively. This is a good comparison as, though the prices are still relatively expensive, like the Sony Tablet S, Verizon's Motorola Droid Xyboard also had a price drop. However, their price reduced by $50 instead of $100 for each model, making the current prices $480, $580 and $680. This is with a 2-year contract with Verizon, meaning that the tablet is still quite expensive compared to most tablets, priced at $699 for only the 16GB model.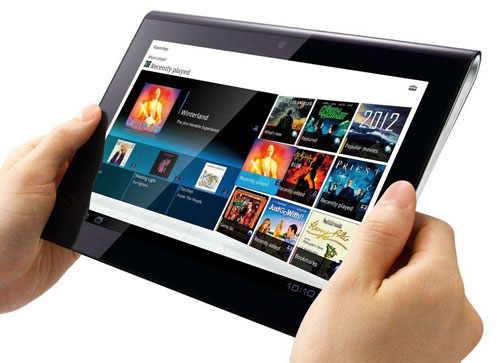 Another more extreme example of this trend is RIMS Blackberry Playbook, which has been selling for nearly $300 off its original price range, depending on where you buy it.
Newer tablets, however, such as the 16GB Acer Iconia, are priced relatively low from their release ($300-350 range), once again depending on where you buy it. The Acer Iconia is listed at $319.99 at Best Buy.
From all this data, we can make a relatively assured inference that most tablet producers and suppliers have decided to reduce their prices in order to maximize their revenue. However, with competition like the Kindle Fire – which has even outsold the iPad 2 at Best Buy – which is priced at only $199, is it really working?
Unfortunately, though, for those Apple fans out there, Apple seems to have no intention to lower their prices and actually seems relatively immune to the price pressure surrounding the tablet market. However, one would think that, with their massive economies of scale, they could afford to do so. This may be because of the fact that Apple, more so than most other brands, has enough consumer loyalty to allow them to maintain both high prices and high revenue. Apple continues to sell over 10 million tablets per quarter.
Overall, though, this trend of cutting prices seems like an interesting opportunity for those who previously could not afford to buy a tablet. If the pressure keeps up, even Apple might cave in and decide to drop their prices from their high price range of $499-$829 to a more affordable one.
Disclosure: As an Amazon Associate, I earn from qualifying purchases. The commission help keep the rest of my content free, so thank you!