Sony has just put the last piece of the puzzle at the game developer conference where it showed the wireless DualShock 4 controller and a new Eye Camera for the upcoming next generation console, the PlayStation 4. The console is due to arrive in holidays this year.
Wireless DualShock 4 Controller
The looks and design of the controller is, or we can say, a bit traditional but the buttons control are now digital instead of analog, which also means that touch sensitivity is gone. The touchpad at the top front of the controller is a touch surface for different hand gestures like flickering, pinching, twisting during various game moves.
The touchpad can also be used to navigate between user interface, on screen slider buttons and can also do the cursor function. The controller has 3 axis accelerometer and 3 axis gyroscope.
Then there is a built in microphone jack, as we said in earlier rumors and a share button, again the same one in rumors, to share or stream your gameplay with your friends.
There is also an LED at the back top of the controller. According to Sony, the LED will remain on and will show which button is pressed with corresponding colors – red, pink, blue and green. The LED can also be used to demonstrate different game conditions like going red in low health or blue with gun fires.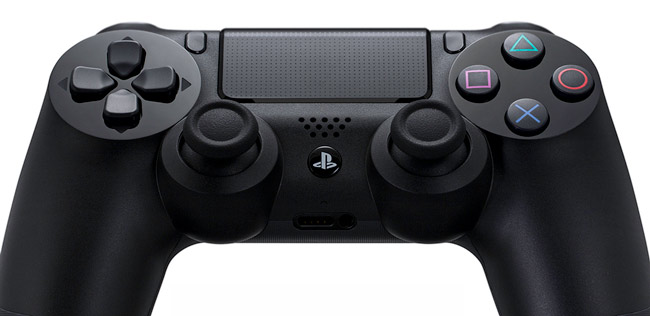 PlayStation 4 Eye Camera
Playstation 4 eye camera is basically a sleek and rectangular chocolate like bar with simplest of designs. There were no extra details given out but Sony says that  the new Eye Camera will work in accordance with the DualShock 4 controller and will help in changing colors of LED.
Sony also said that it is not the final mock up and there might be a change in design before the actual launch.
Even if the PlayStation 4 actual console design and specs are still not out yet but if we look at the configuration and design of the DualShock 4 controller and the new Eye Camera, we can surely say that this time Sony is planning something big for PlayStation fans. But the only thing that stands between both of them is the time.
Disclosure: As an Amazon Associate, I earn from qualifying purchases. The commission help keep the rest of my content free, so thank you!