Have you ever wondered what Mobile SEO is all about? How significant they are? If you can't figure it out, this article will give you a circumscribed idea on mobile SEO's and some common mistakes we do while optimizing sites for mobile SEO's.
Few days back, I came across a blog post by the none other than the software giant Google on how the rankings of the search results on mobile devices gets affected due to the optimization of sites for mobile devices. They clearly mentioned there that more the content and the website design is optimized for mobiles, higher the sites will rank in the search results.
It is very logical since Google will never want to display a search result which will be poorly displayed on the user's device. I would like to quote here what Google wrote on their blog post:
"Smartphone users are a significant and fast growing segment of Internet users, and at Google we want them to experience the full richness of the web. As part of our efforts to improve the mobile web, we published our recommendations and the most common configuration mistakes.

Avoiding these mistakes helps your smartphone users engage with your site fully and helps searchers find what they're looking for faster. To improve the search experience for smartphone users and address their pain points, we plan to roll out several ranking changes in the near future that address sites that are misconfigured for smartphone users."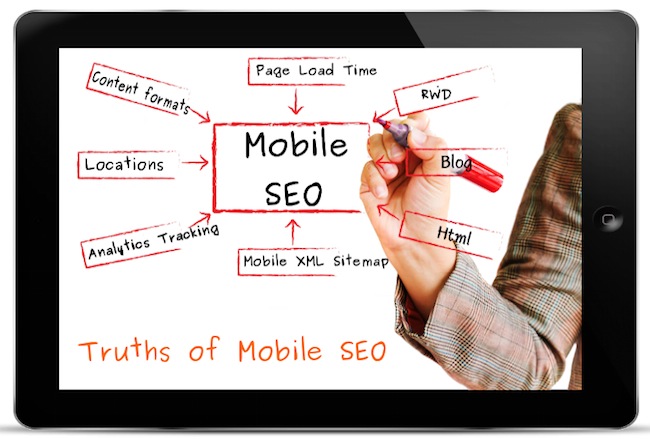 There are several sites which already has a mobile version but still fail to manage good traffic and hits whereas the computer version of the site is overloaded with traffic. This situation arises very often as people don't pay attention towards Mobile SEO's. Here I will discuss the top 5 common mistakes that the developers do while optimizing their sites for mobile devices.
Unplayable Videos
There are many videos which are not playable on smartphones. This happens generally due to some absence of software or due to the incapability of the device. I personally recommend you to use HTML5 standard tags to embed videos and avoid formats like Flash as many devices doesn't support Flash.
Always try to offer the best and the easiest experience possible for all smartphone users by making the embedding simple and also making the transcript of the video available.
Website Redirects
Most of the sites have dedicated smartphone pages and try to redirect smartphone users on the basis of the user agent. A very general error is to redirect a user who is trying to access a desktop URL to a faulty URL on the smartphone site.
I want to add some examples with this-
No matter what the user is requesting on your site's homepage, the site owners generally try to redirect smartphone users from the computer version of the page anyhow. This causes a huge problem for the smartphone users as they don't get the material they want to see.
Desktop URL's which have dynamically generated content do not generally map with other URL's. So at the end, they land up to a page exactly opposite to what they were searching for. That is very irritating.
If you want to redirect, redirect selectively like only Android users if you don't want them. Do not redirect the whole traffic. That creates a fuss.
I recommend you to configure the redirection properly so that the users land up on a smartphone page instead of a poorly optimized desktop page.
Smartphone- Error 404
There are some sites which serve their desktop fraternity but show an error page to smartphone users. In order to serve the best, do the following –
If you can detect that a user is visiting a desktop page from a smartphone and you have a mobile version of your page ready, then redirect the user to that mobile version of the page instead of showing 404 error page.
If you don't have a mobile version of the page, let them see the desktop version of the page in the mobile. Always it is better to see something rather than seeing a soft 404 page.
App advertisements
There are several webmasters who promote their sites apps to the visitors. But the problem arises when there are indexing issues of smartphone optimized content and thus the visitors page gets complex and dirty.
Considering this problem, i recommend you to use a very simple banner to promote your app in any form of the website. You can implement your ad in the following forms:
Use a native browser and an OS system supported banner app like the Smart App Banners for Safari on iOS 6.
An HTML image that will link the correct app store for downloading of the app.
Page Speed
It is one of the most important criteria when it comes to web surfing. Optimization of page according to the loading time is absolutely necessary these days. Here are some basic points you need to remember before doing so –
Load your site's mobile version within one second
Optimize your site according to mobile
Make mobile web faster
Use Google PageSpeed Insights to analyze all possible loading issues for your site.
Read also:
Best CDN Services – MaxCDN, Amazon CloudFront and Google PageSpeed Review
How to Keep Loading Time of your WordPress Blog Less Than 3 Seconds?
I would finish just by saying one thing, if you haven't tested your website on mobile devices yet, it's high time that you get started. Hope this article will help you to optimize your sites better for mobile devices by understanding the myths and the general problems. If any doubt is there, do leave a comment on the comments section.
Disclosure: We might earn commission from qualifying purchases. The commission help keep the rest of my content free, so thank you!