Google Page Speed, the new CDN service for webmasters, was announced last week and this has been much anticipated because it is provided by Google. The service is currently opened to a limited set of webmasters only, fortunately I have a chance to try it for free at the moment. Therefore, I decided to set it up on my new site.
My first impression is that I am quite amazed at the free service as the loading speed has been decreased dramatically. I used the Pingdom Tools to measure the speed before and after launching Google Page Speed Service and here is the result:
Before: the loading time is 5.8s
After: the loading time is 2.3s
By using this service, Google will fetch your content, optimize and speed up your pages and then send them back to your readers. There is a notice that the service won't work on bare domains such as discountedcoupon.net. So you must add the missing www prefix so that it could be supported by Page Speed Service.
Read more: Best CDN services for WordPress.
Now, let's take a look at the detailed instructions on how to set up Google Page Speed CDN service for your website. Check out the new video guide by Google.
1. Add Domain
After being approved for trying the service, you will see there is the new tab Page Speed Service in the Google APIs Console page.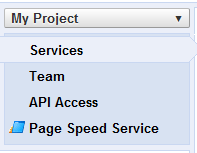 Go to the new tab and add your domain to the textbox Serving Domain. Remember it must include the prefix www.

Then, it will require you to verify your domain's ownership. What you need to do is adding a DNS record in your hosting provider or domain registrar.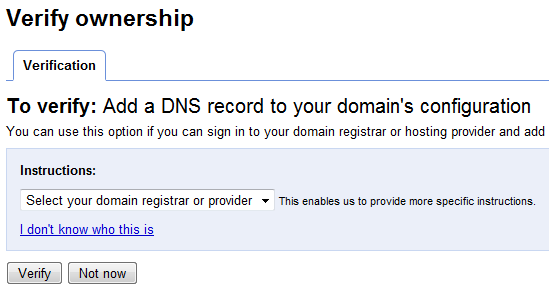 I am using HostGator, so I go to Advanced DNS Zone Editor to add the DNS record. It will take you a few minutes for DNS settings to propagate through the Internet.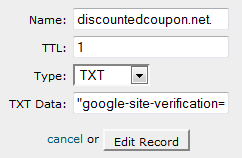 2. Setup Reference Domain
The next step is setting up reference domain, this will look up the IP address to fetch the original website's content. So, you need to point the reference domain to your hosting IP address. It is simply done by setting a new DNS entry (A-record) for ref.discountedcoupon.net pointing to the IP address of your server (the same IP address that discountedcoupon.net is pointing to). It will take some time for the propagation completed globally, you can check it out at http://www.whatsmydns.net/#CNAME/www.discountedcoupon.net.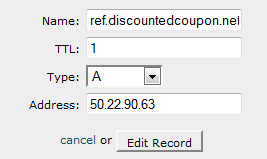 Fill in the textbox reference domain with ref.discountedcoupon.net and continue to the next step.
3. CNAME Site
In this step, you just need to go to your DNS provider's administration console to add a new CNAME record. If a CNAME entry for www.discountedcoupon.net already exists, set its value to ghs.google.com. Otherwise, create a new CNAME record and with the value ghs.google.com.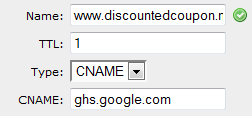 All done, now you can go to Dashboard to see live traffic status. It will show Requests, Errors and Average HTML Page Load Time for you to watch. That's great to see the performance of this website being improved. If Google charge the service for an affordable price, I will not hesitate to use it for my blogs.
Have you tried Google Page Speed on your site and what do you think about its performance?
Disclosure: As an Amazon Associate, I earn from qualifying purchases. The commission help keep the rest of my content free, so thank you!