Google Plus is the new social network by Google established since 2011. It is reported that Google+ now has a total of 300 million active users every month.
If you have been active on Google+ now, you possibly notice that the URL of your profile looks quite ugly, for example, here is my profile URL:
https://plus.google.com/113914713777855840452/
Google+ is now using a long ID at the end of URL which is difficult for people to remember. Here are some solutions to set username to shorten your Google+ URL so that it would be cleaner and more recognizable.
1. Google+ officially offers custom URLs
Update: Google is offering vanity URLs for verified accounts and normal accounts. You just need to type in short URLs like "google.com/+techwalls" or "plus.google.com/+tuando" to reach those pages.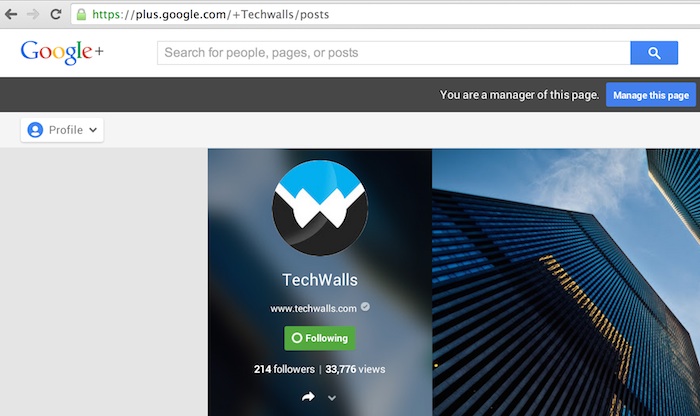 The feature is not available widely for normal users yet. Google announced that they are introducing custom URLs to a limited number of verified profiles and pages. Google has rolled out the feature and it is available to most users. You will just need to have a profile photo, at least 10 followers and an account that is at least 1 month old. Then Google will send you an email to confirm that you've got a custom URL for your Google Plus profile. You will also see a notification when you log in to your account. After clicking on the button "Get URL", you will see the following screen: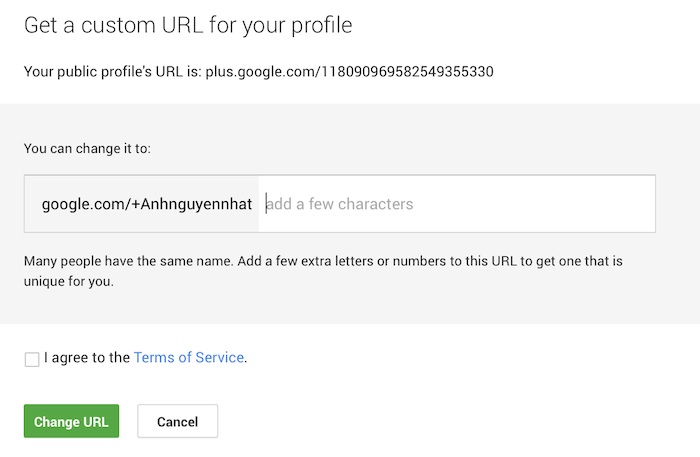 In most cases, you will have to accept the URL they offer, however, some established accounts will have to option to request a different one.
Notice that you won't be able to change your username once you set it. You only can change its format by going to Profile -> About -> Links and choose Edit, then you will see the option like below.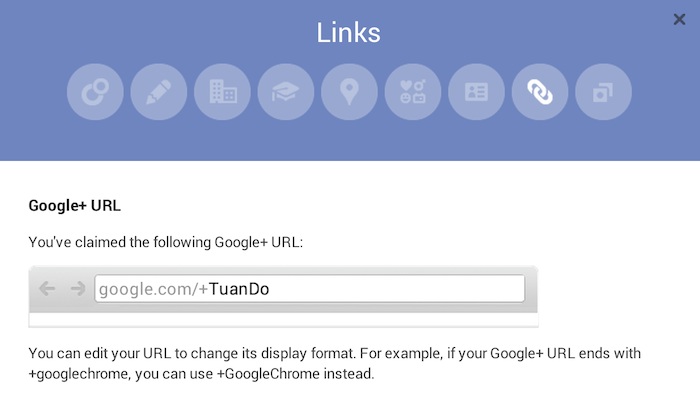 Recently, Google has announced the a search-specific feature called Google+ Direct Connect. The feature gives visibility for Google Plus pages as the pages will show up when people type query in Google+ Search, for example, when people type in "+TechWalls", they will see the icon and link to the Google+ page of the brand. To make your page eligible for this feature, you just need to install the Google+ badge on your website, read this post on custom URLs for Google+ Page for more details.
Google will determine your page's relevancy and popularity based on its algorithms, you will be able to get a custom URL if your page qualifies. We can understand that Google encourages us to be more active on Google Plus by engaging people, updating posts regularly and driving people to add your page to their circles. You absolutely get a better chance when your page becomes more popular.
2. Google Profiles
Google Profiles is now redirecting your profile page to Google+ Profile if you have one. So you can create a profile URL like this:
https://profiles.google.com/TuanDoViet
However, you can set the username of your own because Google Profiles uses your Google username for this URL. This is also a drawback of this solution, you might have to create a new Google account to get your desired Profile URL.
You just need to go to this page to create your profile, then click on the option Edit your profile – Profile URL. Google will give you 2 choices of Profile URL, you can choose the one with your username and save these settings.

Update: Google don't allow access to this page anymore, but you still can get a vanity URL using your own Google ID. So, your URL will be https://profiles.google.com/your_username.
3. Gplus.to
Gplus.to is a service that shortens your Google Plus profile into a neat, easy to remember link. To create your shortened URL, all you have to do is giving Gplus your Google+ profile ID, it will generate an URL in the format gplus.to/yourusername. You can set whatever name you want as long as it is still available. Here is my custom URL: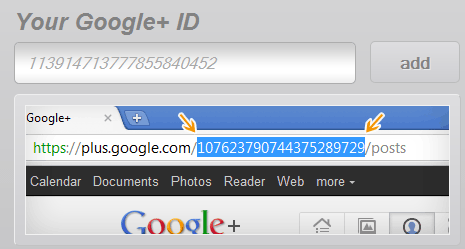 However, notice that this service is not related to Google, so you are not guaranteed to own the ID and this is also not a 301 permanent redirect.
Do you use the solutions above or any other ways to set your own URL?
Disclosure: We might earn commission from qualifying purchases. The commission help keep the rest of my content free, so thank you!