We all know that the Google Search Engine has added the Google +1 button for users to recommend their friends useful pages. Google also said that the number of +1s is an important factor to get high ranks on SERPs, at least on the global Google.com. The statement had upgrade this button and now we can see that most websites and blogs are placing the +1 button on their posts. The more people recommend a page, the more reliable and useful Google think it will be. Even when Google does not adjust ranking, the high number of +1s will attract users and it is more possible that they will click on this link.
We can see the importance of Google +1 these days, it could help increase traffic or boost sales for businesses. Therefore, almost at the same time with the appearance of Google +1, services trading Google +1 were born all over the Internet. Let's check out some of them.
Backlinks.com
Backlinks is testing the Google +1 service, so it has a limited amount of inventory. However, this is the most reliable service as it comes from a well-known company. They promise all the Google +1s come from unique IPs and real Google user profiles. They are offering 3 packages:
Starter Package – 100 +1s for $199
Starter Package – 500 +1s for $349 – Can be split between 2 URLs.
BEST VALUE Package – 1000 +1s for $599 – Can be split up to 4 URLs
It usually takes about 5 to 7 days to fulfill 1000 +1s. Projects will typically be started within 72 hours.
Plussem
The Plussem's service is selling Google +1s for much lower prices. They also guarantee that the votes come from different Google account worldwide that has been verified by phone and no bots are being used. It's untraceable because the +1′s are done manually by clicking the button and being given from different IPs. Moreover, all +1s are given dripped over a couple of days so it looks natural for Google. Here are the 3 packages of Plussem:
50 Google Plus Ones – $19.99
250 Google Plus Ones – $69.99
2000 Google Plus Ones – $359.99
Buygoogleplus1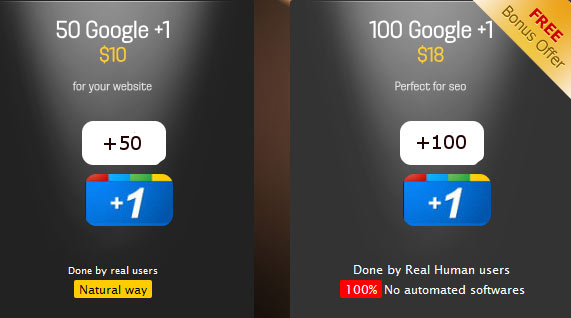 Buygoogleplus1 is offering the service for lowest prices. Beside the 3 main packages, users can also purchase addons to optimize the result. For example, Custom Drip addon to drip Google +1 over week/month, Google Search addon to get real human users to search for keyword, click on your website and give it +1. Or you can get +1s from US, UK and Canada users with another addon. The cheapest package is priced at $10 only.
50 Google Plus Ones – $10
100 Google Plus Ones – $18
200 Google Plus Ones – $30
Google is very strict against black hat SEO tips and this could be another one. However, it seems to be very difficult to restrict the Google Plus Ones trading  because SEO companies are not using bots but real people. They are often got paid only $0.01 for each +1 click.
What do you think about these services? Will you consider purchasing one package to optimize your site?
Disclosure: As an Amazon Associate, I earn from qualifying purchases. The commission help keep the rest of my content free, so thank you!