A month ago, a schedule leaked from Samsung mentioning the handsets that were going to be the first ones to get the new Android 4.4 and among them were all the latest flagship smartphones like the Note 2, Note 3, Galaxy S3, and Galaxy S4.
Now after a while another Samsung update schedule got leaked which shows that Samsung will be adding their entry level smartphones to the Kitkat 4.4 update as well. Google Android Kitkat 4.4 is their latest OS. Kitkat is the fastest and smoothest OS Google has come up with, it's so well optimized that it only requires 512 MB of RAM to run. The 512 MB RAM requirements should not hold companies back from updating their entry level smartphones to kitkat 4.4 and that is what Samsung might be trying.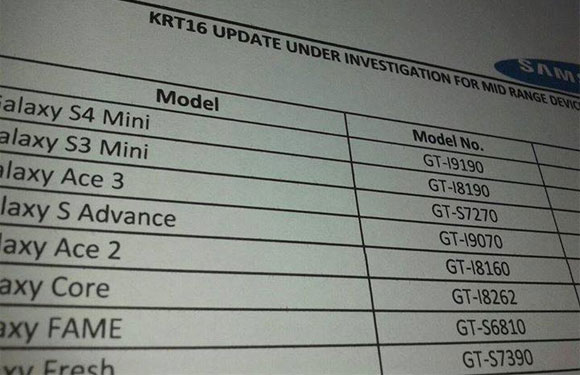 Keep in mind that the minimum RAM requirementfor Android kitkat 4.4 is 512 MB of RAM but that is applicable only when using Google's pureAndroid 4.4, while companies like Samsung and many others have their own custom interface on top of the Google OS. In Samsung's case it'sTouchWiz so there is no guarantee whether the OS will run on the entry level smartphones or not, but Samsung is testing them for now on a number of selected entry level smartphones that includes ( Galaxy Fresh, Galaxy Ace 2, Galaxy Frame, Galaxy Core, Galaxy S3 mini, Galaxy S4 mini, Galaxy S Advanced ).
These are all the smartphones that were released in 2013 and it's were very disappointed to see that Samsung didn't include the Galaxy S2 in the list as well, as the smartphone meets the requirements of the Kitkat 4.4 and has 1 Gb of RAM and have similar specs to all entry level smartphones mentioned above.While companies like Apple gives a chance to most of their old smartphones to get updated to the latest version like their newly released iOS 7 that includes the iPhone 4 as well considering it's an old smartphone.
Samsung is not the only one other companies like Sony is also hoping to update their entry level smartphones like the Xperia ZR and the Xperia SP.
Disclosure: As an Amazon Associate, I earn from qualifying purchases. The commission help keep the rest of my content free, so thank you!