In a move to cut ties with Google and propel the company's venture into the software and services market, Samsung unveiled its latest flagship smartphone that does away with the Android operating system and instead runs the untested Tizen OS.
Samsung Z, as it is called by the Korean giant, features a fingerprint sensor and an ultra power saving mode to keep the device running even on a nearly empty battery. The 4.8-inch smartphone sports a Super AMOLED display, a resolution of 720 x 1280 pixels, an 8 megapixel-main shooter and a 2.1 front-facing camera. It is powered by Qualcomm Snapdragon 800 with a 2300 MHz quad core processor.
Read also: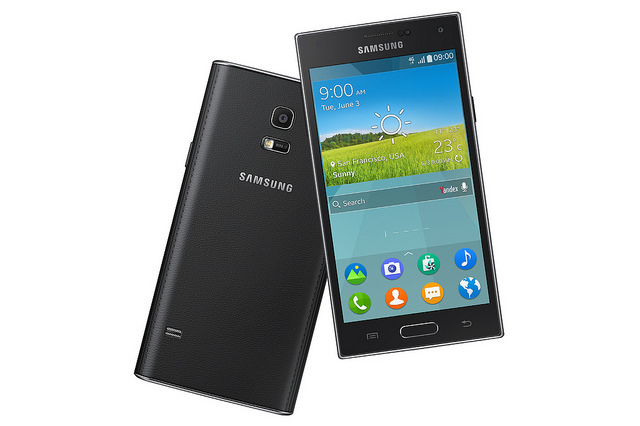 One noticeable attribute of Samsung Z is its slight deviation from Android with respect to the user interface and overall appearance. The home screen alone spells little difference with Google's proprietary operating system, if not for the round app icons and the Yandex logo instead of Google on the search bar.
So how is it different from Android then? Well, not much. Samsung only tried to depart from Google for reasons of competition. Samsung Z will be rolled out in Russia in the third quarter of this year and into other emerging markets in the coming months. Samsung aims for the Tizen-based handset to test the waters in emerging markets, where consumer electronics with low prices outperform the likes of iPhone and higher-end Android devices. With Samsung Z, the Korean smartphone maker promises to cater to the low-income earners.
Samsung also wants to generate revenue from the software aspect of the device, which is currently enjoyed by Google as Android keeps hold of majority of the mobile devices.
The transition to Tizen has been the most anticipated announcement from Samsung following a bungled attempt of the company to launch a previous Tizen gadget in Japan and France that did not push through in early 2014 due to poor demand from users. The botched launch was mainly attributed to the withdrawal of the carrier partners which had bleak outlook on the device's demand.
Samsung will try to circumvent the same barrier by avoiding unnecessary troubles of partnerships with local carriers, and adding local channels to the cycle in order to expand its options. As to the names of those partners, Samsung has yet to disclose.
Tizen first saw the light of sun in 2007, when it was still under development and the current mobile operating systems were non-existent. It began as Linux Mobile and was renamed Tizen in 2011, with the mounting support from investors such as Samsung and Intel.
Disclosure: We might earn commission from qualifying purchases. The commission help keep the rest of my content free, so thank you!