Samsung could be raising the competition with its close competitors, most notably Apple, to a higher level with a new patent it has filed. The patent, filed with the United States Patent and Trademark Office, involves a dock system that is designed to convert a phablet (a hybrid between a smartphone and tablet) into a laptop function.
The innovation in form factor is part of Samsung's effort to attract enterprise customers. Indeed, soon enough you will be able to work with your phablet as if using a laptop computer if Samsung pushes through with the patent and commercialize the technology. The dock system appears to be in an early development phase, but we can glimpse a few features from the patent document.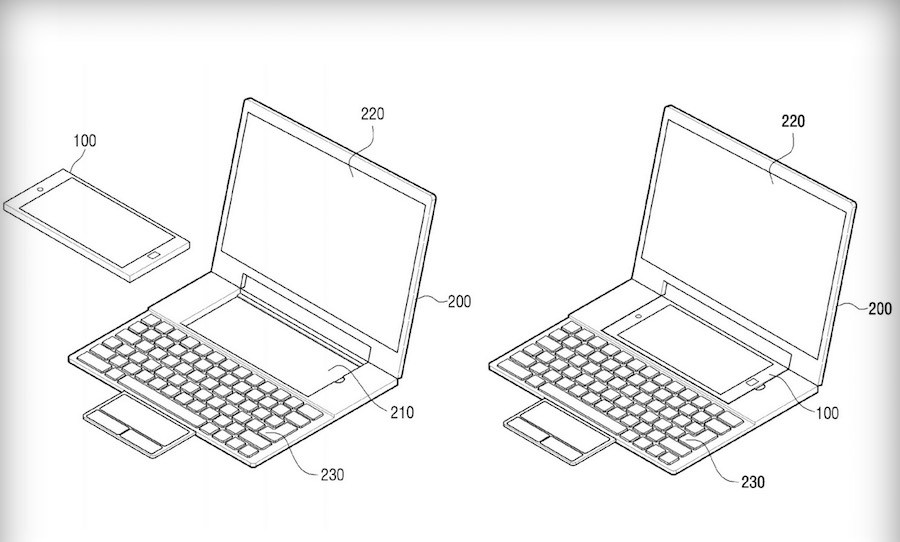 The patent states that the dock not only works on Android-toting phablets but also on those based on the Tizen operating system, a forked version of Android developed by Samsung. And from the Android OS, the phablet-turned-laptop can then run the Windows operating system seamlessly.
For example, your Galaxy Note device that runs either Android or Tizen can transition to Windows OS mode when you connect the phablet to the dock. As innovative as it is, the hybrid device can also have Internet access even in the absence of a WiFi network or mobile Internet data. And that's unprecedented.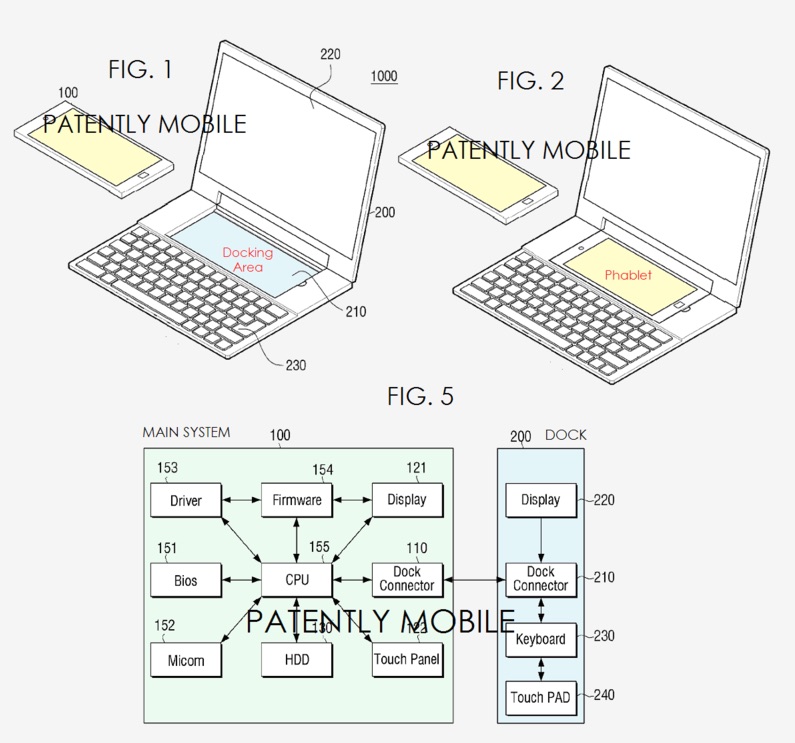 Moreover, we also learned from the patent document that the dock is designed to recharge the smartphone itself and the phablet can work as a track when you connect it to the dock, something that appeals to the requirements of professionals looking to cut their time in using computing devices.
It is also safe to assume that Samsung would indeed push through with plans to launch the laptop-like shell as it has announced previously that the Galaxy S6 would incorporate apps from Microsoft such as the OneNote, OneDrive, Office Mobile and Skype, which are organic apps for Windows.
One appealing factor about the patent is the prospect of seeing a combination of Android and Windows in a single device, which would tremendously expand the ecosystems for their joint users, thus providing more enhanced experience for avid fans of both platforms.
Enterprise customers are expected to subscribe to this hybrid technology once it goes to market if ever. For one, businesses are more accustomed to the Windows operating system and Microsoft office apps. Also, the Redmond software giant is shifting its focus to the Mobile-First/Cloud-First strategy. When Samsung integrates its new form factor into that strategy, we might see yet another mammoth in the software world, something we have not seen before.
Disclosure: We might earn commission from qualifying purchases. The commission help keep the rest of my content free, so thank you!