With their latest tablet Galaxy Tab 2 (7.0) making the rounds in the market, you will probably want to get to know more about the product as well. This tablet is available in two different screen sizes: 7 inch and 10 inches. It runs on the latest Android version of Ice Cream Sandwich. The news is that the product will be launched in the market on April 22. The cost of the device starts from an attractive $250. So did Samsung really create a niche of this product or is it just some modified design and interface form?
Design
One look at it and you can easily figure that the design is not much different from that of the Tab 7.0 Plus. It is slightly lighter than the other, weighing around 12 ounces. The edges are smooth and curved, giving it a classy look. From the price point of view, you have yourself a balanced tablet. It is easy to carry and hold, very comfortable to use.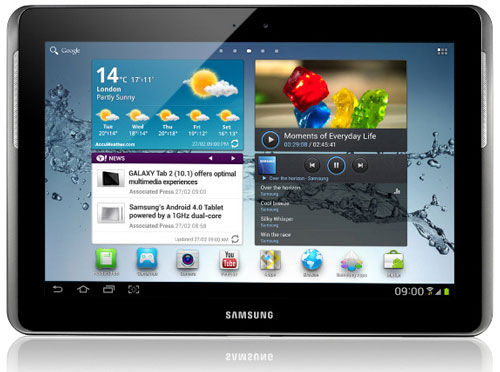 Hardware
This cool gadget has an AMOLED 7 inch display. It has a resolution of 1024×600 with a good colour tone. It is rich and you can view the depth of the colour. It supports video playback up to 1080p. Overall the pixel density is good. You have an 8 GB memory with an additional 32 GB SD card slot. This is good news for all those games and movie lovers. You can store a total of 40 GB worth of data on the tablet. The gadget is powered by a dual core 1 GHz processor. Samsung has not disclosed the processor type yet. There are speaker outputs at the bottom of the device. It also includes Bluetooth 3.0 and Wi-Fi connectivity.
Features
The Samsung Galaxy tab 2 (7.0) runs on Android Ice Cream Sandwich. This ensures a smooth performance of your device. It has all the cool apps and games. It has the Touch Wiz user interface just like the other Samsung tabs. You have the default music player which supports multiple audio formats. It supports WMV video playback as well. Needless to say it comes along with the GPS and Wi-Fi locator features. However, it does not have the FM Radio player. It has browsing options with multimedia chat apps. With the help of its front end camera, you can make voice calls. The call quality is great too.
Camera
It has 2 cameras: A rear end camera with a nominal resolution of 3MP and a front end VGA camera. You can modify the settings of the camera to obtain a good shot. With the help of the front end camera, you have access to voice calls. Video playback is good but although it promises up to 1080p, the detailing is not that visible. Another negative here is that there is no flash and there are issues of noise while video recording.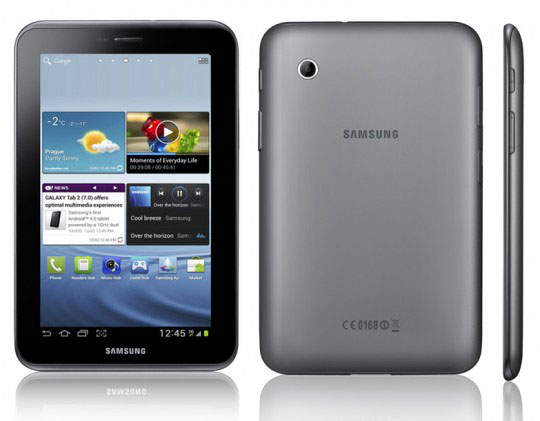 Performance
As mentioned earlier, it runs on Android v4. So there are almost no glitches when you run your games and apps. You have multiple tab- browsing features as well. You can run multiple apps without affecting your device performance. The dual core 1 GHz processor and the Android Ice Cream Sandwich take care of that. The sound quality is amazing. It is loud and clear. The speakers at the bottom produce a surprisingly loud sound. Since it has partnered with Dropbox, you can avail 50GB of cloud network space for free. This is there for a year. The keyboard is a bit tough to use though, as there are tap errors. The screen resolution is good. You can view clear and crisp images. It has a 4000mAh battery specification which runs up to 12 hours. With Wi-Fi usage, the battery life comes down to 6 hours.
Pros and Cons
On the downside, you have the lesser sized screen and a not so amazing camera resolution. It has a limited internal memory of only 8 GB. Sometimes there is a noticeable glitch in the performance, while unlocking the device. However, to negate these minor setbacks the Galaxy Tab 2 (7.0) compensates you with an amazingly affordable price. The lack of internal memory is made up by the extension slot of an SD card (32 GB). It runs on the latest Android version in the market.
Conclusion
This is a good buy if you want a low budget tablet. You have access to the basic features and you have a branded product at an interesting price. However, with onset of changing technology around you, the model seems to be lacking updated features. Yes it is precisely the reason why it is available at a lower price. So if you want the latest updates to be present on your tablet, you need to invest more. Otherwise this is another balanced product released by Samsung.
Disclosure: We might earn commission from qualifying purchases. The commission help keep the rest of my content free, so thank you!