Sony Xperia X and Samsung galaxy S2 are two of the best available Smartphone in the mobile market. The Galaxy S2 might require a few upgrades in the future but Xperia X will be there for a long time in the Smartphone market with its current features. Today we look at the comparison between these two Smartphone so that you can make an informed choice while buying it.
Design
The dimensions of Samsung galaxy S2 is 125.3×66.1×8.5 mm. It weighs 116 gm. It is one of the most best looking mobile in the market with minimalistic design which makes it modern equipment.
The dimensions of Sony Xperia S is 128×64×10.6 mm. It looks striking with its rounded corners and curves. It also has a completely smooth rear panel.
Display
Though having similar dimension, the phone varies greatly in their screen features. Samsung galaxy S2 has a 4.3 inch Super AMOLED Plus screen and has a 217-ppi pixel density.
On the other hand Sony Xperia S has a 4.3 inch LCD screen having 342-ppi pixel density. It beats it rival in this feature.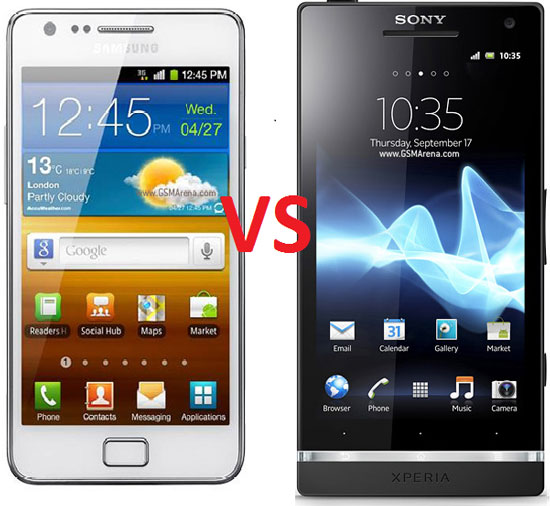 Storage
There are two options for storage in galaxy S2. You can either choose 16 GB or 32 GB of storage. It has 1 GB RAM and the storage is expandable upto 32 GB n microSD slot.
Xperia S has just one option of 32 GB storage with 1 GB RAM.  There is no SD slot here for which it loses out badly in this criterion to Galaxy S.
Software
Both Samsung Galaxy S2 and Sony Xperia S runs on Android 2.3 Gingerbread platform. You need to wait for the next update when Android 4.0 Ice Cream Sandwich will be available in these sets.
Processor
The Galaxy S has a dual core ARM Cortex- A9 processor. It runs at 1.2 GHz. It runs the amazing Exynos chipset and a graphics Mali-400MP unit. Though it is not the fastest processor available on the market, but its hardware configuration is still one of the best available on the market.
The Xperia S has Qualcomm Snapdragon MSM8260 which is a dual core processor. It runs at 1.5 GHz and has Adreno 220 Graphics unit GPU.
Operating System
The Galaxy S2 currently runs on Android 2.3 Ginger Bread. But the customer can now update themselves with Android Ice Cream sandwich. Samsung has released the update and has also prepared a set of guidelines on how to install the latest Android software on the handsets.
Android 2.3 Gingerbread also runs Sony Xperia S. It will get its upgrade to Android Ice Cream Sandwich somewhere around the end of this year. It will surely boost its performance and make the user interface quicker.
Camera
The Sony Xperia S has a camera with 12 MP resolutions and is surely one of the best camera phones available in the market. Also its image quality is way ahead in comparison to the 8 MP camera of Samsung Galaxy S2.
Both of them also have front facing cameras primarily for video chat. Xperia S has a 1.3 MP front camera and the Galaxy S2 has a 2 MP front facing camera.
However both these cameras share an amazing set of features including image stabilization, face detection, preset scenes and smile shots. The GPS inside both the phones supports geo-tagging. Both these phones can shoot video at 30 frames per second.
Battery
On being fully charged, the Samsung Galaxy S2 can support upto 8 hours 35 minutes of talk time in comparison to the Sony Xperia S which can support 7 hours 41 minutes of talk time. Thus Samsung Galaxy S2 has an edge in over Xperia S in terms of battery life.
Price
The price of Samsung Galaxy S2 is $533, while that of Sony Xperia S is $742. We can see here that the Sony Smartphone will punch a bigger hole in the pocket than the Samsung Smartphone.
Bottom line
Both of these phones are undoubtedly great and boast excellent features. While Samsung Galaxy S2 has a better battery backup, Sony Xperia S has a superior camera. Before choosing one over the other, you must prioritize your preferences. If you want the best camera in your phone, you may choose Sony Xperia S. Conversely if battery backup time is of prime importance to you, then go for Samsung Galaxy S. Make the decision only after you can fully understand what both of these phones has to offer.
Disclosure: As an Amazon Associate, I earn from qualifying purchases. The commission help keep the rest of my content free, so thank you!