The Ryobi RY40604BTL is a 40V Lithium-Ion Cordless Hedge Trimmer, forming part of Ryobi's robust lineup of cordless outdoor power equipment. Its distinct combination of user-centric design, performance, and affordability makes it an attractive choice for most homeowners.
Design and Ergonomics
In terms of design, the Ryobi carries the brand's recognizable combination of utilitarian aesthetics and practical ergonomics. It's clear that this tool was designed with ease-of-use in mind. A key feature of this tool is its handle, which can be rotated, offering versatile handling and the ability to trim at all angles. This is particularly useful for shaping hedges and reaching awkward spots.
The hedge trimmer's weight is balanced, which can significantly reduce fatigue during prolonged use, a characteristic much appreciated by users managing larger landscapes. Having said that, the trimmer alone weighs 7 lbs, and when you add in a 6 Ah battery, the total weight comes close to 10 lbs. This is a significant factor to consider, as it could lead to fatigue if you plan to use it continuously for hours.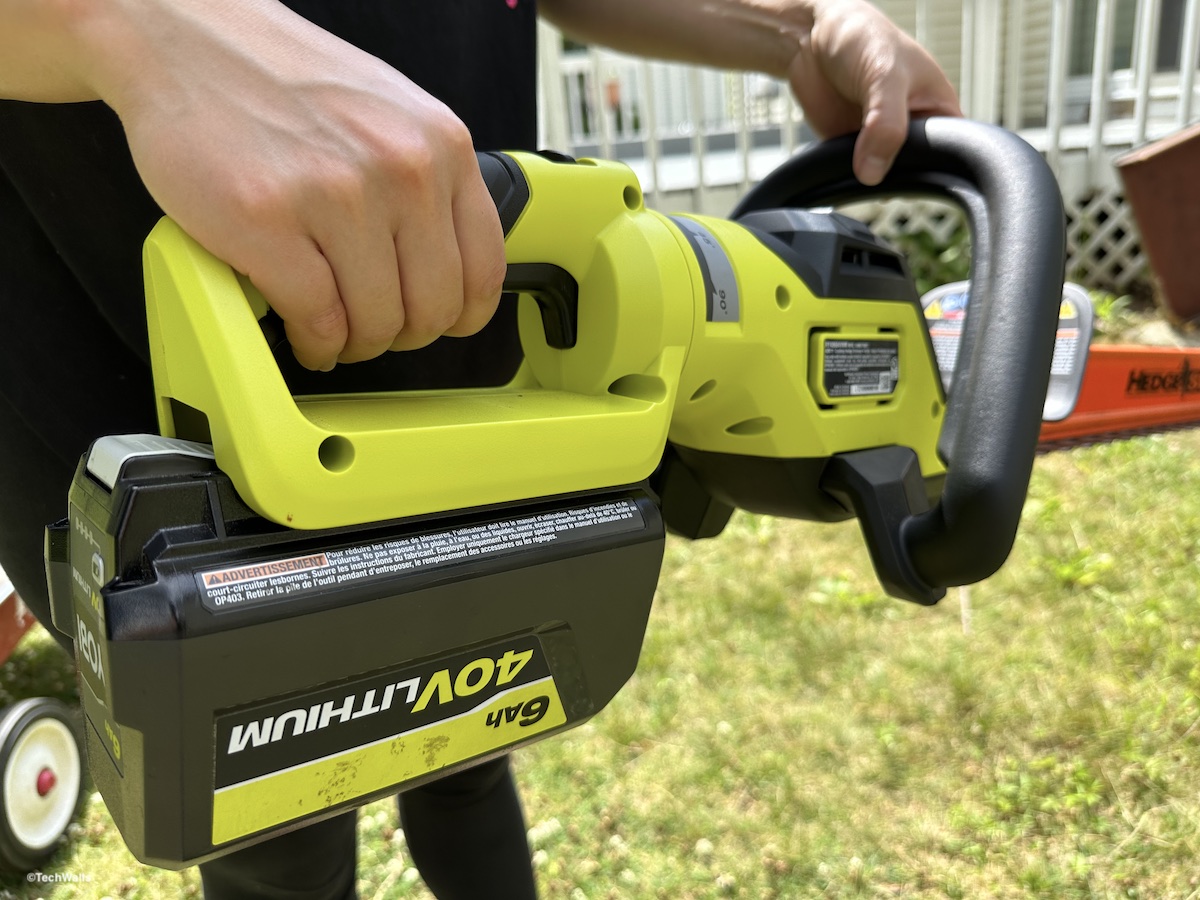 The Hedge Sweep debris remover is a unique and practical addition. This integrated feature aids in clearing away clippings as you trim, thus making your task cleaner and reducing the need for follow-up raking. While not revolutionary, it is attention to these small details that often sets apart a good tool from a great one.
The trimmer also includes a hedge tip protector that not only protects the blade from contact with walls or the ground but also prevents damage to the hedge itself. It's a nice feature, illustrating Ryobi's emphasis on the tool's longevity and the health of your plants.
Performance and Cutting Capability
Performance is where the hedge trimmer truly shines. The 26-inch dual-action blades allow for efficient cutting and trimming, offering a decent cutting capacity that can manage most domestic trimming tasks with ease. The blades cut cleanly and efficiently, reducing the risk of damaging plants by causing less trauma during the cut.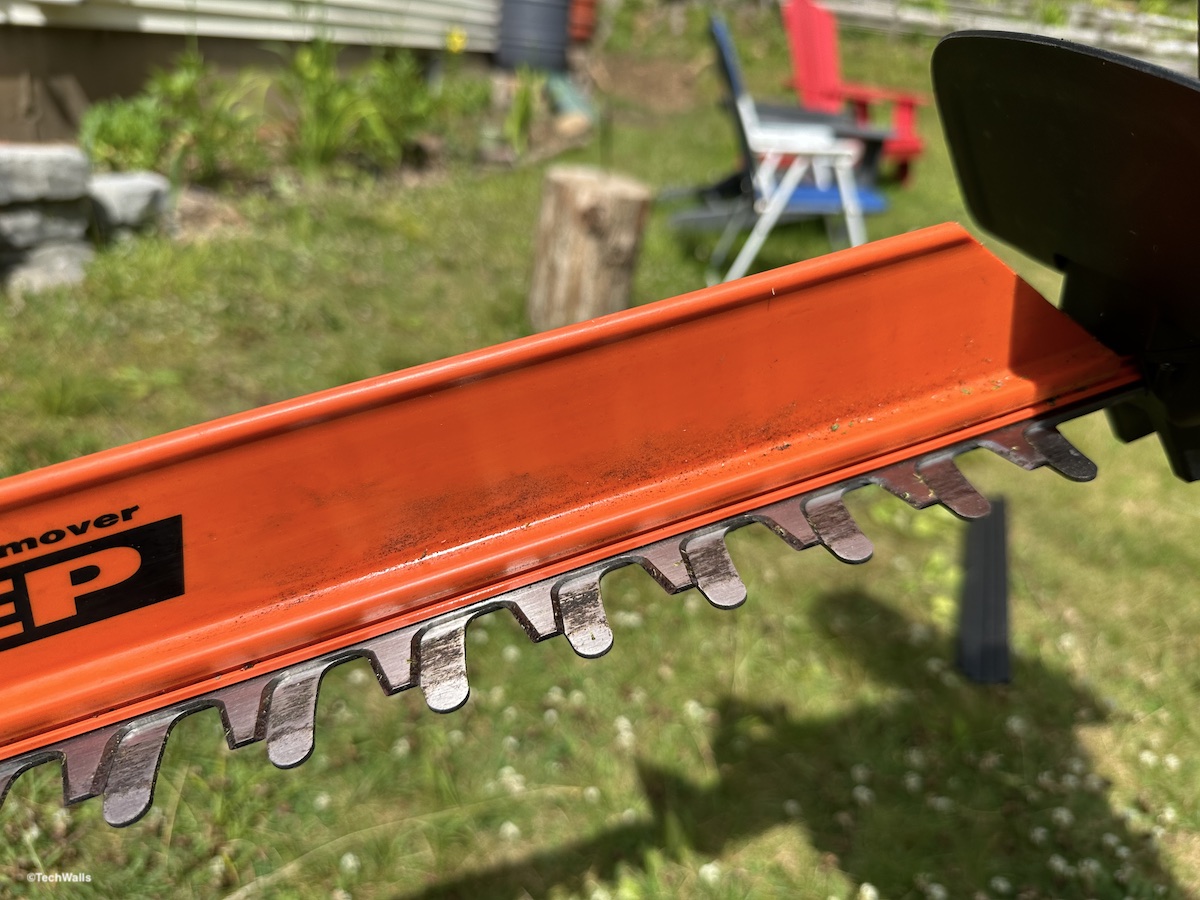 It offers an impressive cutting capacity of up to 1 inch, which is more than sufficient for most trimming tasks. From my personal experience, the trimmer worked wonders on both Yew and Holly bushes on my front yard. I was able to easily trim the top as well as all sides of these bushes, with the trimmer exhibiting excellent performance.
Battery Life and Noise Level
The trimmer is powered by a 40V Lithium-Ion battery, which provides commendable run-time and power. The battery life varies depending on the toughness of the hedges but generally is sufficient for small to medium-size yards. I use a 6Ah battery; I can trim about 10 bushes around my house on a single charge and still have plenty of battery left. As part of Ryobi's 40V sharing platform, the battery can be used across a variety of other Ryobi 40V products, a convenient and cost-effective feature for those invested in the Ryobi ecosystem.
In the noise department, the Ryobi is noticeably quieter than many gas-powered alternatives. While no hedge trimmer is silent, the reduction in noise can make a significant difference in residential areas or for those who value a quieter work environment.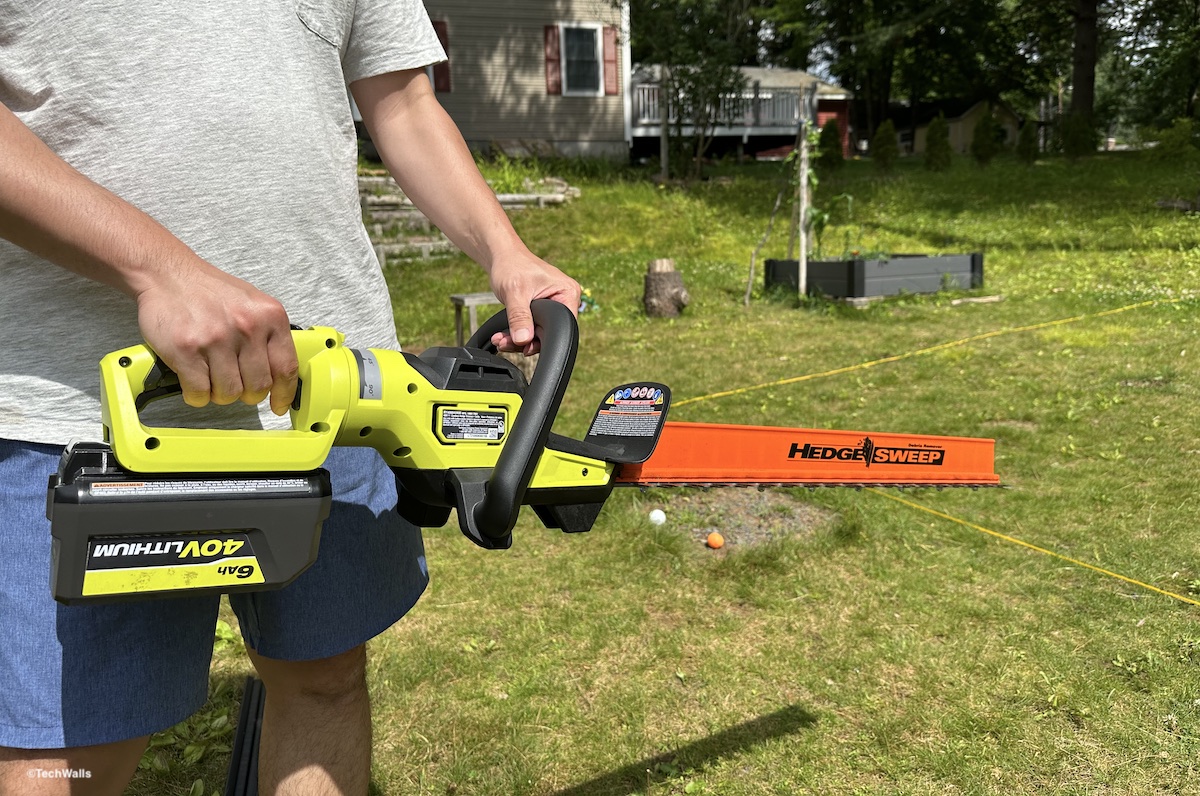 The Shortcomings
Now, let's touch on a few points that could use improvement. Firstly, the battery recharge time might take 3-4 hours. If you own a large property and need continuous operation, it may be worth investing in a secondary battery.
Secondly, the trimmer can struggle with particularly thick branches. While it handles regular hedge trimming duties perfectly well, for substantial branches or particularly woody plants, a dedicated pruning tool might be a better option.
Lastly, it's worth noting that the Ryobi (priced at nearly $200) is at a higher price point compared to some other electric hedge trimmers. However, when considering the trimmer's features and the broader compatibility of the 40V battery system, many users may find the extra cost justified.
Conclusion
In conclusion, this is a well-rounded, cordless hedge trimmer that delivers robust performance coupled with user-friendly features. It handles the majority of domestic trimming tasks with ease, offers excellent ergonomics, and fits seamlessly into the wider Ryobi 40V platform. While it might not satisfy those with heavy-duty needs and the battery recharge time might be a shortcoming for some, the overall package it presents, particularly in terms of usability and convenience, makes it a worthy contender in the cordless hedge trimmer market.
Disclosure: We might earn commission from qualifying purchases. The commission help keep the rest of my content free, so thank you!