This is the photo editing app for those who love posting photos on social media. This app will allow you to perfect the photos with state of the art editing features that will make your amateur photos look professional.
The body editing app allows the user to use its editing features to do so much for example: removing pimples and wrinkles from your face, changing the size of your legs so they appear smaller or larger, reducing the size of your tummy and giving yourself a tiny waist or a flat stomach, and eliminating fat folds and toning your body.
What features does the app offer?
Background editing
The app allows its users to do numerous background changes to their photos. You can change the color of your background, remove unwanted objects or choose a completely different background to enhance the quality of your image. The app makes it easy for the user to make these changes and many more to give them a product that will satisfy them.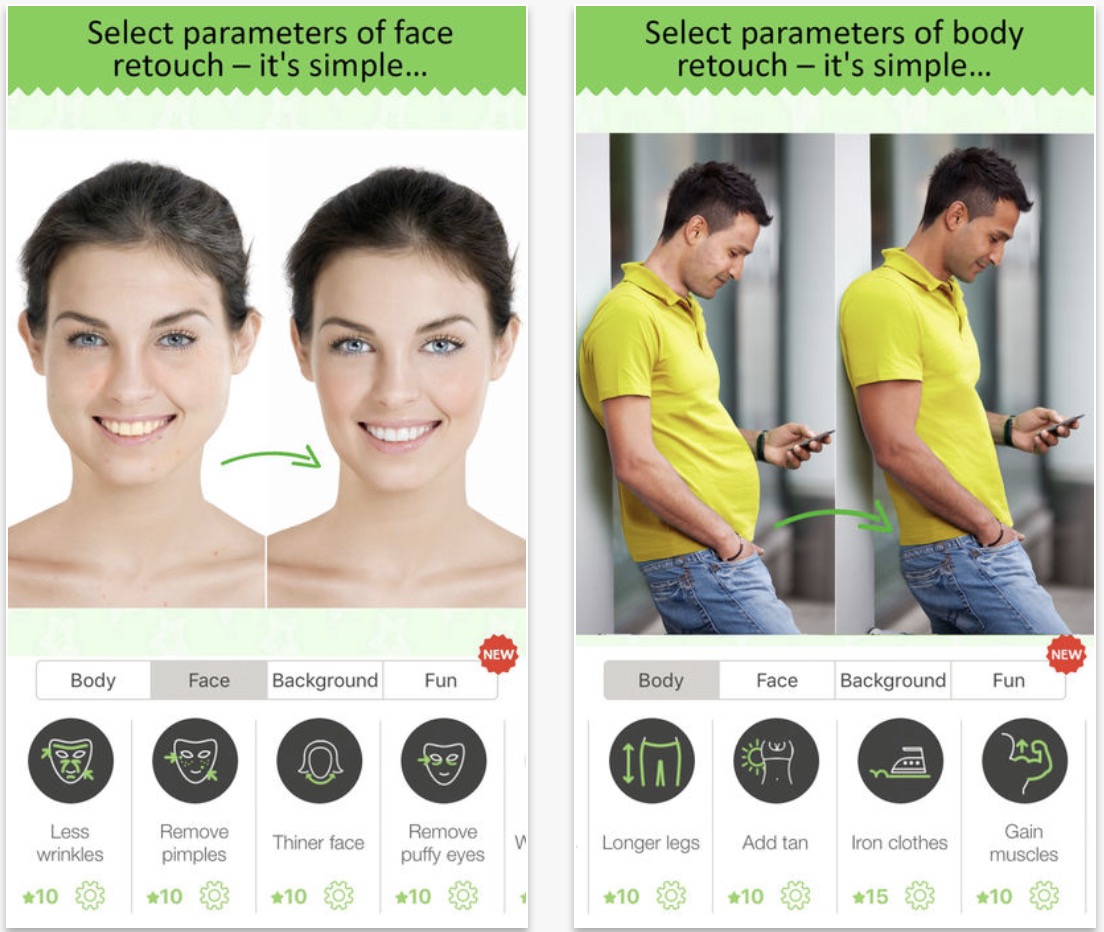 Body editing
You can reshape the entire body of the person in the photo using RetouchMe app. You can create the body shape that pleases you using the body touch up features. These touch-ups include changing the size of your waist, changing the size of the hips and legs, removing fat folds etc.
Skin retouch
RetouchMe photo editing app allows the user to make numerous changes to his or her skin in a photo. You can be able to remove skin blemishes, scars, wrinkles and any other marks that you don't want to be visible in the photo. You can also use this app to even out your skin tone so that your skin appears flawless.
Face editing
You can remove puffy eyes, dark circles around the eyes, pimples and the red-eye effect using the RetouchMe app. This app also allows you to play around with the shape of your teeth and whitens them to give you that perfect smile.
How to use the app
First, choose the photos you want to edit and upload them.
Next, you should select the editing features you would like to have applied to the chosen photos
Take a short break to give the retouchme app editing team time to work on your photos
Once you receive the final product you can decide to either save the photos on your computer or upload them directly to your social media platforms such as Instagram and Facebook
Why choose the RetouchMe app?
It is easy to use; all you are required to do is to upload the photos to be edited and the rest will be done by the editing team. You do not have to have any photo editing skills to be able to use the app which allows you to get amazing professional results with very little effort from your end.
Editing photos is surprisingly fast. You get high-quality results in as little as 15 minutes after uploading your photos. This time frame is not affected by the number of photos you upload.
Using the app is really pocket-friendly. It offers its users amazing deals when editing photos in bulk. This app ensures you get proper value for your money as your photos will be edited by professionals. The application itself also does not cost a lot of money to download.
Conclusion
The RetouchMe app is useful especially to those people who like posting photos on social media.
Disclosure: As an Amazon Associate, I earn from qualifying purchases. The commission help keep the rest of my content free, so thank you!