Blogging is a very prolific medium to make money online. That's true; if you have been searching for tips and guides to earn money online the chances are you have stumbled upon "blogging." If you need proofs check out Chris Guthrie from Make Money on the Internet, the way he intelligently uses his blogging concepts to earn money through Amazon Affiliate Programs; How John Chow gets a lot of bucks by telling people how he makes money Online.
Is that enough? Check how James Chartrand seizes upon her writing expertise alongside blogging to profit from freelance writing services.
One thing is for certain; to come out on top like these gurus you need traffic. How do you expect people to buy your products, click in your affiliate links and get the exposure you deserve if you don't get traffic?
Have you ever wondered what you might not be implementing in your blog and consequently makes you get not more than 0 visitors every day?
If that is the case, you are in the right place. Without further a due, let's dive into what you are failing to do and as a result you are the only visitor in your blog.
Your content is not SEO-friendly
Search engines hold a massive amount of traffic that can turn any blog into a remarkable success by flooding it with traffic. If your content is not SEO friendly, the odds are that your blog will not rank high in search engines, such as Google, Yahoo and Bing. Consequently your blog will end up having a single visitor who is just you. Now with problem already identified let's walk through applicable methods of getting your content SEO-friendly.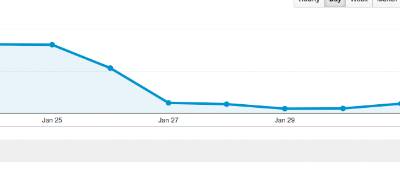 Choose the right keywords
Choosing the right keywords is perhaps the most important key into creating SEO friendly content. Search Engines easily crawl websites according to the keywords choice. Therefore, it is very handy to conduct a profound research before jumping into crafting your content. The most recommended tool for keywords searching is Google Adwords' Keyword Tool that helps you find the most searched keywords and yet less competitive which means that the probability of getting high rankings will be magnified.
Write Relevant Content
When it comes to finding websites with irrelevant content that it seems to not be about, search engines are well equipped to recognize it. If your niche is about Blogging tips and you fool search engines by writing content about "cars and engines" which is considered irrelevant to your content, the probability is that you will lose rank of your website and consequently be banned from those search engines. And, I guess that is not what you are looking for if you really want to overcome the fact of having 0 visitors in your blog.
Set the Right Keyword Placement
The way you place your keywords along your content plays an integral role on creating SEO friendly content. Title tags, description Meta tags, heading and subheading tags are hot spots to place your keywords. What you should avoid is repeating the keywords too often which may result in your website banning from search engines.
Creating SEO friendly content is so simple that many bloggers are neglecting it, which also means that they are ignoring the most powerful source of traffic, the Search Engines holding nearly 85% of traffic in the internet.
Part 2 – You Ignore the Power of Social Media Networks
Disclosure: We might earn commission from qualifying purchases. The commission help keep the rest of my content free, so thank you!