When I was searching for an external keyboard for my home office, I came up with some traditional options like the Apple Wireless Keyboard and Logitech Wireless Solar Keyboard K750. Those are obviously great choices for Mac users, however, they can't satisfy me because I want something more unique and different. After some research, I ended up with the Qwerkywriter and this seems to be a perfect solution.
Unboxing & Testing
Design & Features
Qwerkywriter is the most beautiful keyboard your money can buy at the moment. I fell in love with its gorgeous design, rather than its features. Just take a look at the keyboard, and you will understand why it is so desirable. Many people visited my home office and they just couldn't stop staring at the keyboard, many compliments were made since I started using it.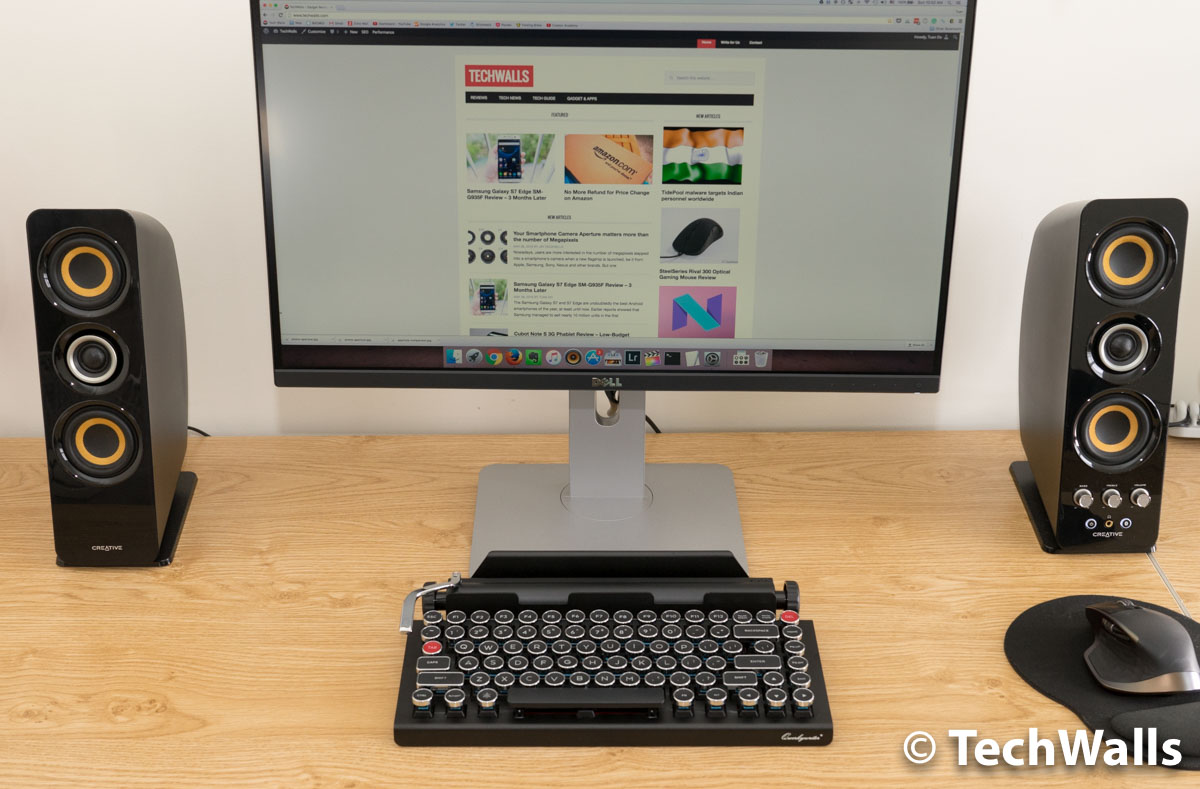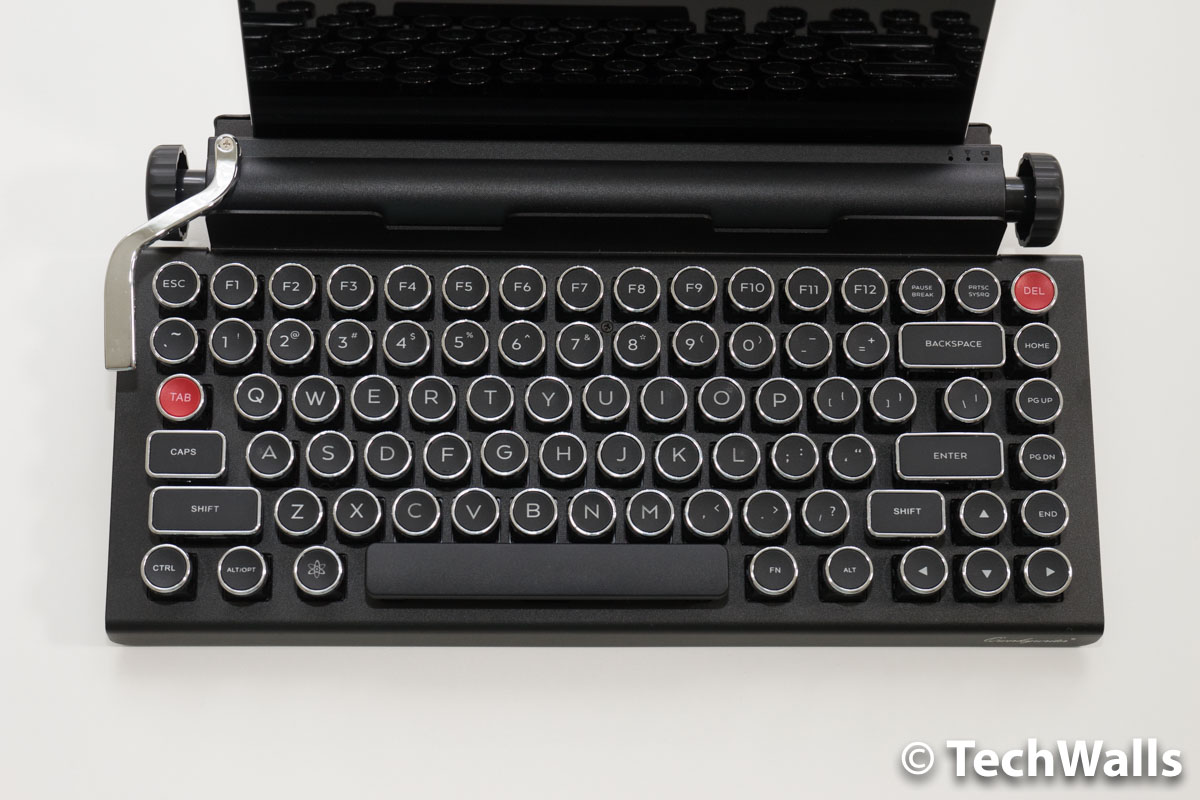 Actually, I found out another great-looking keyboard but it was so rare and expensive. A few thousands of dollars were totally out of my budget, so the Qwerkywriter was my best choice. The product does not only look good, it feels good as well. The build quality is amazing as the whole body is made of aluminum. It could remind you of the old time that we were typing on a typewriter because of vintage key caps, decorative platen knobs on 2 sides and a metallic carriage return lever on the left corner.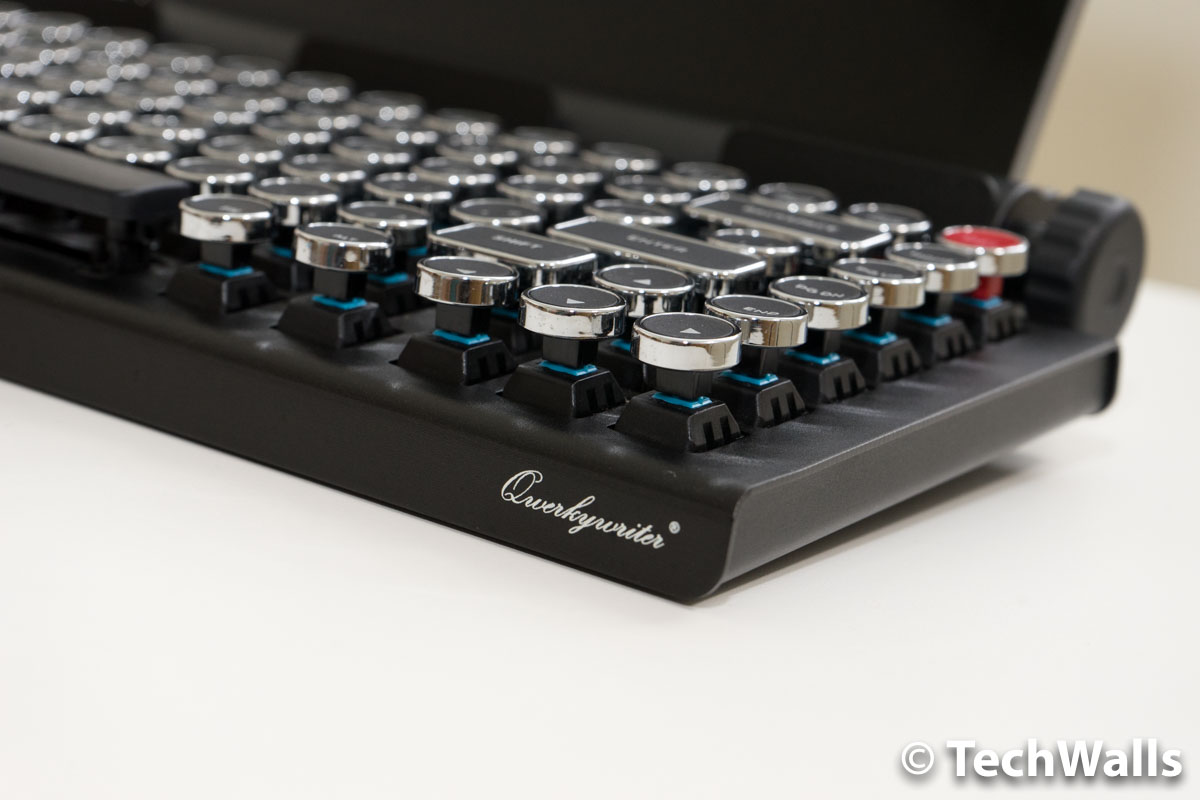 By default, the return lever acts as an Enter key, however, you can easily assign a macro of up to 5 keys to the lever. Just press the Fn button and push the lever to the right, input some keys and hold FN+lever again to save the macro. I leave the return bar as the Enter key because that's its original function. I really love the return lever despite the fact that I'm almost not using it.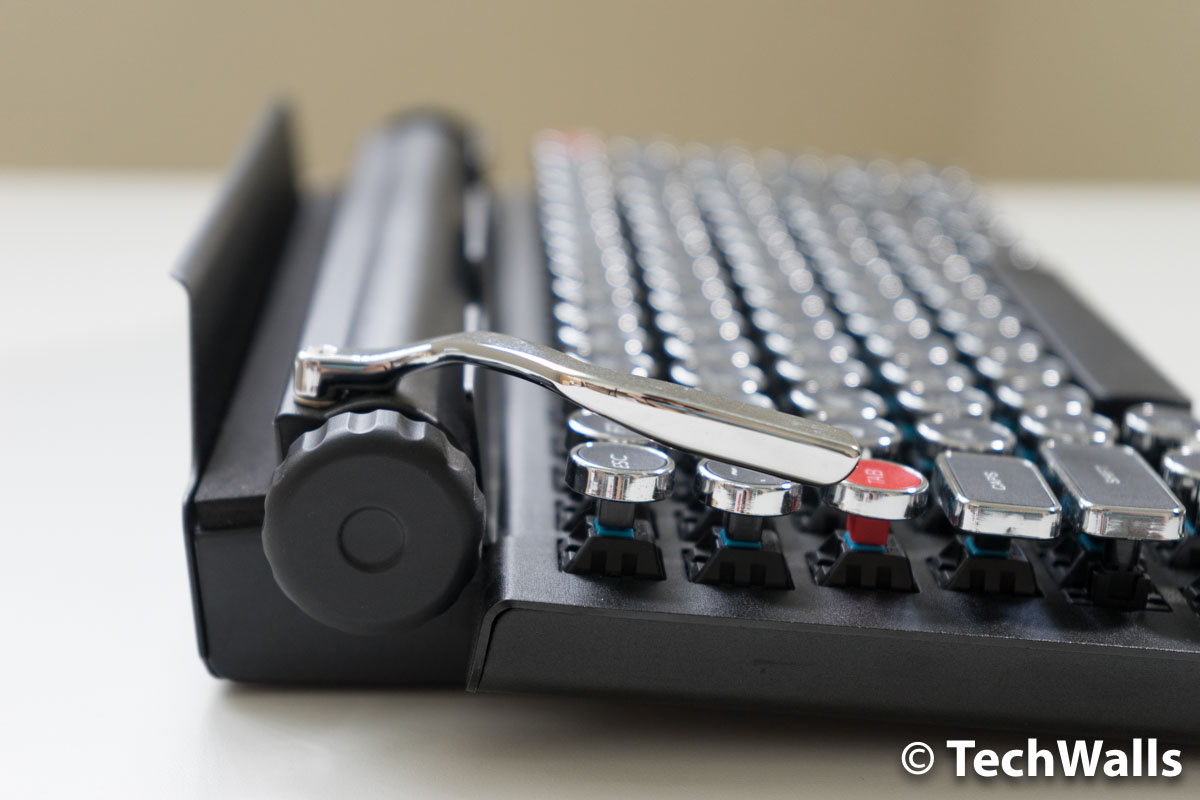 The keyboard is equipped with Kailh Blue mechanical switches due to the shortage of Cherry MX switches. We will talk more about its performance in the next part. All keycaps have a concave surface, so it feels so natural when you touch the keys. I just hate that the chrome parts surrounding the keycaps already have some nicks and dents out of the box, these must be a defect during manufacturing process.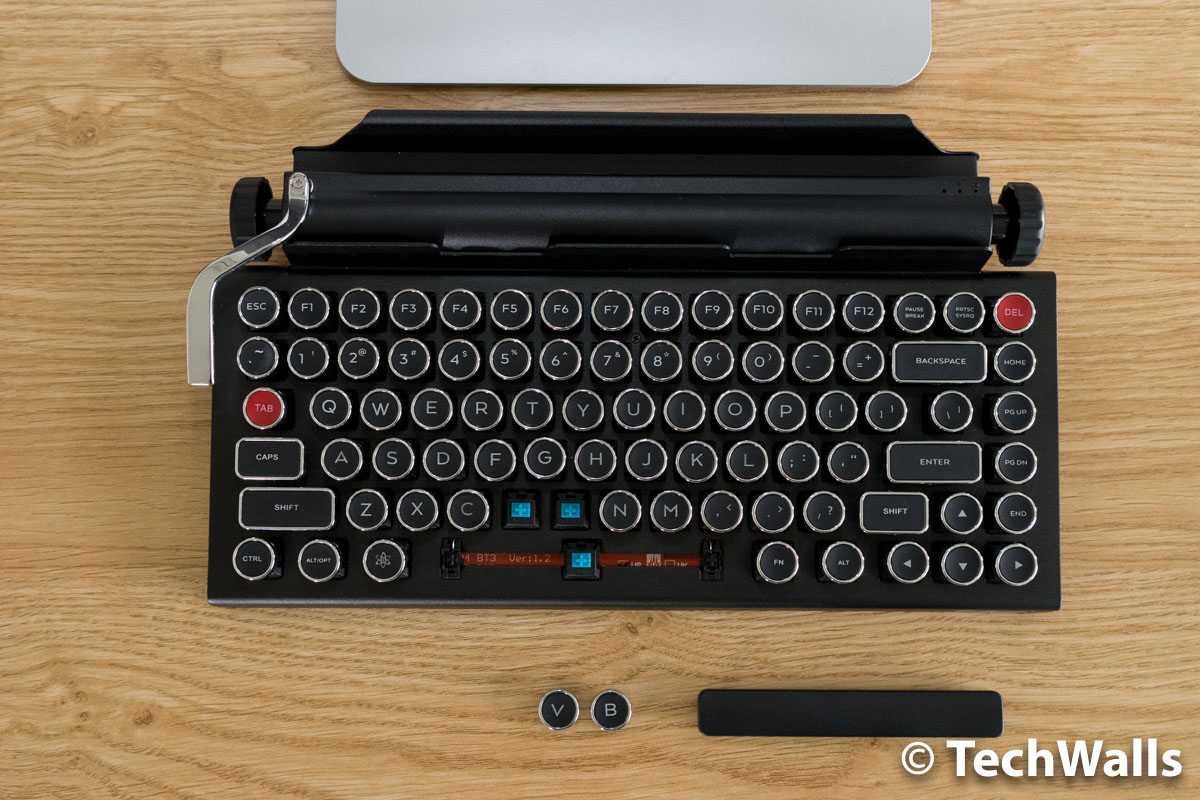 There is a tablet stand near the back of the keyboard, so you can easily place an iPad or Android tablet there. I use it with my 9.7-inch Google Pixel C and they really look great together. Notice that you can't change the angle of your tablet.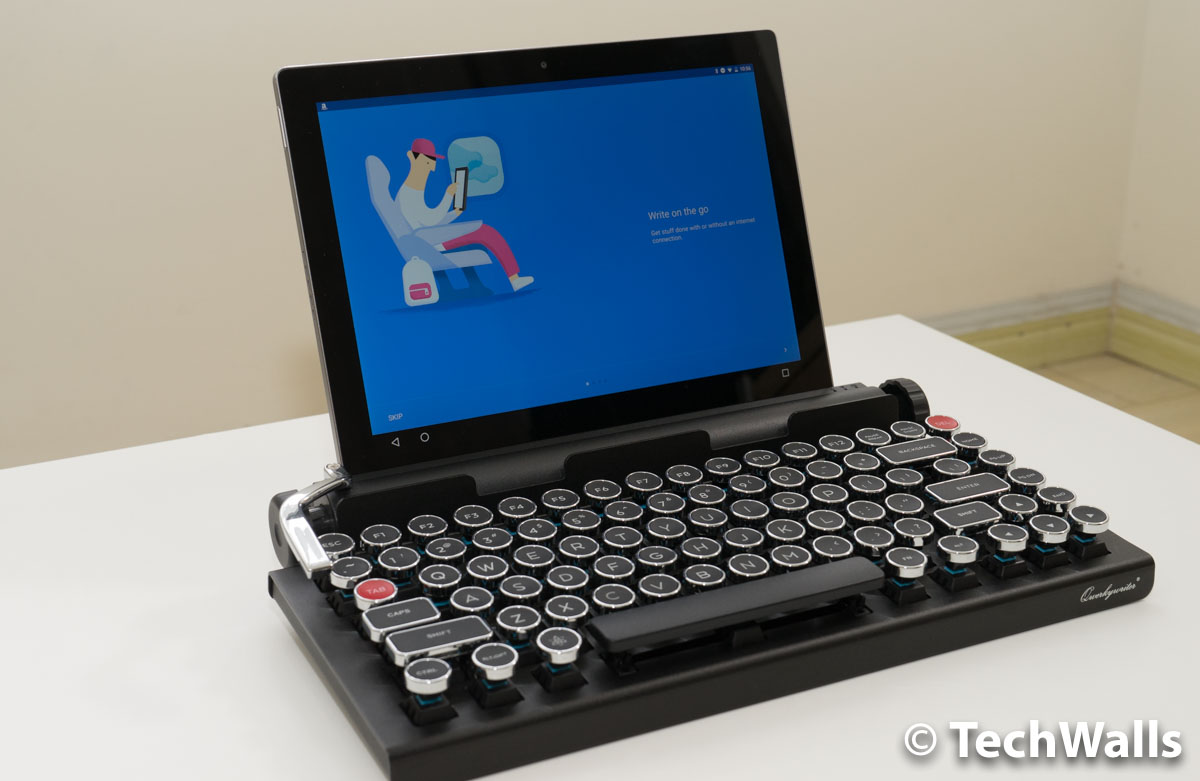 The product is fairly lightweight for its size, it weighs less than 3lbs. However, it can't be considered a portable keyboard for your tablet because it's still too bulky. I'd be surprised if anyone could put it into a backpack.
The power switch can be found on the right corner while the Bluetooth pairing button and the microUSB port are located on the back.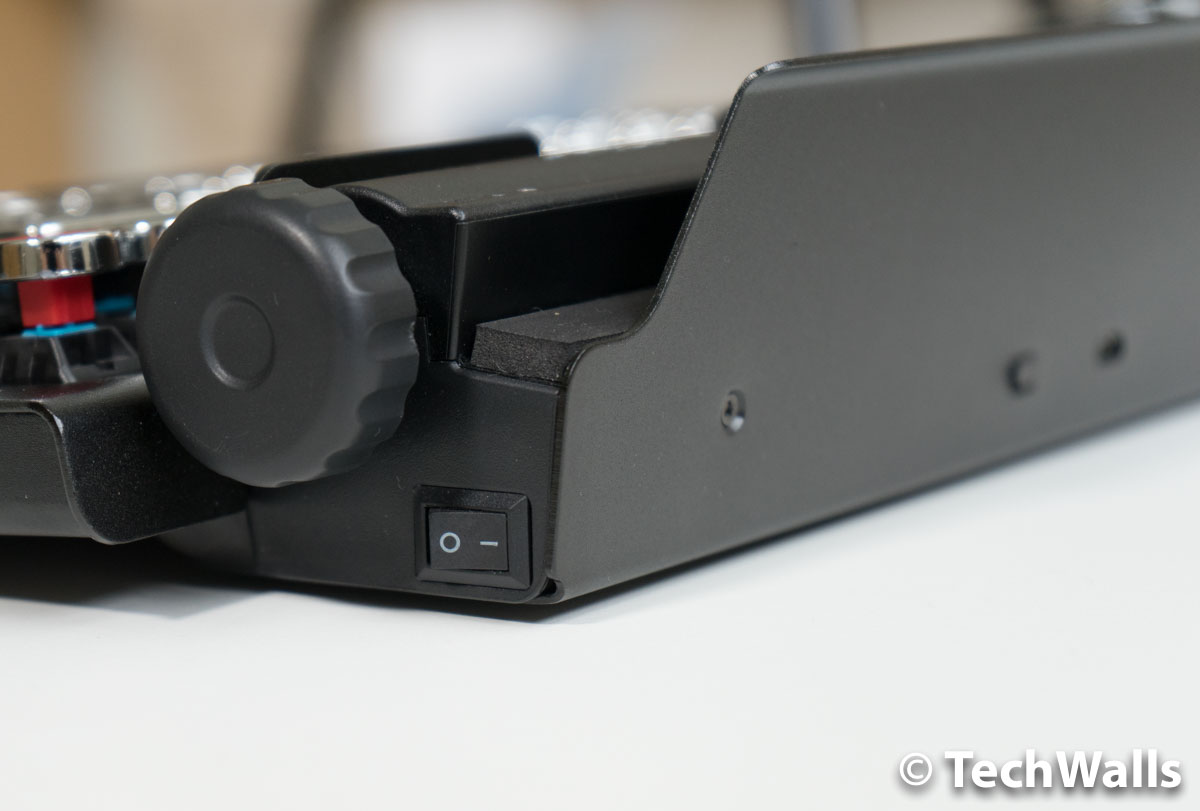 Performance
Nothing can beat the combination of a tactile clicky feel of a mechanical keyboard and a retro style. I use the Qwerkywriter as an external keyboard for my desktop as well as a Bluetooth keyboard for my tablet. It is excellent in any case, that's a satisfying experience that you will never have with chiclet keyboards. Have you ever heard typing can be addictive?
As mentioned earlier, the keyboard uses Kailh Blue mechanical switches. Many people hate Kailh switches because they had terrible quality a few years ago. However, a lot of things have changed and now you can see the switches everywhere, including Razer and SteelSeries products. They have the same design as Cherry MX switches but you might feel some differences here. The switches are more durable than Cherry MX Blue switches and there is a little less resistance when you press keys, therefore, it won't be as noisy when you type on the keyboard.
It was a little uncomfortable when I changed from my Macbook's keyboard to this one. I had to rest my wrists on the table and the keys are very tall. However, I get used to it in about 2 weeks and now it is impossible to come back.
The keyboard works great for my Mac. We can use the QwertyToys logo button as the Command button on Mac. Unfortunately, we will lose all function keys like brightness, volume, or music controls.
The Bluetooth connection is really awesome as I've never lost the connection between the keyboard and my computer. The keyboard will sleep automatically when I don't use it and as soon as I touch a key, it wakes up and ready to work again.
The battery life of the Bluetooth typewriter is amazing. I've used it heavily for nearly 2 months and I still haven't charged the keyboard even once. QwerkyToys stated that the battery could last up to 3 months.
Conclusion
Pros
Awesome retro design
Solid build quality
Great Bluetooth connection
Long battery life
Satisfying click with every keystroke
Cons
Doesn't have function keys on Mac
Imperfect keycap covering
Expensive
The Qwerkywriter is my favorite Bluetooth keyboard so far. You won't be able to find a more beautiful retro keyboard at the moment, however, you will have to pay a price for it. I highly recommend the product if you have more than $300 to spare.
Disclosure: We might earn commission from qualifying purchases. The commission help keep the rest of my content free, so thank you!