In the past few years, the term of UV printing has become more popular and we are seeing more products hitting the market. The Prinsystech PST250 UV Printer is one of them. Let's check out some features of the printer and how it is better than conventional printers.
Overview Video
UV Printer vs Conventional Printer
The printers that we are using every day to print on paper are the most common ones. However, they have some limitations due to the fact that they use solvent inks which will evaporate into the air and be absorbed into the paper. Therefore, the printing quality is always a concern and it doesn't work well with most other materials.
On the other hand, UV printers use UV inks which will be turned from liquid to solid instantly while being exposed to UV lights. Therefore, there is little evaporation and absorption into the printing material. Consequently, the printers can be used to print on most materials, including plastic, foil, and acrylics. Another huge advantage is that the details of your image would be retained since the ink doesn't have a chance to spread out. Besides, your printing is water-resistant and doesn't fade out much by time.
The UV printer helps us print directly onto substrates like acrylic, PVC card, or ceramic with an impressive speed and amazing details while being more eco-friendly during printing processes.
PST Jet 250 UV Printer Features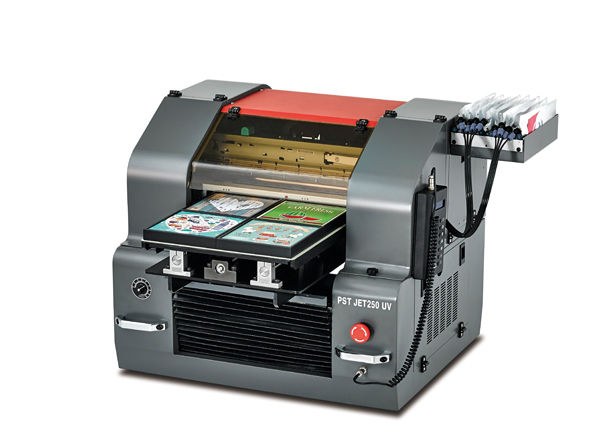 The printer allows us to print directly on virtually any solid material and object with the thickness of up to 10 cm. It is ideal to make personalized gifts, awards, labels, decals, signs, packaging, etc. It offers a print table area of 290mm x 550mm.
If you use it on materials like metal, glass, or ceramic, it's recommended to use a primer to increase adhesion.
The printer is equipped with an energy-efficient LED UV lamp which can reduce working temperature and allow us to print on heat-sensitive substrates. Its lifespan could reach up to 10,000 hours.
The final output will always be sharp and meet requirements of most customers. You can check out some samples here.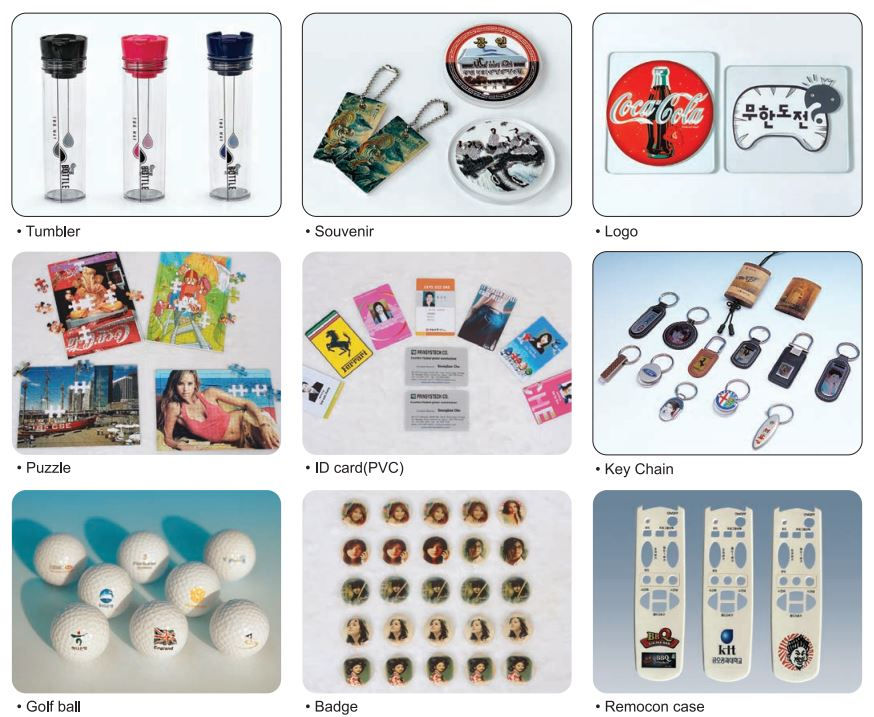 The table below shows full specifications of the PST250 UV printer.
Model name
PST JET 250 UV
Print Head
On-demand Micro Piezo Inkjet Head 8 channel, 1440 nozzles (180 nozzles each colors), 1.5 pico liter ink droplet
Resolution
5760 x 1440 dpi
Dimension
740mm X 900mm X 570mm
Weight
60 kg
Max. Printing Size
+A3 (290mm x 550mm)
Max. material size
330 x 600mm
Max. material thickness
100mm
Printing direction
AI type two-way method
Control code
ESC/P Raster
Ink – 8 colors
UV ink: Cyan, Magenta, Yellow, Black White, White, Solid clear, Solid clear(Varnish)
Print Speed
720 X 720dpi / 1min 30sec (290 x 550mm both side)
1440 X 1440dpi / 5min 15sec (290 x 550mm both side)
2880 X 1440dpi / 10min25sec (290 x 550mm both side)
Material used
Acryl, PVC card, ballpoint pen, glass, ceramic and any solid materials
You can find out more about the Prinsystech printer on its official website.
Disclosure: As an Amazon Associate, I earn from qualifying purchases. The commission help keep the rest of my content free, so thank you!