Moto X Developer edition is famous for its unlocked features. It comes with both an unlocked network and an unlocked bootloader that allows developers or normal customers to install whatever GSM SIM that they want and can run it on any custom ROM out there made for the Moto X.
Till now the Moto X Developer Edition phone was being sold at the price of $649.99 but now Motorola finally decided to lower the prices up to a $100 less than the original price that makes it $549.99 which might make it more affordable than it was before.
Moto X has got a pretty decent hardware that won't have any issues in running all the daily applications and tasks that one needs. Having a dual core Snapdragon processor with 2 Gigs of RAM, 32GB storage space and a 10MP camera, Moto X Developer Edition smartphone is a heaven for someone who is not a developer but still wants to do a variety of stuff with his device. The 2200mAh battery support is enough for a 4.7 inch display. Although the device runs Jelly Bean 4.2.2 out of the box, but unlocked bootloader means that you can flash it straight to the latest version on the day you buy it.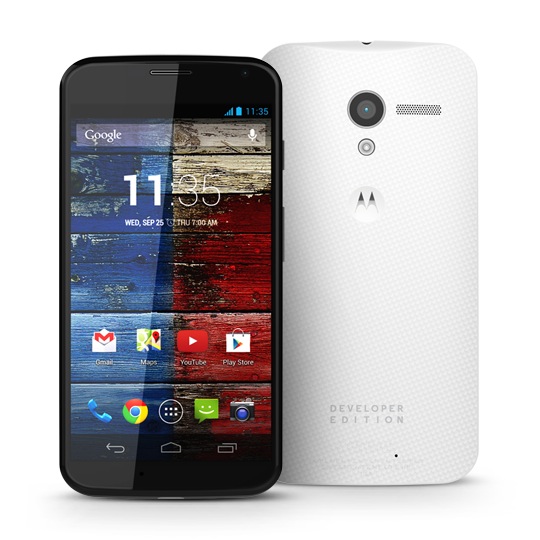 Keeping the 32 GB space aside the only difference between the Carrier phone and the Moto X phone is the option to have an unlocked bootloader. Those of you who were eagerly waiting to get their hands on the new Unlocked GSM version of the Moto X phone also known as the developer edition can have their orders placed tonight. With the unlocked version of the phone you get a different colour scheme than the normal phone, that is a White back and a Black front with 'Developers Edition' written on its back.
As the prices of Moto X will decrease over time Motorola has also decided to come up with an even more affordable phone that will be named Moto G. The Moto G will have the same specs as the Moto X but with a lower price. Nothing is confirmed yet but the phone is set to release on 13th of November and based on the rumors so far the phone is expected to retail for £134.95.
Disclosure: As an Amazon Associate, I earn from qualifying purchases. The commission help keep the rest of my content free, so thank you!