The modern world calls for modern technologies and developments. Be it trade, marketing, finance or operations, every industry has seen a paradigm shift in methodologies, trends, and opinions. In fact, the IT industry has probably seen it the most. It doesn't take a decade for change to happen these days, it is just a matter of days.
Similarly, we have a new trend that has been seen in the news often, a trend that is dominating tech industry, Cryptocurrency. A cryptocurrency is a form of digital currency that has been becoming a mode of financial transactions because of high security. A few examples would be Bitcoin and Peercoin, all blockchain-based technologies.
Now when there's a currency, trade cannot not come in the picture. Crypto trading has been one of the most lucrative industries for investors considering the extraordinary high returns.
Interested? Well, here are a few tips to help you out!
Don't cross boundaries
You might have a lot of money in your bank account which you would want to convert into cryptocurrency and then invest. However, remember, once used, your money would always be stuck in that circle. Always establish a boundary as to how much money do you want to keep safe and how much can you risk as an investment in crypto trading. In fact, with the costs of crypto trading and high risk of losses, you would not want to invest all your savings without having any back-up funding. Risks like hacking, regulatory policies and market drops are inevitable.
Don't forget the main player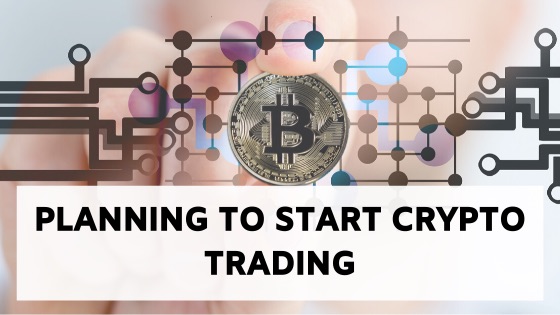 We all know the king of crypto – Bitcoin! Why? Because almost all other alternative coins available follow the trends of Bitcoins, i.e. if Bitcoin falls, other altcoins also drop. Thus, it is extremely vital to keep a close watch on the movements of Bitcoin, even if you haven't specifically invested in it. This is based on observations made, where it was noticed that other coin options grew when Bitcoin grew and vice versa.
Reduce the risk
As an investor in the crypto-trading market, you have to play it out smartly. Considering the high risks involved, you should diversify your investments in the cryptocurrency segment rather than throw all your money on one bet. Think about it like a horse race, if you have the money, won't you invest in a couple to increase your odds rather than just one single horse? Moreover, the market is bound to increase in its market capitalization and like other trading markets, there are higher chances of the overall available coin options to carry forward this trend rather than just one-star player.
Keep yourself steady
As an investor, it makes sense for you to try to maximize your profits with time. However, at one point, the greed has to stop. In the cryptocurrency market, volatility remains at an all-time high. If you see a coin rise, reach a good potential value for you to withdraw and gain profits for, it might not always be right to hold expecting a further rise, because that's the fun in dealing with crypto: you never know what's going to happen the next minute. Especially since the January 2018 crash, one ought to be careful and time it right.
Trust your research
Crypto trading is still a new art to many with not many veterans existing in the world. This is why you should not go around listening to unsolicited advice and build your own crypto trading path. Like any trading stunt, anyone can advise you to buy one coin so that the prices increase and they save their own money by withdrawing. So, why take chances when you are talented enough to research and learn on your own? Many traders post online and there are enough research papers available on the internet with which you can draw your own conclusions. So start with dealing on a small scale, trust your instincts and then gain experience over time.
Think long-term
As an investor, you should not only gain awareness about what and where, but also how i.e. you must be well aware of the process to invest in your chosen crypto. Categorize your investments in short, medium and long-term plans based on your research, data, and predictions. A long-term plan means a coin whose short-term fluctuations will not bother you whereas a short-term plan is done for quicker returns. Understand how much money do you want to lock into each plan based on your requirements and goals and set stop losses at your short-term bets!
Be an active learner
Crypto trading is all about the upward rising learning curve and over-the-years' experience. Just like any other trading activity, you might face losses initially, but don't give up. Instead, consider these losses as your learning lessons. Even the maestros of crypto trading have a history of losing a lot of money at the beginning of their career, but the drive to learn and consistency led him to profits that were enough to cover those losses. Remember, no one is perfect and no deal is a profit deal unless the credit reflects in your bank account!
Don't rush into it
Cryptocurrency took off drastically when it came into the notice of media and some star personalities started to invest in it. It was this hype and a couple of rumors that led to skyrocketing coin prices at a point of time. The hype automatically attracted investors lining up at the door to buy cryptos, most of them without being aware of its pros and cons. Then, when the prices fall, the hype is to be blamed? Well, no. It might sound harsh but your lack of research is the loophole here. Thus, it is always better to watch it play out as a beginner rather than make big moves during times of dynamic events.
Wrapping up!
All said and done, these are just mere advice to help you on your journey. However, as a crypto-trader, make sure your investments are done at your own risk and you rely on your knowledge the most.
Patience, virtue, and efficiency are the three stars that can establish you as a successful crypto trader. In fact, some might even argue that crypto trading is more profitable than the stock markets only if one possesses the right knowledge and has the courage to stay put. It is also understandable that advice is always easier to read rather than follow, but you never know, it could turn around your journey as a crypto trader. Never stop learning, never stop growing!
Disclosure: We might earn commission from qualifying purchases. The commission help keep the rest of my content free, so thank you!