Adobe, the famous design and multimedia software maker, has launched the beta version of Photoshop CS6 and it has been receiving a lot of positive feedback in just one week. Undoubtedly Photoshop is the king of digital image editing software, it is getting even better with the new Photoshop CS6.
The upgrade comes with many new features, especially simple features aimed at non-professional users so that they can use the software easily. Without knowledge on photography, users still can try awesome performance enhancements, imaging magic, and creativity tools. Although this is just the beta version, Adobe still show all awesome advanced features such as new content-aware patch to patch images with greater control, modern interface, amazingly fast performance providing near-instant results from editing tools, and new re-engineered design tools.
The good news is that we can download and use the Photoshop CS6 beta for free at the moment as Adobe wants to get feedback on the product during the trial run, before launching it officially. The beta version will remain free until the final version is released, that means we can use it for at least 1 month ahead. This is a great chance because the software is very expensive, it could cost up to $1,000 for extended version.
Download Photoshop CS6
You can download the Beta version with the links below to experience and get familiar with its great new features. The software is currently available on Mac and Windows.
Download Photoshop CS6 beta for Mac (DMG, 984 MB)
Download Photoshop CS6 beta for Windows (ZIP, 1.7 GB)
Install Photoshop CS6
After download completely the file above, extract and run the setup.exe file, you will see the welcome screen of Photoshop CS6. Remember to choose the option "Try – I want to try Adobe Photoshop CS6 for a limited time" to install, you won't need to enter serial to install then.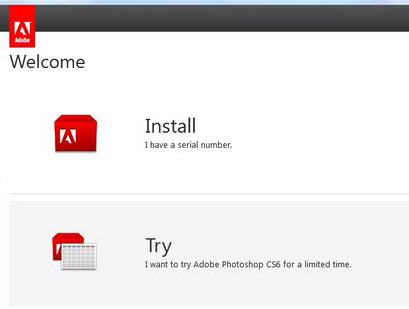 During installation, you will be asked for Adobe login account. You just need to click on Sign In, then fill in your account info or create a new Adobe ID if you haven't had one.
On the following screen, click the Install button to begin the installation process. Once installed, you can find the Adobe Photoshop CS6 software in your Windows Start menu.
In the first use, you will see the screen below, click Start Trial to continue the trial version.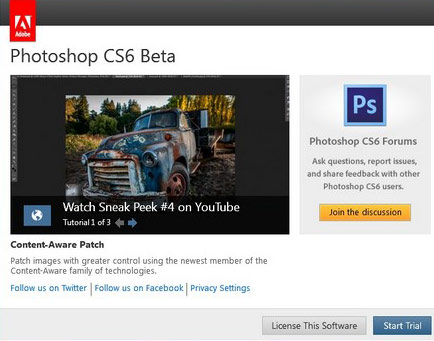 If you have used other versions of Photoshop before, you can easily realize that Photoshop's interface has been changed dramatically, with black background as the main theme. The new interface is somewhat similar to the UI of Adobe After Effects.
First Review on Photoshop CS6
According to Adobe, the new version does not only change in the UI. 62% of features on CS6 are completely new and more innovative than in previous versions. Particularly, the most significant change are the faster speed and editing tools are easier to use.
Another interesting improvement is the video support. Photoshop CS6 supports video editing powerfully and intuitively, as well as more video formats. The video editing effects can also be applied to each frame of video, so you can edit and add effects to a video easily.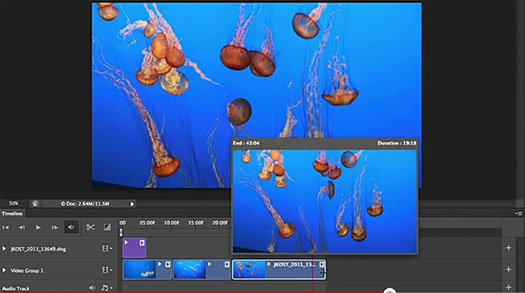 Photoshop CS6 aims at more simple use and powerful tools for those who don't specialize in graphics. We can tell the Content Aware Move feature which allows moving objects on a picture easily. For example, we can move 2 objects on the image closer together in just a few clicks. Another great feature is Content Aware Fill which allows users to remove unwanted objects from pictures easily, then Photoshop will automatically fill in the blank area behind the moved object.
For those wanting to focus on an object and blur the area around, Photoshop CS6 also offer Blur Gallery feature which could help us do it easily by blurring any selection of the image. Photoshop CS6 allows focusing on multiple selection on the image to focus, instead of just a single object.
CS6 is also equipped with auto-save feature to save your work automatically in case your computer crashes or reboots.
Check out highlights of new features in the clip by Adobe.
Above are a few important improvements of Photoshop CS6. This could be the most thorough upgrade of Photoshop, so if you want to get started with Photoshop, CS6 is the most suitable version for you.
Disclosure: We might earn commission from qualifying purchases. The commission help keep the rest of my content free, so thank you!