Aiming to carbon emission reduction and energy sustainable development, OUKITEL, today, is officially presenting the portable battery generator P2001 that offers reliable power in any environment.
It does not only solve the power outage issue and outdoor electricity demand, more importantly our product comes with a huge capacity (2000Wh), super fast recharge method (0-100%, 2 hours), and advanced intelligent batteries. Our product is also affordable, which allows more customers to utilize the green power.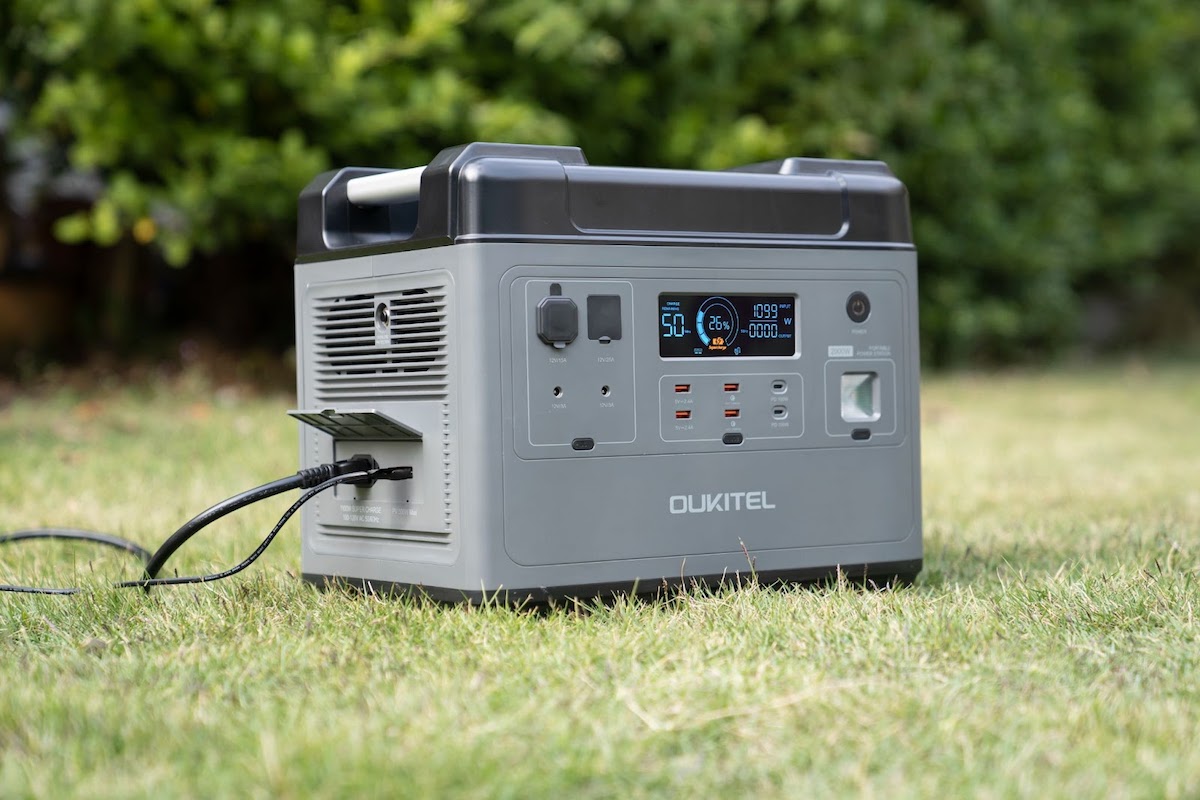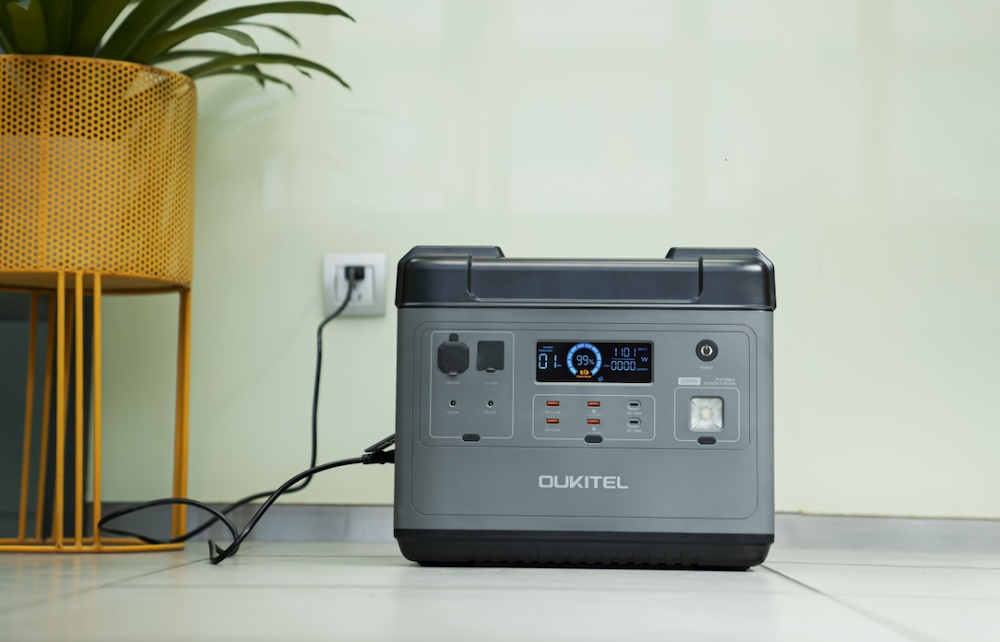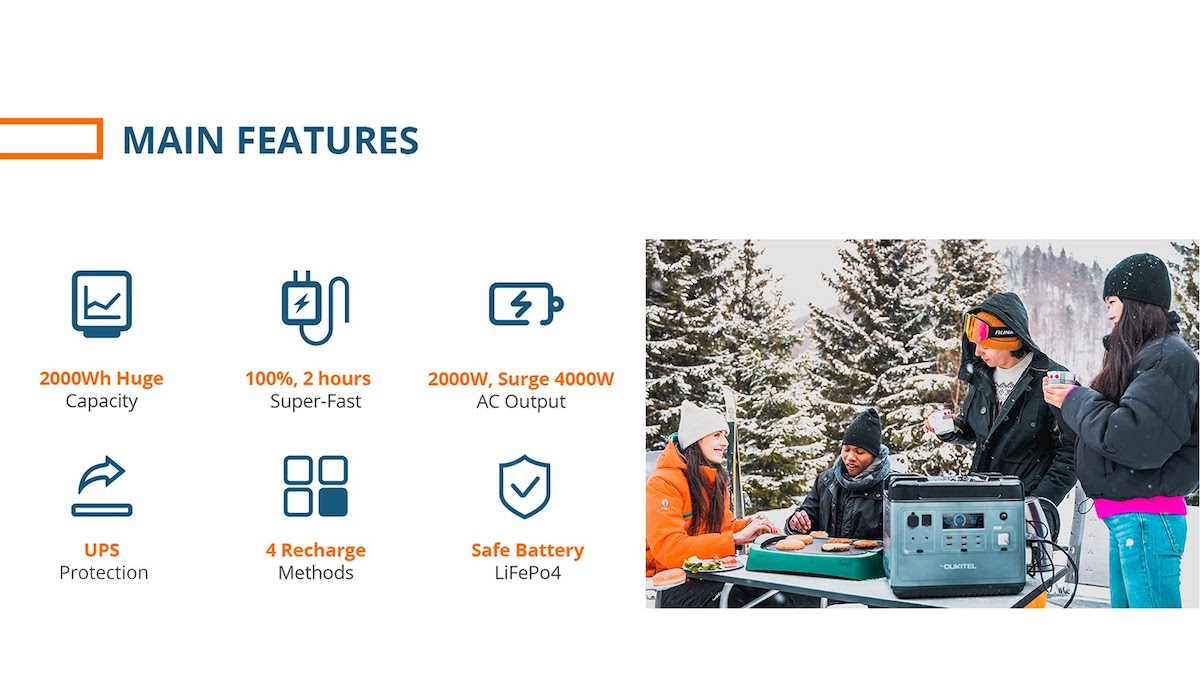 The OUKITEL P2001 will be released on the 10th of January, which only costs $999.99 for the first 100 P2001 units on the Crowdfunding website Kickstarter. Stay tuned for the world premiere, those who order on Kickstarter.com can get it for a very good deal.
World premiere: 10th January – 15th February 2022
World premiere price: $999.99 only for the first 100 P2001 Power Station unites
Huge Capacity 2000Wh – Best Power Solution for Home Backup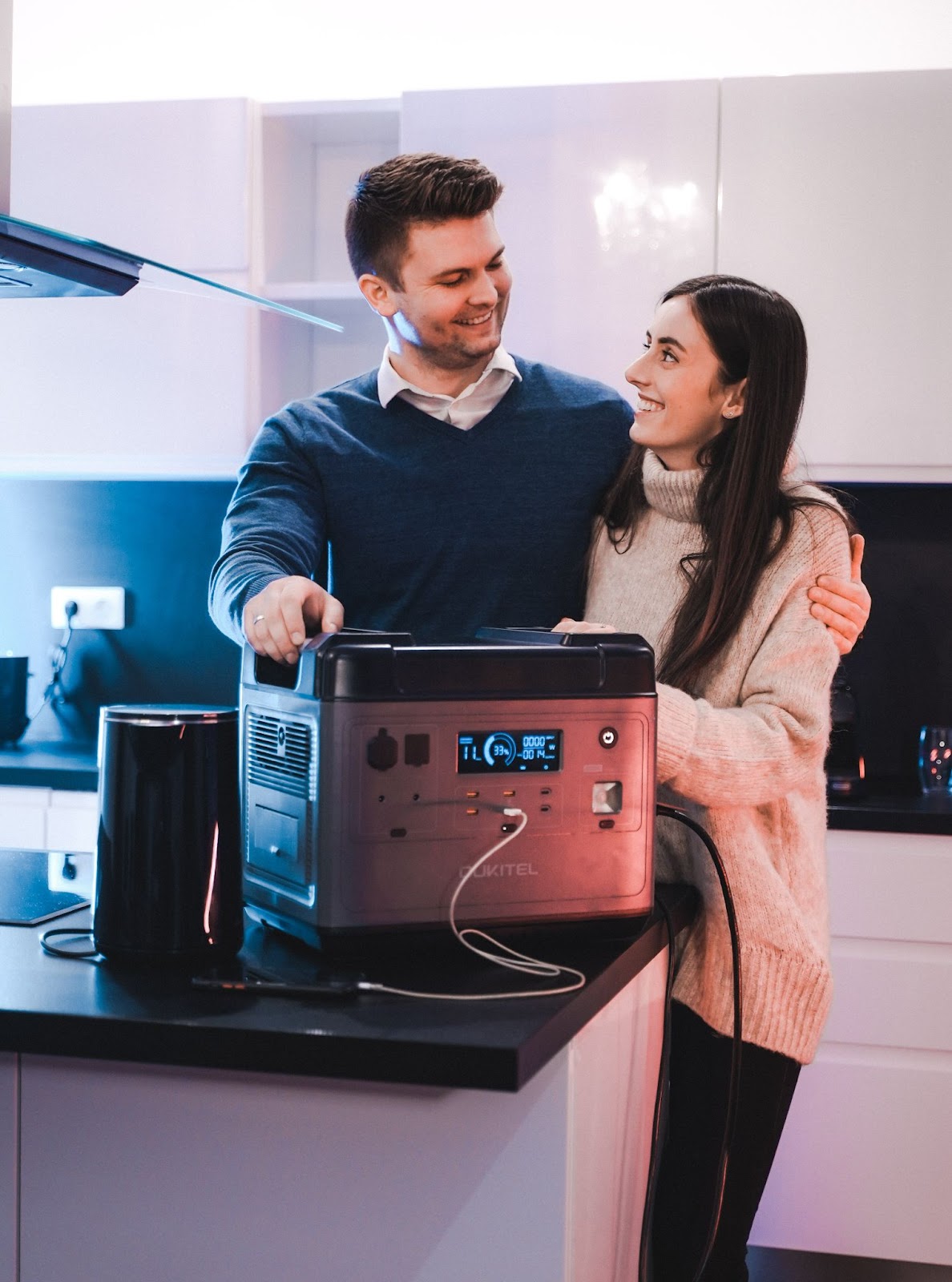 P2001 is the ideal for any unexpected blackout at your house. Featuring a huge capacity, it is designed for peace of mind in case of power outage because it keeps your essential home appliances like TV, microwave, dishwasher or fridge working for hours.
In case you are into outdoors with family and friends, P2000 will be perfect for powering electronics like a projector, fan, mini-refrigerator, drone, etc.
AC Output of 2000W, Surge to 4000W – Capable of recharging 99% of your devices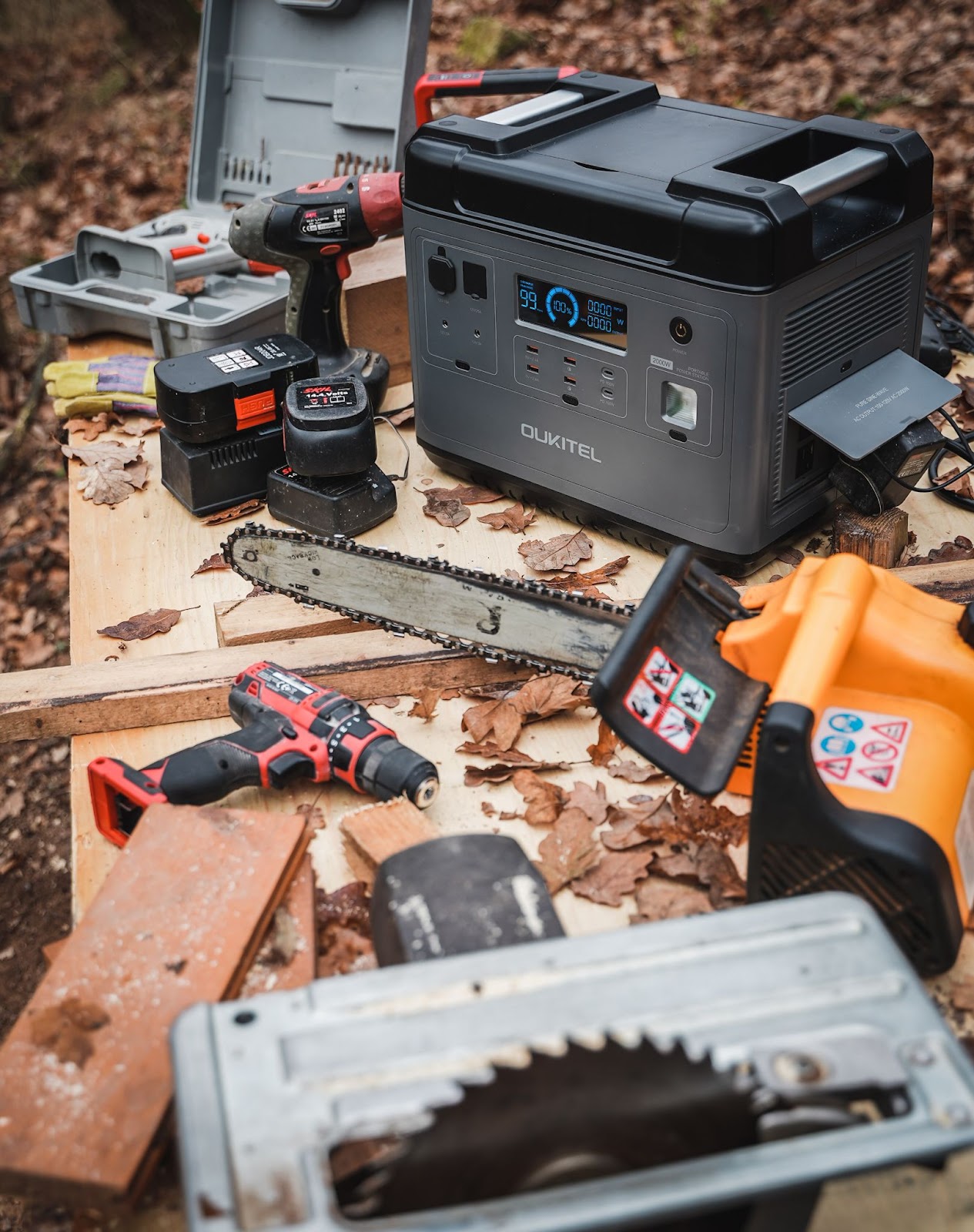 Another notable function is that the power station can power heavy-duty tools, including your electric car. It is capable of providing a constant AC output of 2,000W, surging up to 4,000W. The powerful electricity from P2001 allows you to work in any environment by using your high-wattage devices (Electric drill, circular saw, bench grinder, and etc.)
Super fast recharging 0-100% in 1.5 Hours
There are multiple charging options for the P2001. Of course, it can be charged using the power outlet of your house. In case you experience power outage for an extended period of time, you can recharge it using solar panels, your electric car, or gas generator.
Therefore, you don't have to worry about keeping it fully charged all the time. A full charge via your wall outlet takes just about 2 hours and if it is powered by dual charging methods at 1,500W max, it can be recharged from 0% to 100% in just 1.5 hours.
Best solar power storage
Why not use solar power which is clean and renewable? P2001 is the one of the best solar power storage solutions as it can be recharged by any size of solar panels at up to 500W on the market. Charging P2001 fully is less than 4 hours by using solar panels on a perfect sunny day. Besides, P2001 is also compatible with gas generators and car chargers.
16 Versatile Recharging Ports – Better to have too many rather than you need
The power station comes with a wide range of output ports and outlets, so it can easily power your home appliances, besides, it supports charging up to 16 devices simultaneously.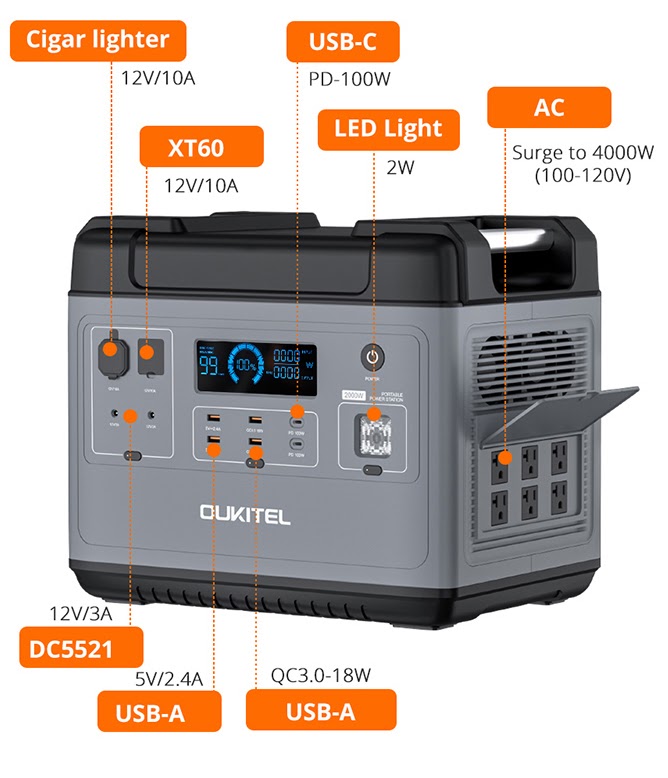 Intelligent battery comes with safety (BMS + UPS)
The P2001 interior and exterior design proves high-level quality standard. It is covered with fire protection material (V0 rate). Inside, all battery packs are kept in good working condition using intelligent temperature control system. The built-in advanced Battery Management System (BMS) ensures the battery to operate in ideal condition. The battery packs are always monitored, so any subtle errors or issues can be fixed automatically. Moreover, BMS prevents overheating, overload discharging, and over-voltage discharging.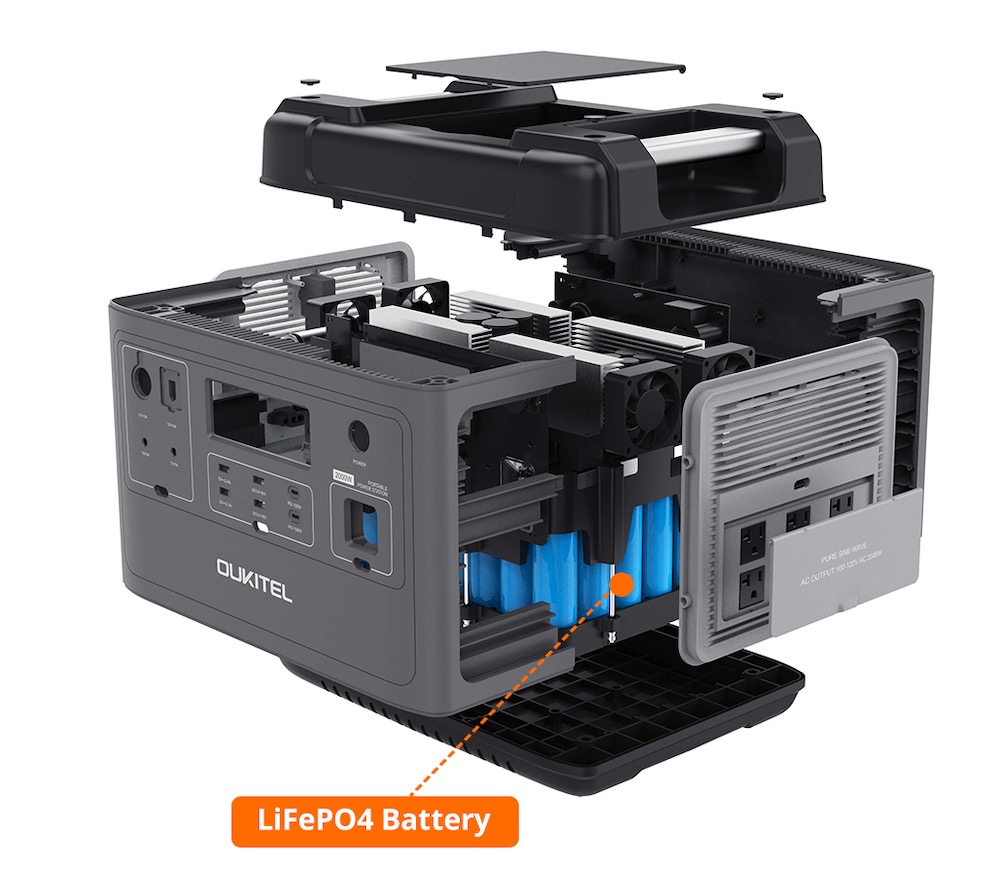 The power station uses 48 brand-new LiFePO4 battery packs from EVE Energy Co., Ltd (one of TOP 3 Power Suppliers in China with business customers like BMW, Jaguar, Land Rover, etc.). As compared to traditional Lead-Acid battery, LiFePO4 is much safer and lasts longer.
Don't worry about any damage from a power failure on your fragile electrical products. P2001 Uninterruptible Power Supply (UPS) is built to shield your sensitive and valuable electrical devices. When you connect your electronics to the power station, the UPS will provide reliable power automatically in any unpredictable outage.
Specifications
Size: 394 x 279 x 330mm

weight: 22kg
Battery: LiFePo4
Capacity: 2,000Wh
LED Light: 2W, Warm tone, single lamp
Operation temperature: (0-40 ℃ /32-104℉)
Storage temperature: (-10-40 ℃ /-4-104℉)
Input:
AC Charge: AC100-120V/ 50Hz, 10A 1100W
Solar Charge: 12V-48V/ 15A, Maximum 500W
Adaptor Charge: US Version 12V-48V/ 15A, Maximum 500W
Car Charger & Battery Charge: 12V/8A – 24V/10A
Output:
6 x AC: 4000W Maximum (100-120V)
2 x USB-A: 5V/2.4A
2 x USB-A: QC3.0-18W
2 x USB-C: PD-100W
1 x XT60: 12V/10A
2 x Output: 12V/3A
1 x Cigar lighter:12V/10A
If you're interested in the product, you can back the project on KickStarter or visit their official website https://oukitel.com/
Disclosure: This is a sponsored content. We were compensated to publish this article on our website.
Disclosure: We might earn commission from qualifying purchases. The commission help keep the rest of my content free, so thank you!