If you live in a city, you know how difficult it can be to find a doctor or therapist accepting new patients. Across the world, demand for doctors is dramatically outpacing the supply of professional help.
As a result, average wait times to see doctors is increasing, time spent with doctors is decreasing, and overall satisfaction with the global healthcare system is on the decline. To put it into perspective, in America, the average wait for a new patient to see a psychologist is 24 days. A lot can happen in 24 days. Symptoms can worsen and patients are put at significant risk. To address this inefficiency, some companies have created applications, which allow end users to interact with doctors through their smartphones. In this article, TechWalls will be reviewing how telehealth works, specifically how behavioral health professionals are using telehealth, and evaluating how effective it can be in lowering symptoms of anxiety and depression.
What is Telehealth?
Some believe 'telehealth' is the answer to the growing supply and demand gap in professional medical help. Telehealth is often defined as a collective means to deliver health care services and public health via information and communication technologies, such as smartphones, computers and tablet devices. Ultimately the goal of telehealth technologies is to improve the speed and rate at which doctors can diagnosis, consult, treat, educate, and monitor a patient's health care while the patient is at the originating site and the health care provider is at a distant site.
One of the fastest growing fields of telehealth is in the behavioral health space. Companies such as BetterHelp and My Therapist have been facilitating millions of long distance, online therapy sessions between licensed counselors and patients. Here is how it works.
1. You fill out a questionnaire describing your symptoms.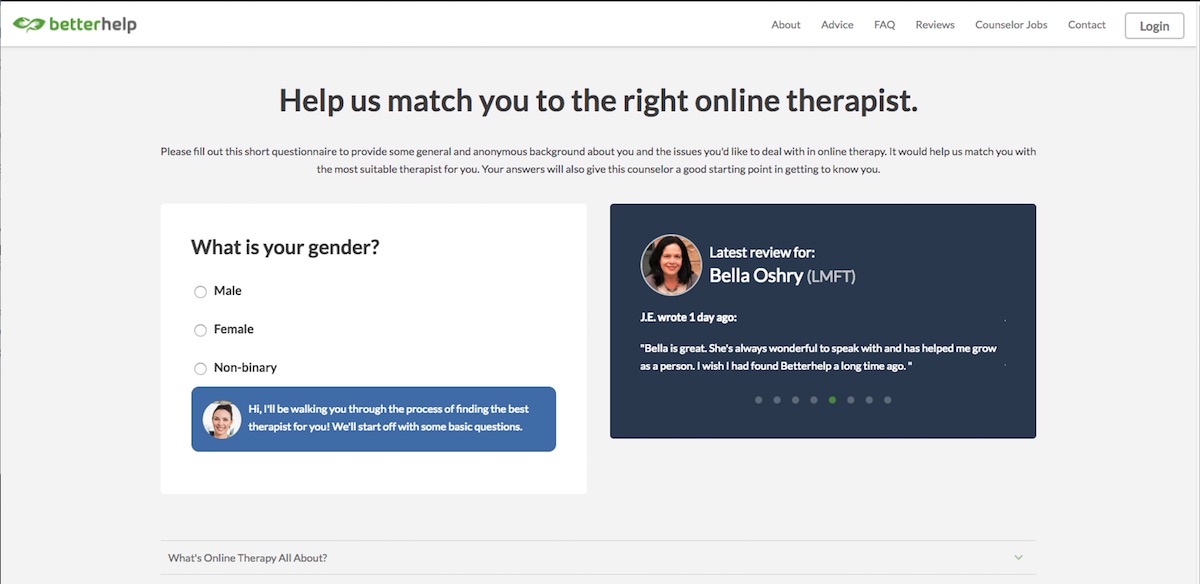 2. Next, you are matched with one of 2,000+ professional counselor.
3. Speak with the counselor via phone, text and video call.
Does Online Therapy Work?
In 2017, researchers at the University of California-Berkeley set out to study the effectiveness of online therapy. With more than 77% of counties in the United States experiencing a "severe shortage" in behavioral health professionals, the researchers recruited patients with symptoms of anxiety and depression to give online therapy a try for 90 days. Ultimately the goal of the study was to find if online therapy was as effective as face-to-face, in person counseling. Their study, was made up of 318 individuals across all ages (18+). They started by charting the severity of these users' depression and how it changed on a bi-weekly basis.
The study, which can be seen in more detail in the infographic below had the following outcomes:
98% of participants made significant progress
94% preferred online therapy to face-to-face therapy
70% believed that online therapy reduced their depression symptoms
85% said online therapy was affordable (compared to just 66% who thought face-to-face counseling was affordable)
Final Thoughts:
Pros:
More affordable than traditional in-person counseling.
Takes less time to be matched with professional help and speak with a counselor.
Convenient and totally anonymous, if you want it to be.
Easy to switch counselors if you are unhappy with the one you are matched to.
Allows anyone in the world to see top doctors in America.
Cons:
Not available for patients who are suicidal. In-person therapy much more effective and appropriate for severe cases.
Only available for adults, who are 18 years or older.
Online therapy offers patients across the world with access to licensed, trained, experienced, and accredited psychologists (Ph.D. / PsyD), greatly decreases the amount of time patients must wait to see licensed professionals, and has been found to be effective in reducing symptoms of depression. We believe that all humans will be interacting with doctors through telemedicine solutions like BetterHelp in the near future. If you have used a telehealth application, please let us know about it. How did you like it and do you believe it is the future of medicine too?
Disclosure: As an Amazon Associate, I earn from qualifying purchases. The commission help keep the rest of my content free, so thank you!