In a previous post we showed you the procedure to root Kindle Fire, followed by another guide, which explained the method of installing Android Market and Google Apps. For all those Kindle users, who found these methods to be tedious and complicated, can now use the new (simpler) method of rooting Kindle Fire, for installing recovery and Android Market on it.
Kindle Fire Utility is a simple tool that automates the rooting process, Android market and recovery installation (TW 2.0 touch based recovery) for Kindle Fire. This tool was made possible by the efforts of XDA-Developers forum member VashypoohAptly. In this post we will tell you how to use Kindle Fire Utility, to make it easier to perform the aforementioned tasks.
Development credits
Initial work by ubeezee & yareally, (on the forum thread).
Full revert based off method by Clavin, which was "tweaked" by Vashypooh.
Full credit of TWRP goes to Team Win for releasing an awesome tool!
The Dev checked with Dees_Troy prior to integrating TWRP install into the tool, and he was alright with it. If this changes, it will be changed or completely removed per their request.
rooobbbbb on XDA for the Wallpaper Lock trick.
Jolleyboy/Bandage on XDA for Android Market guide/ Android Apps.
Sync settings found by Abramel @ XDA.
Jcase for a custom installer just for me!
The old method of rooting Kindle fire included the installation of the ADB drivers, which was quite a complex process. The tool provides the drivers packed within a .bat file, which has to be run for installing the drivers, so that the tool can be recognized by your Kindle Fire device.
According to the developer, Kindle Fire Utility offers the following:
Automatic elevation to root for tool operations.
Auto detect current boot mode.
Auto Detect ADB/Fast boot Online/Offline.
Auto download update.zip from Amazon.
Auto download and install TWRP Recovery.
Manage current boot modes.
Manage Read/Write.
Install Google Apps/Market/Go Launcher EX.
Lock/Unlock the Wallpaper from being changed.
Disclaimer: Follow this guide at your own risk. TechWalls and it's team members will not be responsible if your device gets damaged or bricked during the below mentioned process.
Instructions
The instructions for this process are simple. After the device is connected, you can initiate the various features by pressing the respective number (e.g. 1, 2, 3, 4 and so on), as visible in the tool's window. Some features will require your Kindle Fire device to be rooted to work, such as recovery installation, market installation, etc. Therefore, make sure that you select the features in the right order, e.g. rooting Kindle before installing the Android Market. See below screenshots for a demonstration.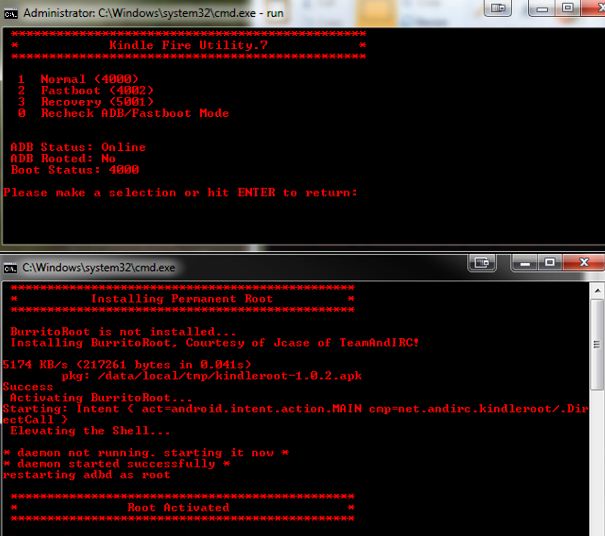 If you require more details about this process, need information about new updates or have any queries, then head over to the XDA Developer's forum.
XDA Developer's Forum
Download Kindle Fire Utility v6 [Direct Download Link]
[image courtesy : XDA Developers Forum]
Disclosure: As an Amazon Associate, I earn from qualifying purchases. The commission help keep the rest of my content free, so thank you!