As we all know that the Kindle Fire tablet has finally been rooted. In the wake of this development, we provided you with a guide about rooting Kindle Fire. Now that your Kindle device has been rooted, it's time to take things to the next level by installing Google Apps and the Android Market on your Kindle tablet. Recently, Google Apps and Android Market got ported to Kindle Fire. The credit for this feat goes to Jolleyboy at XDA-Developers forum, for sharing this method with us. In this post we will provide you with a complete walkthrough of the process involved in installing Android Market and Google Apps on Kindle Fire.
Below is a break down of the apps package that Jolleyboy has provided, carries:
Google Services Framework
Dolphin Browser
Android Market
Go Launcher
Google+
Reader
Gmail
Street View
YouTube
GTalk
Netflix
Pandora
Books
Voice
Maps
Disclaimer: Follow this guide at your own risk. Techwalls will not be responsible if your device gets damaged or bricked during the below-mentioned process.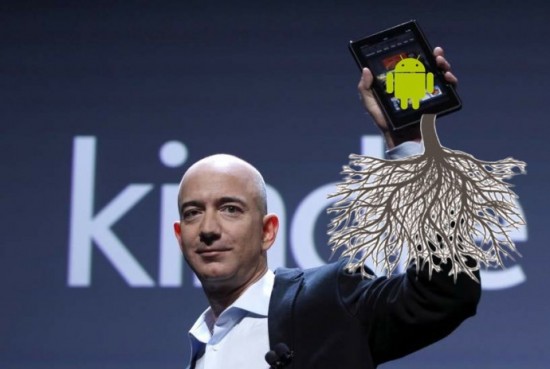 Requirements
A rooted Kindle Fire. See instructions here.
ES File Explorer installed (from the Amazon App store).
Google Apps plus a few more Android Apps
Android Market app (This is the alternate APK, incase the one present with in the package does not work)
Market Icon for the Kindle UI courtesy "Munday".
Instructions
Install Google Apps
Step 1: Download and extract Google Apps from the link given above, followed by the Market Icon.
Step 2: Connect Kindle Fire to your PC in mass storage mode and copy the apps to a recognizable folder on the root of the SD card.
Step 3: Once the apps are copied, remove the device "as a storage device" and run "ES File Explorer".
Step 4: In the next step, browse to the folder with the apps and select GoogleServicesFramework.apk to install it.
Step 5: Restart the device after installation.
Step 7: Repeat Step 3 for all the apps you want to install on your Kindle Fire device, except for Vending.apk.
Install Android Market
Step 1: To install the Android Market app you will have to push the Vending.apk to the /System/app folder on your device.
Step 2: In ES File Explorer, enable root access so that you can navigate to /system/app.
Step 3: Once there, change the permission for that folder from Read Only (R/O) to Read Write (R/W).
Step 4: Browse to Vending.apk and copy the app to /System/app.
Step 5: After it is copied, change the permissions of the file to RW-R-R, which should be the same for all other apps in within that specific folder.
Step 6: Reboot your device.
Step 7: Finally, install the MarketOpener.apk as well via ES File Explorer. This application will allow you to see the Android Market icon with in the Kindle user interface, (which was not possible earlier and alternative Launchers were required).
Step 8: Try to launch the Market and incase it force closes after the reboot, navigate to Settings –> Applications -> Third Party, to find Market in the list. Select it, clear the data and try again.
For more information, updates and queries, visit XDA-Developers forum thread.
Disclosure: As an Amazon Associate, I earn from qualifying purchases. The commission help keep the rest of my content free, so thank you!