If you are running a blog or website, you must have wondered how big is the Internet and how many websites that we need to compete. When I create a new website, I often see it soon reaches the Alexa rank of over 27 millions and I thought that there are just above 30 million sites. However, according the a recent web server survey from Netcraft, the total number of active websites are much higher than we can imagine.
Netcraft didn't use the IP addresses to determine the number of websites because the method is outdated, many websites are hosted on shared hosting providers and they could have same IP addresses. Instead, they check all hostnames of an IP address, the front pages of these hostnames are compared to each other. If the content is unique and different from others, the site will be counted. Therefore, this can be the most reliable method to check the number of websites.
Here are the results from the Netcraft's survey:
Total Websites Across All Domains from 1995 to 2011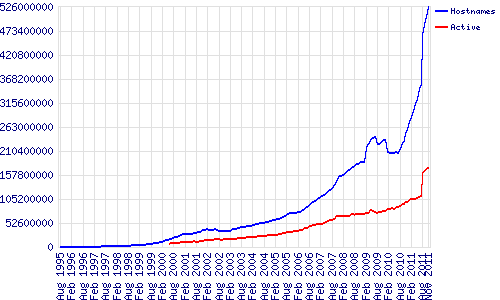 As we can see in the illustration, the number of hostnames is increasing dramatically, it has been doubled in just 1 year. In the meanwhile, the number of active websites also witnesses the steepest growth ever, it now stands at 172 millions.
Apart from Netcraft, Domain Tools also has its own system to track the number of domains are currently registered and deleted each day. Here are the stats:

According to Domain Tools, the total number of registered domain is now over 134 millions. It is different and lower than what we saw above. It is understandable because NetCraft counts all websites hosted on sub-domains such as WordPress.com, BlogSpot, etc.
I'm really overwhelmed by the number and prouder to see my blog still has good ranking among millions of websites. What's your opinion about those stats?
Disclosure: We might earn commission from qualifying purchases. The commission help keep the rest of my content free, so thank you!