The Nokia Lumia 610 is placed separately at the low-price end of the Smartphone markets, having just 256MB RAM memory and a single-core processor of 800 MHz, alongside the new version of Windows Tango OS having a pocket friendly price tag in UK. Although Nokia Lumia 610 can broadly compete with every other low specs mobile phone, it gives a tough competition to a number of Windows Tango Phones, such as ZTE Orbit.
Nokia Lumia 610 Body
Its sports a plastic body with a 3.7 dinky TFT screens. Nokia Lumia 610 is clearly aimed to impress by virtue of its physical impressions, and is likely to stand out in the crowd. All the sides of this phone are beamed with a metallic shine; however this should not be mistaken for real metal. Once you hold the phone, the metal illusion is lost and plastic will be felt through and through. It isn't flimsy, due to its sturdy back cover and somewhat hard solid feel. It weighs only 131/5 gm, which is good with respect to its dimensions. It is available in the bold and beautiful colors of cyan and magenta. If you feel more conventional, then it also comes in white or black. Overall it can be safely said that Nokia Lumia 610 is a reasonably well built and durable Smartphone.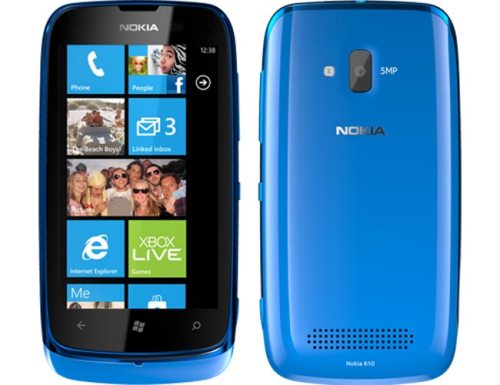 Nokia Lumia 610 Features
The Nokia Lumia 610 carries a reasonably intuitive user interface. If in the past you have used a phone based on Windows OS, you can expect this to be more or less the same. However, even if you are totally new to the operating system then navigating your way is quite an easy process.
The TFT screen present in Lumia 610 provides an overall good quality of images and is fine though only indoors as direct sunlight can be a bad option for the performance of the screen.
A new feature of flip to silence is also introduced to the Lumia 610 as you can just flip the phone when a call arrives, and it will automatically turn to silent mode. HTC users are quite familiar with this feature and now this has also been added to Nokia.
Open up the phone and what you will find the slot for micro-SIM card, a replaceable battery. In simple words you don't get any choice for expansion of the available storage capacity of 8GB as you can t find any micro SD slot. This can be a great choice for the people who assume that too much app or data storage is the primary reason for slowing down their phone. This turns out to be a quality feature for people with less app needs.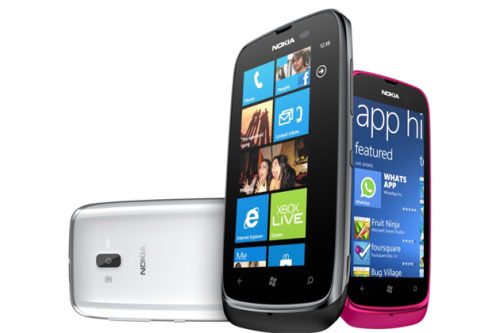 Nokia Lumia 610 Performance
The Nokia Lumia 610 holds a memory of 256MB for running apps and a Qualcomm processor of 800Mhz, which should be sufficient to run most of the apps.
In terms of photo quality we weren't expecting too much from Lumia 610's camera, although it surprised us in a pleasant way. The snaps aren't much comparable to other Lumia phones in the range, nor the pictures can be said amazingly outstanding, but these are a good deal for this price-range and the results aren't going to upset you.
Video is of a VGA resolution and is ok for a phone of this price range, don't expect too much from the display on this front.
Nokia Lumia 610 Battery
Testing of batteries has always remained a hard task. Around the connection from Wi-Fi i.e., at maximum possible usage you can expect it to last throughout the day and at maximum carry itself over to the next one. The battery performance of Lumia 610 has always varied based on how you use your phone. Nokia Smartphones based on Microsoft's Windows Tango OS come with a handy battery saving mode, so you still have some juice left for making some important calls and texts.
Price And Availibility
The price of Nokia Lumia 610 is around $339 and this is one of the World's Cheapest Windows phone. You can order it via Amazon right now.
My Verdict
Overall, a very friendly user experience is offered through Nokia 610 for first-time Smartphone user. However, Nokia's main challenge will be that of convincing users that the plethora offered through the apps in iPhones, or user friendly cuddle of BBM is not the thing they desire. If you are searching for your first Smartphone with a price range unlikely to burn a hole in your pocket then go for this phone, because you won't be disappointed with it.
Disclosure: We might earn commission from qualifying purchases. The commission help keep the rest of my content free, so thank you!