The NiKOTA Meta 2000 Portable Power Station has stepped into the market with an ambitious promise: to deliver top-notch, reliable power supply in a mobile, environmentally-friendly package. After putting it to the test in a variety of scenarios, I am now ready to share my insights and verdict on whether it lives up to the hype.
Specifications
General
Net Weight
33.07lbs (15kg) Non-Internet
35.27lb (16kg) 4G/5G version
Dimensions
14.7 x 9.8 X 10.6 inches (37.5 X 25 X 27cm)
Capacity
2,016Wh
Output Ports
AC (x3) Pure Sine Wave
2,300W total (surge 4,000W)
AC 110/220V(50Hz/60Hz)
USB-2.0 (x2)
5V/2.4A, 12W Max per port
QC 3.0 Fast Charge (x2)
5V/3A, 9V/2A,12V/1.5A, 18W Max, per port
USB-C (x2)
5/9/12/15/20V 3.25A, 65W(Max)
Car Charger(x1)
120W,12V 10A (Max)
DC5525 Output (x1)
12V, 10A
Wireless Charging Output (x2)
15W per port
Input Ports
AC Input Voltage
AC 100-120V / 200-240V (50Hz/60Hz)
AC Charger
1.5 hours for a full charge
Solar Charging Input
600W, 11-42V, 18A Max
Car Charger
12V/24V, 10A Max
Design and Aesthetics
The NiKOTA Meta 2000 5G Portable Power Station stands out in the market with its sleek and sturdy design. The company boasts the product weighs 27% less than its competition; It manages to pack a substantial 2,016Wh capacity and a 2,300W maximum output in a comparatively lightweight package. Specifically, the NIKOTA weighs just over 35 lbs and this is a really impressive number when comparing to similar products like BLUETTI AC200P or DaranEner NEO2000 which weigh 60 lbs and 56 lbs respectively.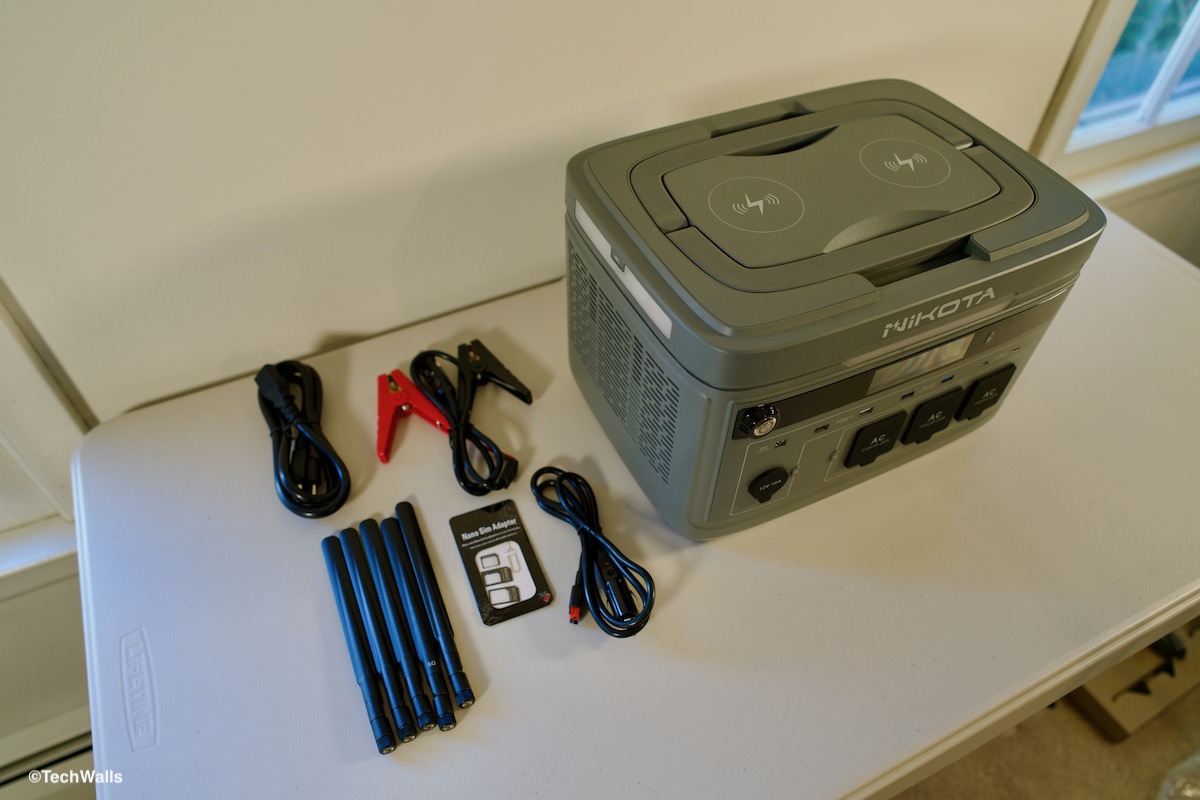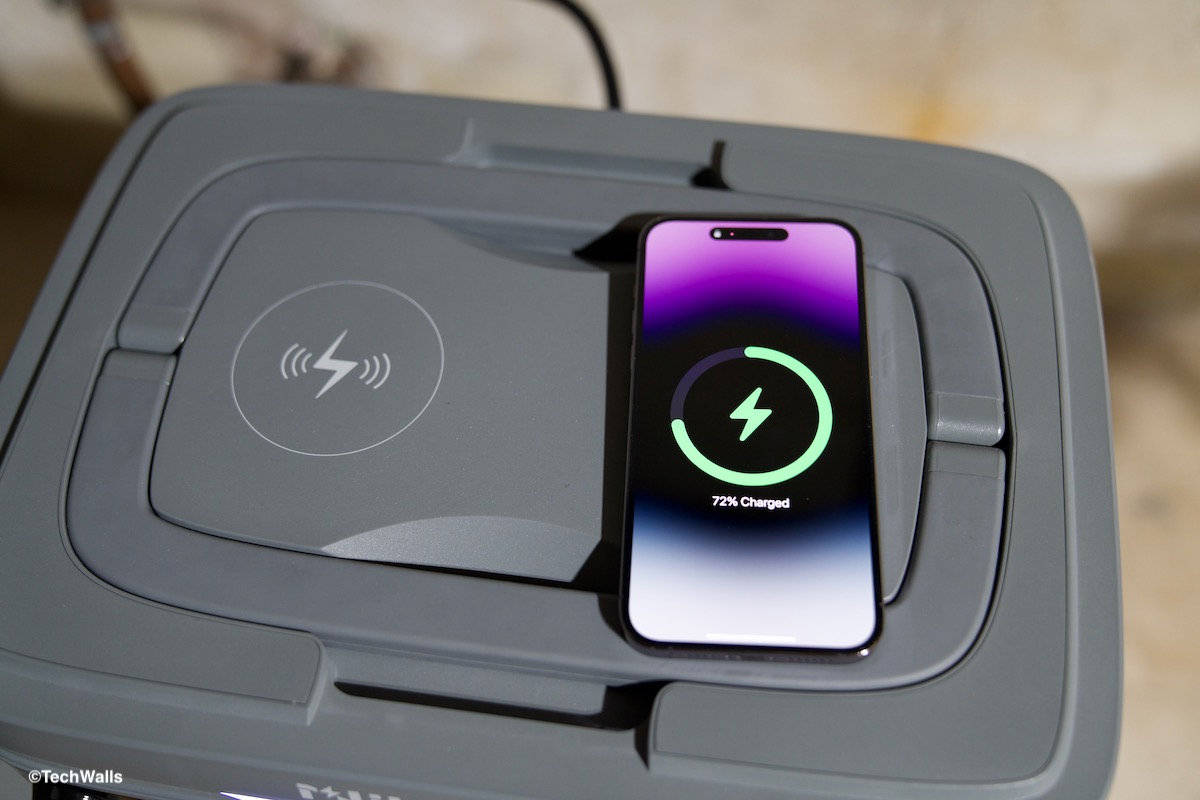 I really like its compact design with a built-in handle and a flat top surface for wireless chargers. The META-2000 takes a versatile approach to lighting as it provides an array of light sources designed for various situations. The power station comes equipped with an LED light for SOS situations, providing a crucial lifeline in emergency scenarios. Moreover, the integrated mosquito repellent lamp serves as a unique feature to enhance your outdoor experience, minimizing pesky insect interruptions during your adventures.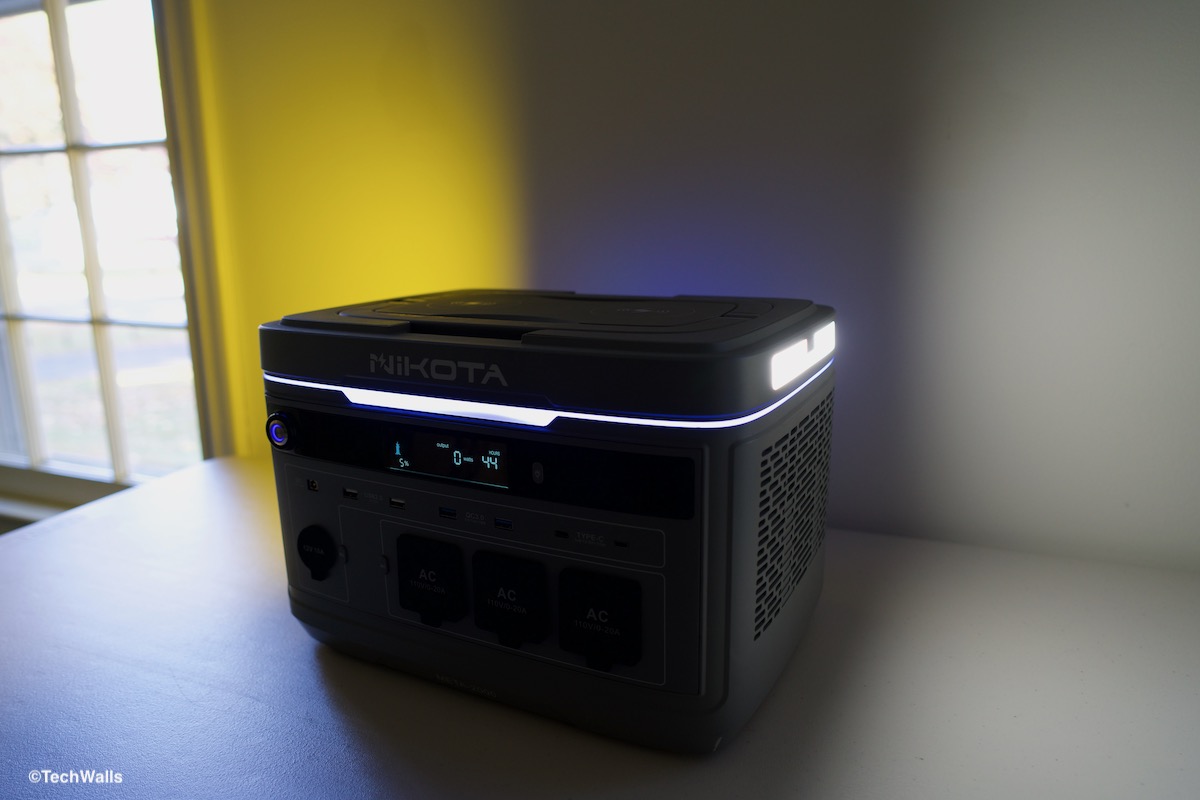 Further adding to the product's versatility, META-2000 includes mood lighting. This feature might seem extravagant for a power station, but it can undoubtedly add a charming touch to your outdoor camping nights or even indoor power outages. In case of an emergency or blackout, the META-2000 can serve as a light source for up to 20 hours, even when the battery level is at 0%. This feature makes the META-2000 not just a power station, but also a reliable source of illumination when needed most.
Power and Performance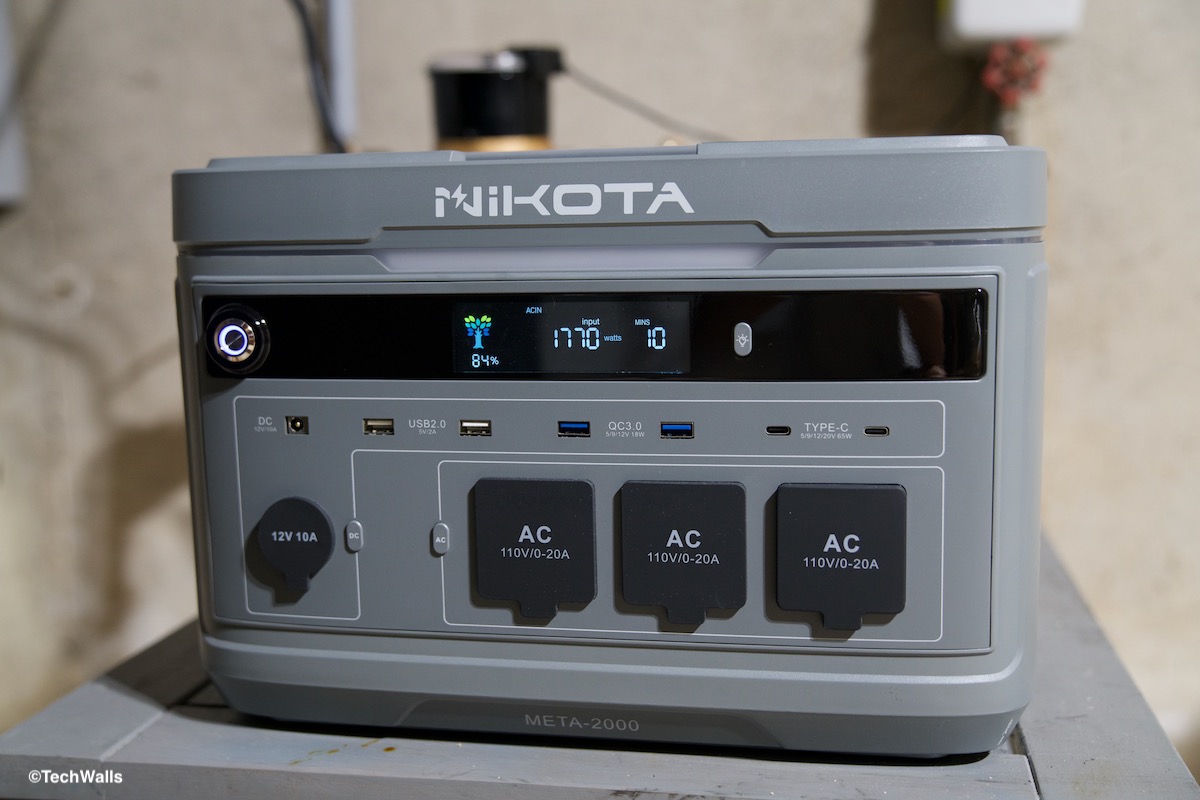 The Meta 2000 5G provides power aplenty, with 13 output ports that can handle an array of devices, from smartphones and laptops to air conditioning units. However, the product seems to overstate its surge capabilities. Despite a stated rated power of 1,500W with 2,500W surge, my miter saw's 1,600W surge was too much for it, a disappointing discovery for such a robust-looking device.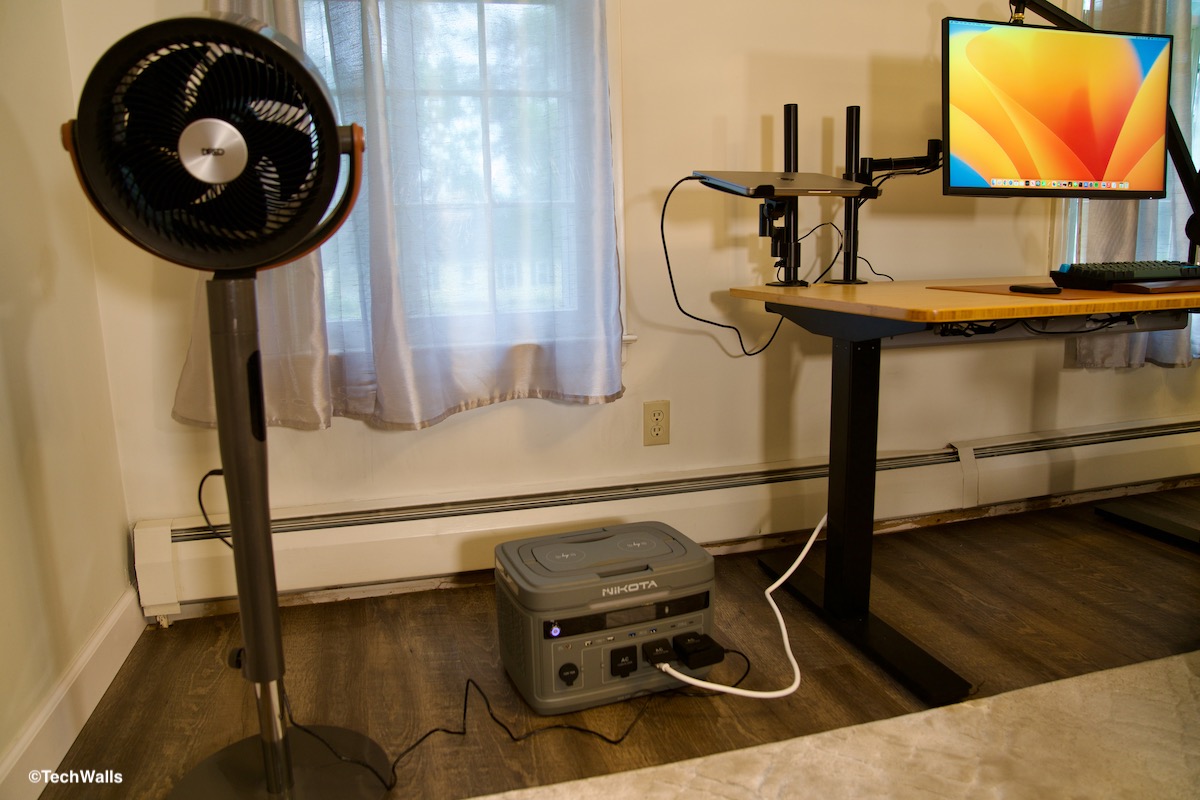 In terms of recharging speed, you can use the included AC power cable or solar panels. Since the NIKOTA uses the Anderson interface, you might need to purchase an MC4 to Anderson adapter to connect it to your solar panels. If you just charge with an AC outlet, you will be surprised with the ultra-fast charging speed; It can draw in up to 1,800W and fully charge the battery in 1.5 hours.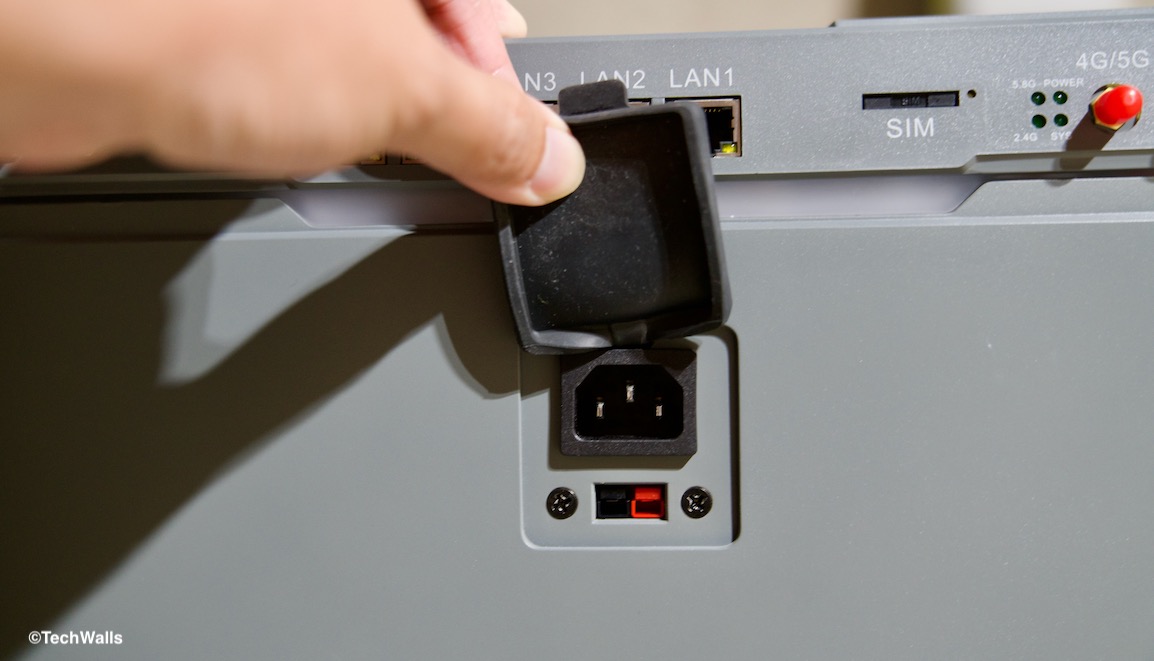 5G Integration: A Necessary Addition?
The defining feature of the Meta 2000 5G is its integrated 5G connectivity, a first in the industry. The idea of combining a portable power station with 5G connectivity seems innovative on the surface, but in practical terms, it doesn't add significant value.
Despite the touted benefits, I found this feature to be rather gimmicky. In a power outage, using the Personal Hotspot feature on my iPhone proved to be faster and easier than connecting via the power station's 5G connectivity. Therefore, I would advise potential buyers not to be swayed solely by this feature.
Conclusion
Pros
Lightweight and compact
Fast Charging
Cons
Overstated Surge Capabilities
Gimmicky 5G Connectivity
Uncertainty regarding when the product will be delivered
The NiKOTA Meta 2000 5G Portable Power Station is indeed a breakthrough in the market, but it's not without its flaws. Its impressive power capabilities, fast recharge time, and lightweight design make it an intriguing choice. However, the gimmicky 5G feature and the overstated surge capabilities mar the overall experience. Regardless, if the Kickstarter campaign progresses smoothly and users can buy it for around $700, it's totally worth it.
Disclosure: We might earn commission from qualifying purchases. The commission help keep the rest of my content free, so thank you!