Power stations have become so popular in the last few years, not only because of the increasingly common blackouts but also because people want to spend time on off-grid getaways. DaranEner NEO2000 is a portable power station but it comes with impressive capacity and power. I've used the product for nearly a month and I'm quite satisfied with its performance.
Disclosure: We received the product in exchange for the review. We thoroughly tested the product before writing this review.
About The Company
The DaranEner NEO2000 portable power station is a highly sought-after energy storage solution for a variety of reasons. One of the main draws of this product is its competitive price, excellent value proposition, and long-lasting solution. Daran Technology Co., Ltd., which was established in 2021, controls the company and is a subsidiary of the Chinese listed company Dongguan Mentech Optical & Magntc Co Ltd.
Safety is a top priority for DaranEner, which is why the NEO2000 utilizes a LiFePO4 battery, known for its high level of safety. The company's dedication to quality control is evident in their low customer complaint rate of only 5%, which is significantly lower than the industry average. This can be attributed to the fact that DaranEner has its own factory and is committed to providing environmentally friendly products that are completely safe and practical for the environment.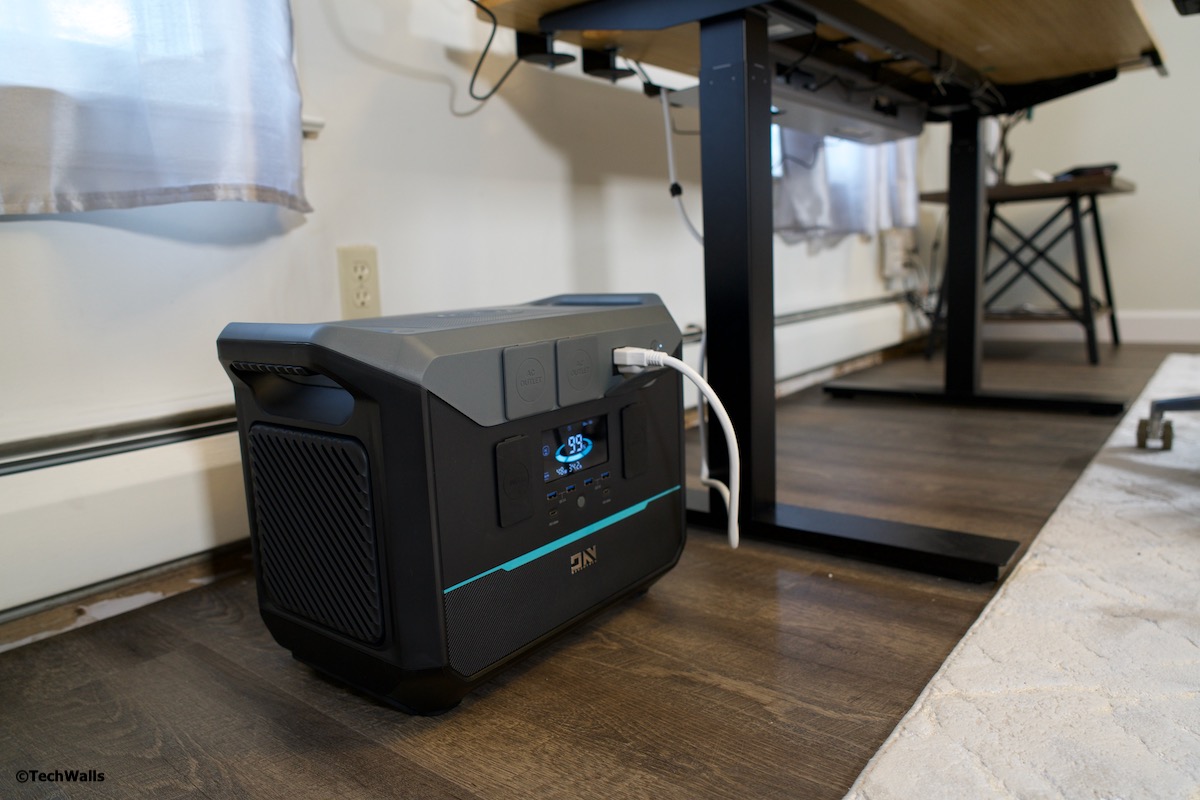 Specifications
Battery Cell Type
LiFePO4
Warranty
24 Months
Battery Capacity
2073.6Wh (648,000mAh)
Cycle Life
3,500 Cycles to 80% Capacity
USB-A x 4
5V-3.6A/5V-2.5A/12V-2A (Max. 24W), 5W-2.4A when used simultaneously
USB-C x 2
5V-3A/9V-3A/15V-3A/20V3A/20V-5A (Max. 100W)
Cigarette Lighter Output
12V-8A (Max. 120W)
AC Port Output
110V 50Hz/60Hz 2,000W (Max 3,000W)
Input
AC Input 110V/15A (Max. 1,600A)
Solar Charging XT6033-60V/20A (Max. 600W)
LED Light
3W
Wireless Charging
5W/7.5W/10W
Weight
56.416 lbs
Dimensions
18.7×13.6×10.2 in
Operating Temperature
-10 ~ 45°C
Box Contents & Connectivity
Inside the box, there are the power station, an MC4 to XT60 solar charging cable, an AC charging cable, and a USB-C cable. It is ready to use out of the box and doesn't require any setup. The NEO2000 features fast charging capabilities, with a full charge from a power outlet taking just 1.8 hours. It has 14 output ports, making it easy to charge multiple devices at the same time. There is an emergency light on the back, a wireless charging pad on top, two USB-C ports with maximum 100W power delivery. The station is fairly heavy at 56.4 lbs but it has 2 built-in handles on the sides which makes it easy to carry.
There are two buttons on the front; you can long press on the top right button to activate the 3 AC power outlets or long press the bottom button to turn on ports in this area like the car socket, 4 DC power sockets, 4 USB-A Ports, and 2 USB-C ports with 100W fast charge. The LCD display on the front is very useful as it shows all essential information like remaining battery percentage, remaining usage time, input, output, current, and errors.
You can charge the power station using AC input or solar charging with the MC4 connector. In the Northeast, the amount of sunshine during the winter months is very low, so it is impractical to use the solar panels to recharge this power station. I will probably use solar charging more after Spring. If you use 600W solar panels under direct sunlight, you can fully charge the station in 4-5 hours.
Real-Life Performance
The 2,073.6Wh capacity and 2,000W AC output can conveniently power a wide range of devices, from off-grid essentials like microwaves and refrigerators to professional tools like power drills and high-output lights. For home backup, it can provide 170 hours of light (12W), 181 times of charging for iPhone 13 (3,227mAh), 31 hours for an electric blanket (60W), 6 hours for a refrigerator (300W), and 1.6 hours for a microwave (1200W). For power outdoors, it can run an electric grill (1,150W) for 1.7 hours, a projector (60W) for 31 hours, electric drill (1200W) for 3.2 hours, electric hammer (1,500W) for 1.3 hours, and electric chainsaw (1,440W) for 1.4 hours.
The NEO2000 also functions as an uninterruptible power supply (UPS) with a switching time of less than 15 milliseconds, ensuring continuous power supply during power outages. I've tested the NEO2000 in different scenarios and was totally impressed with its insane power. I used it in my home office most of the time to power up my workstation including a 27-inch monitor, a MacBook Pro, and a motorized standing desk; This is an easy job for the NEO2000 and a full charge could keep the whole setup powered for 50-60 hours. So even when there is a power outage, I will be able to keep working for nearly 2 weeks.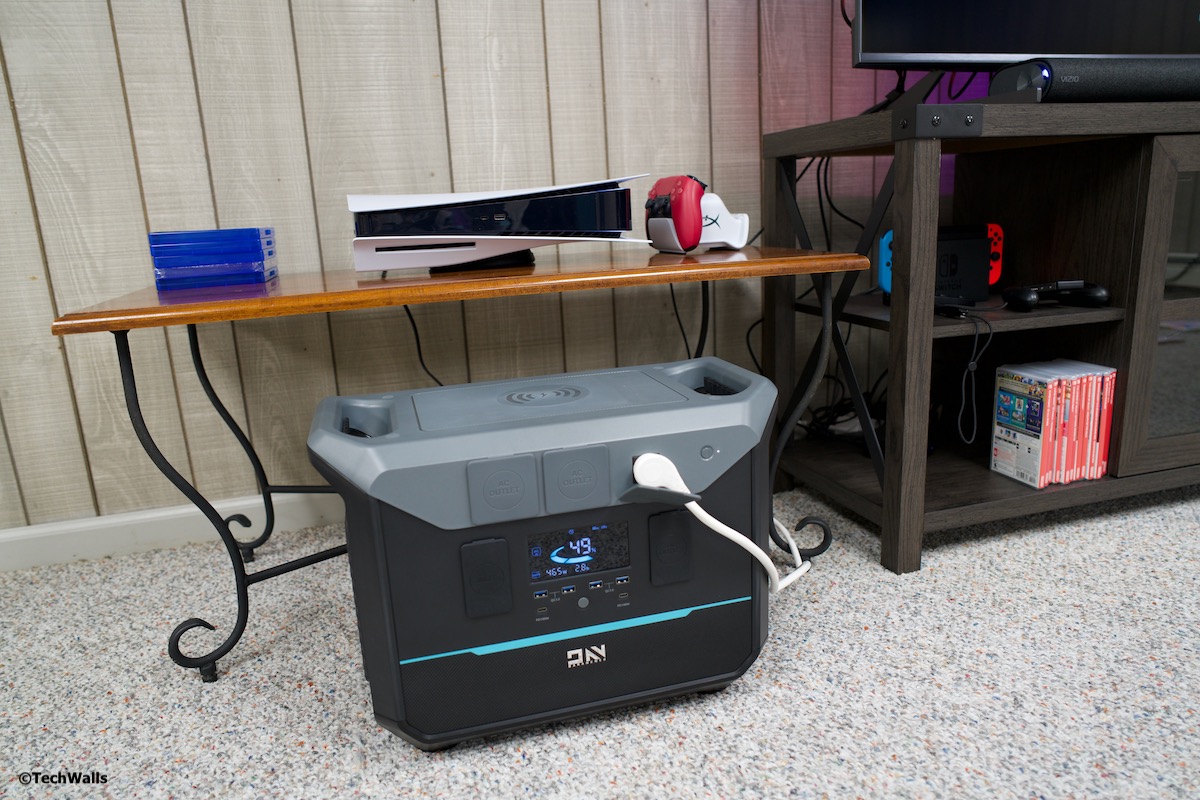 Besides, I tried it on my home entertainment system including a 65-inch TV, a soundbar, a PlayStation 5, and an LED lightstrip. The system runs at approximately 460W and can last nearly 6 hours. It can also power my Dewalt miter saw with maximum power output of 1,600 watts; Although it doesn't provide an immediate surging power, the saw manages to accelerate and reach the running power of over 1,000 watts quickly and does the job as usual.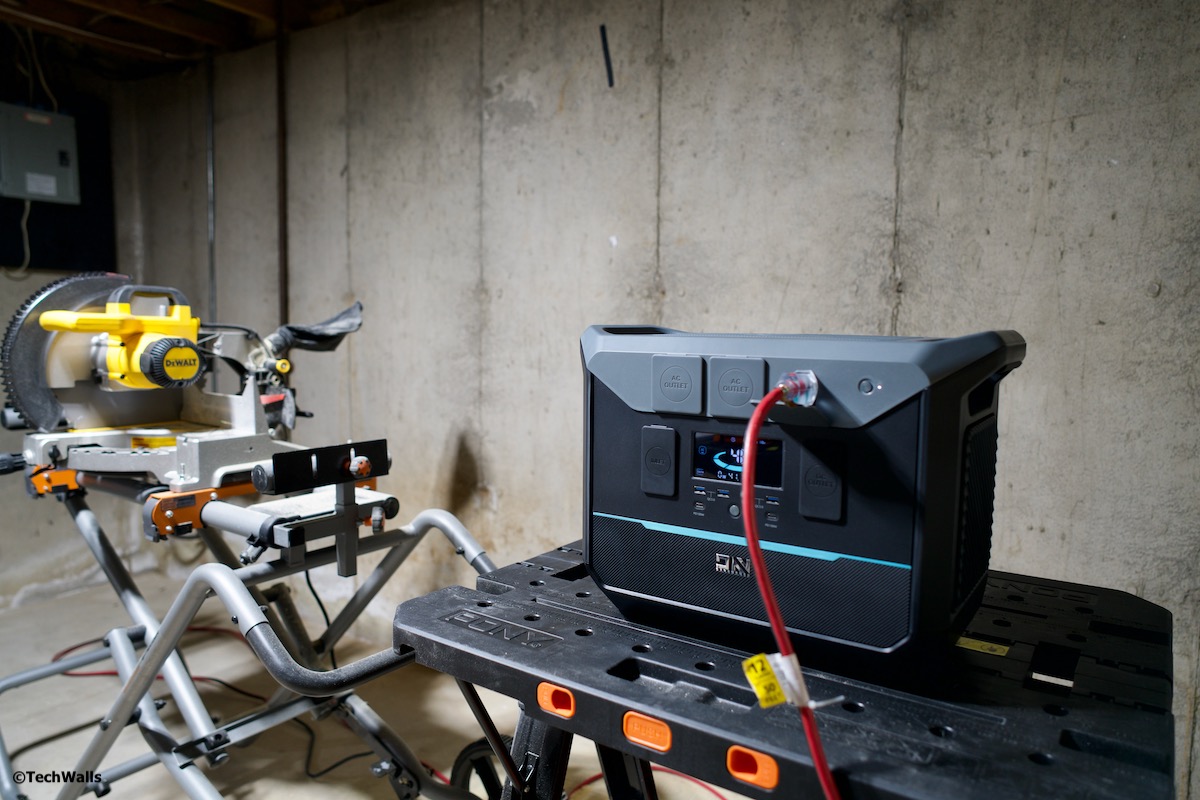 The EV-grade LiFePO4 battery provides good thermal and chemical stability, can work at high temperatures, and will not spontaneously ignite below 800 degrees. Even when they catch fire, lithium iron phosphate batteries just smoke, not any flames. Furthermore, DaranEner's LiFePO4 batteries are more durable, retaining 80% capacity after 3,500 cycles and 50% capacity after 6,500 cycles, which is 7 times longer than the battery life of NCM pure sine wave inverters from 100V-110V.
Conclusion
Pros
Reasonable price, especially with current discounts
High power output and battery capacity
Portable design
600W of solar charging
Fast AC charging
Cons
The DaranEner NEO2000 portable power station is a great option for anyone in need of a reliable and efficient source of backup power. With its high energy density, portability, versatility, durability, and user-friendly interface, it offers a wide range of features and benefits at a competitive price. At this time, DaranEner is offering a discounted price of $1,259 for a 2,073.6 Wh battery capacity, making it an excellent value at just $0.6 per Wh. You can buy it on Amazon or its official website.
Disclosure: We might earn commission from qualifying purchases. The commission help keep the rest of my content free, so thank you!