Disney Mobile Games, in collaboration with the Imangi Studios launched another version of the famous Temple Run game, called Temple Run: Oz. The game is basically built using the engine used in Temple Run 2 that also released few months back.
Costing just under $1, the game packs a whole different experience of entertainment for the user by offering different variety throughout the game.
Temple Run: Oz Gamepay
The game takes the player on a so called magical journey on a yellow bricked road with a bunch of different new features that user will enjoy while playing Temple Run: Oz.
"We had a really great experience working with Disney and their team on Temple Run Brave," Imangi co-founder Keith Shepard told Mashable. "So, as we started working on Temple Run 2 we had some discussions about doing it again."
Temple Run Brave was the first game that was made in collaboration of the two parties and was based on the original Temple Run game, the first one. But the latest Temple Run: Oz is built over the Temple Run 2.
What is Oz?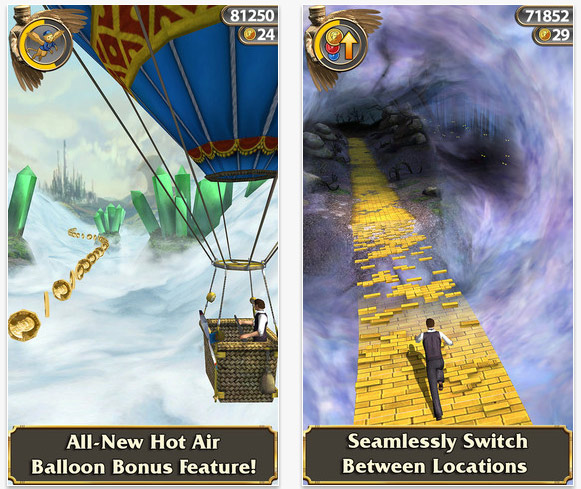 During the game, the player plays the role of a great and powerful Oz that is a runner in the game that moves to run and try not to die but doing it on the yellow brick road this time instead of different obstacles.
The most attracting part of the game is the graphics that are amazing and far more superior as compared to previous Temple Run games. Temple Run: Oz features rich color environment that are also pleasant for the eyes.
New things added in Temple Run: Oz
Temple Run: Oz contains things that are new and are very much mesmerizing to the user. Everything looks so perfect in it. Follow are some of the cool features that were added to the game.
Hot Air Balloons
The player will face several hot air balloons that are scattered all over the place. The player can sit in the balloon and from the yellow bricked road, goes to the sky for a sky ride.
Enchanted Walkway
The enchanted walkway is a totally different thing. In previous Temple Run games, you see the obstacles as you progress, but in Temple Run: Oz, many of these appear as you approach them.
Different Worlds
Temple Run: Oz has several different worlds a user can play in. There are street sign across the road that points you to various directions. Then there are tornados when you switch from one world to another and during this, the yellow road collapses.
Temple Run: Oz is available for both the iOS and Android devices. The links to download them are given below
Apple iTunes Store
Android
Disclosure: We might earn commission from qualifying purchases. The commission help keep the rest of my content free, so thank you!