Multiple rumors were circling around in the digital world about the development of the new iPad 5. Recent pictures have emerged on the scene when a site, who are the actually the accessories maker based in China, published them earlier today.
The photos show the rear of the new iPad 5, possibly with 9.7 inch display and similar look and feel to the recently released iPad mini. The back panel is an iridescent black with a shinning apple logo at its center. The back cover thickness seems to be the same as the iPad mini. The design in the pictures suggest a black and slate or white and silver combination.There were no specs leaked alongside the photos, however we might see significant improvement in the hardware section for the new iPad 5.
The images do not officially confirm the new iPad 5, but it does provide an overview of what Apple's new iPad 5 will look like. Rumored to be released in March, recent reports about the new iPad 5 indicate that the launch date has been delayed till October of this year. The delay in the release date makes total sense. The new iPad mini has just kicked in the market and the iPad 3 is still doing pretty good and both the devices are withstanding tough competition from the Kindle Fire HD, Google Nexus 7 and Samsung Galaxy Tab.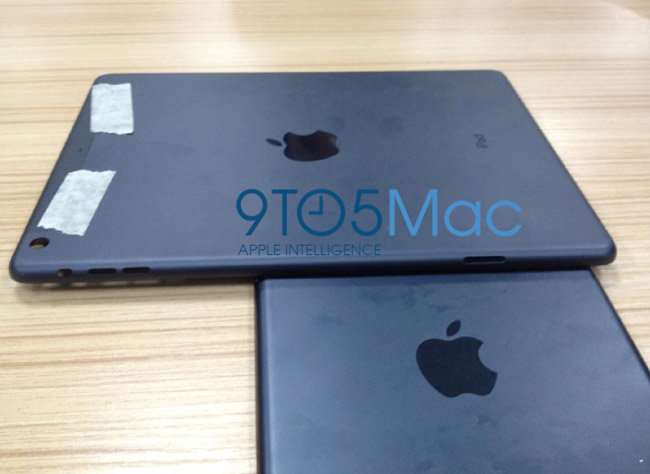 The authenticity of the images could not be falsified because they were released from the same source who leaked the first images of the new iPhone 5, 5 months before its launch. The timing of these new photos of the new iPad 5 is also to be noticed. If, let's say, the actual release date is the October, then it makes a total sense that these pictures might represent the new iPad 5.
There is still nothing officially from the Apple or any of its employees, but we firmly believe that the new iPad 5 is going to hit the stores in October, as expected. Other Apple products that are also rumored to be released in 2013 include the iPhone 5S, a budget version of the iPhone and a new iPad mini with Retina Display.
With all the rumors going around and the pictures released today, it is clear that the current CEO of Apple, Tim Cook, is handling things at Apple more differently than the former (late) CEO Steve Jobs.
Disclosure: As an Amazon Associate, I earn from qualifying purchases. The commission help keep the rest of my content free, so thank you!