The Morento HY4866 Air Purifier is a powerful air cleaning system that aims to improve indoor air quality by eliminating common air pollutants, including allergens, mold spores, dust, and bacteria. This air purifier is designed to be effective in large spaces, making it an ideal choice for offices and homes. In this review, we'll explore the features and benefits of the Air Purifier and help you decide if it's the right choice for your air cleaning needs.
Disclosure: We received the product in exchange for the review. We spent time testing it to make sure the review is honest and unbiased.
Unboxing Video
Features and Benefits
The MORENTO HY4866 air purifier is a powerful and efficient device designed for large rooms. It features a double air intake design that greatly improves its purification speed compared to air purifiers with a single air intake. With a CADR of up to 300(m³/h), it can refresh the air for a room as large as 1,076 sq ft. This means that you can turn on the high-efficiency air purifier and enjoy a new and comfortable air environment all the time.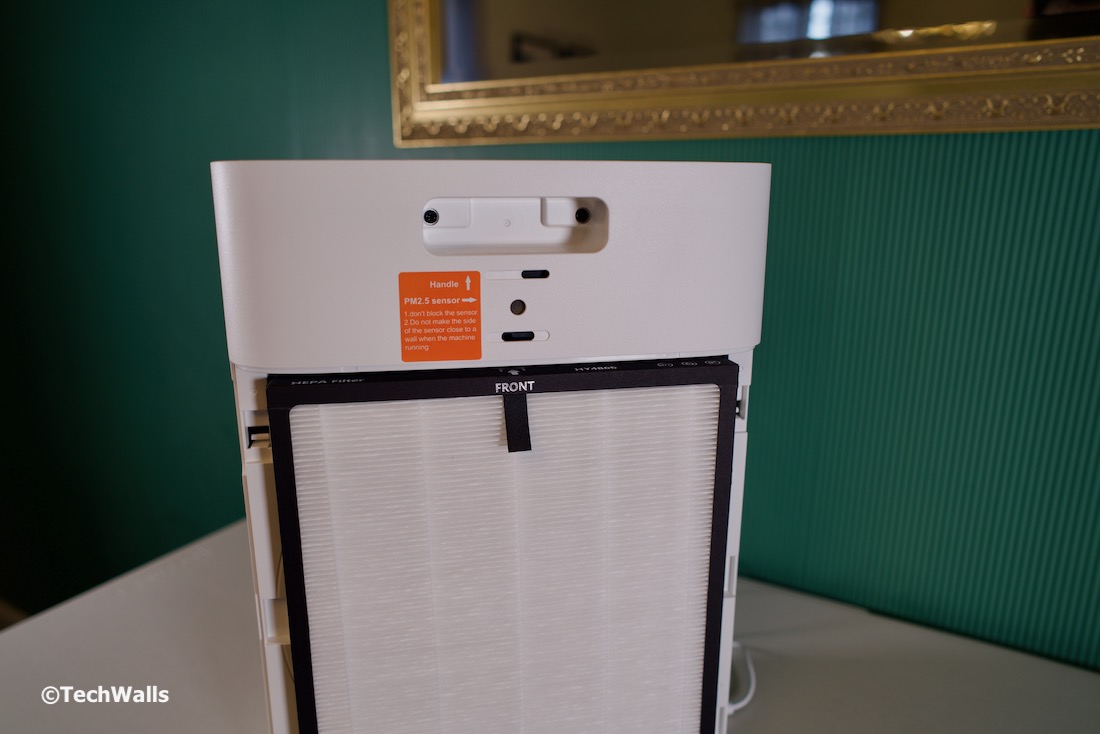 Equipped with H13 True HEPA filters and activated carbon filters on the front and back in addition to the high-efficiency double side air inlet purification system, the MORENTO can effectively remove 99.97% of air particles as small as 0.3 microns in the air. These particles include dust, smoke, pollen, hair, and odors. The company recommends replacing the filter every 6 months.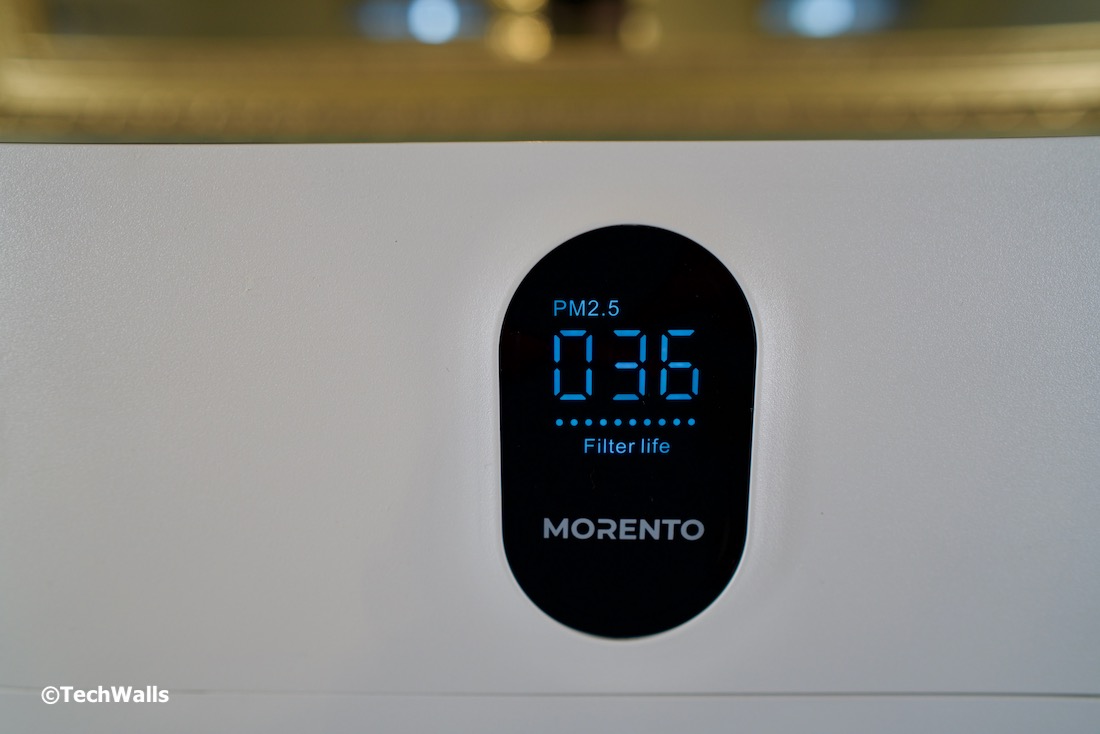 The MORNETO HY4866 for home large room is equipped with an infrared PM2.5 sensor that monitors the air quality in real time. You can see the PM2.5 number and filter life on the front display. The product doesn't include a remote control, so you will need to adjust all the settings with touch buttons on top.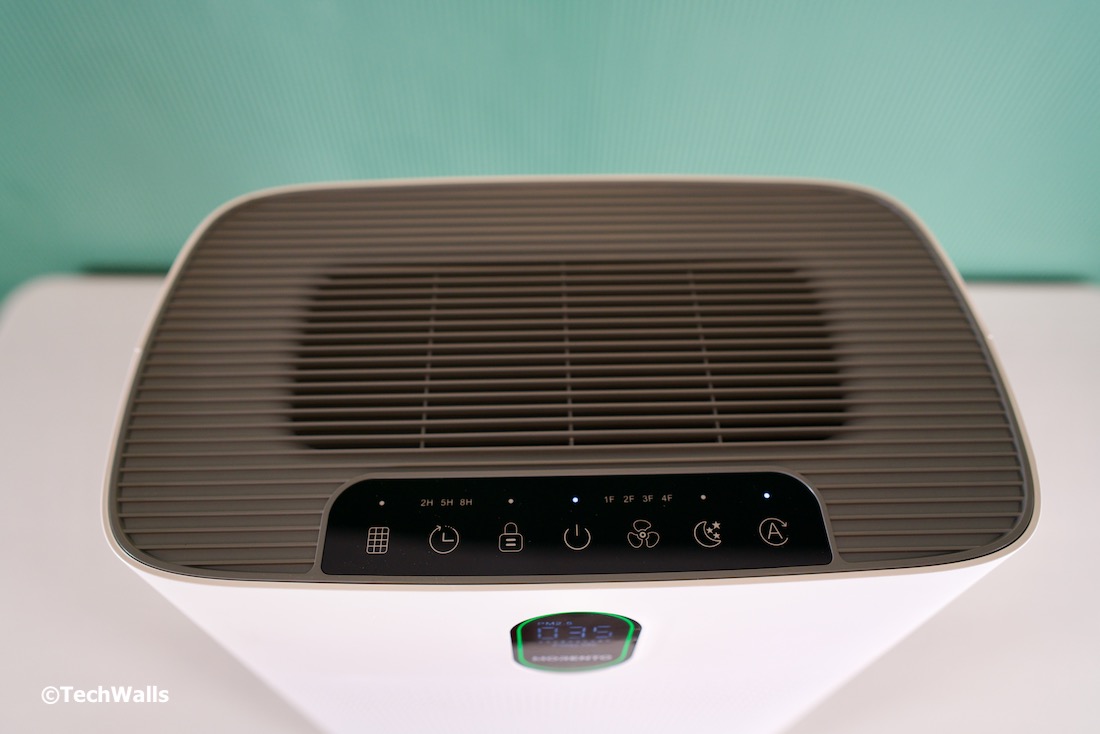 The air purifier has 4 adjustable fan speeds, which are 1F/2F/3F/4F. I prefer setting the air purifier in automatic mode because it will adjust the fan speed automatically, depending on the current air quality. You can see the fan speed kick up when the display screen turns yellow or red. Although the air quality in my room is pretty good (PM2.5 < 25 most of the time), I still turn on the air purifier all day because it can trap other harmful chemicals like volatile organic compounds (VOCs), odors, Radon, and other gaseous pollutants.
The device also features a sleep mode that runs the fan with low noise (24dB) and low speed. All indicators will turn off to ensure that the air purifier doesn't disturb your sweet sleep. You and your family can enjoy the fresh and clean air in the sweetest dreams.
Conclusion
The Morento HY4866 Air Purifier is a powerful, effective, and easy-to-use air cleaning system. With its multiple filters, high CADR rating, large coverage area, and energy-efficient operation, it's an ideal choice for anyone looking to improve the quality of their indoor air. Its sleek and modern design also makes it a great addition to any room. If you're looking for an air purifier that can handle large spaces and provide comprehensive air cleaning, the Morento HY4866 is an excellent option. Whether you're dealing with allergies, asthma, or just looking to breathe cleaner air, this air purifier is sure to meet your needs.
Disclosure: We might earn commission from qualifying purchases. The commission help keep the rest of my content free, so thank you!