At CES 2011 earlier this year, we were impressed with Mirasol, the Qualcomm's color e-ink display technology that could run full motion videos in direct sunlight. We didn't hear any more news about the technology since then and we thought it was dead. However, Kyobo, the largest bookseller in Korea, has announced the first Mirasol colour e-ink display made by Qualcomm and called it Kyobo eReader.
The Kyobo eReader features a 5.7 inch XGA display with the resolution of 1,024×768 pixels, the ppi rate is 223 and a capacitive touch screen. The best advantage of the display is that we can view the screen in direct sunlight, besides, we will never have any issue with eye strain as the display uses ambient light instead of its own. This also leads to the better battery life for this device. Take a look at some of its tech specs below, we can see that it uses the 1800mAH battery which has much lower capacity compared to tablets on the market. However, the battery life of the reader is amazing. It allow reading under typical usage for weeks, it means we can read book for 30 minutes per day with Wi-Fi off and brightness decreased to 25% utilization. The e-ink display is far superior for outdoor reading and is much more energy efficient than tablets using power-hungry LCD screens.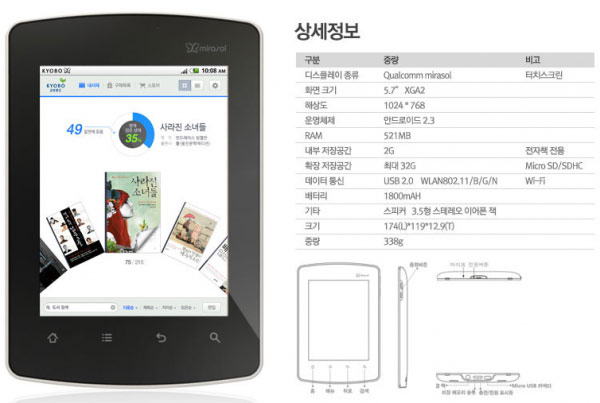 Although the Kyobo reader is built upon Android 2.3 Gingerbread, we almost can't recognize it as the OS was heavily customized for the device. If you are worried that the device can't run videos and play games smoothly because of the low refresh rate of e-ink technology, you can feel happy now as they promise you can playback videos at 30FPS. This would be awesome if you've ever used readers using e-ink technology before, such as the Amazon Kindle.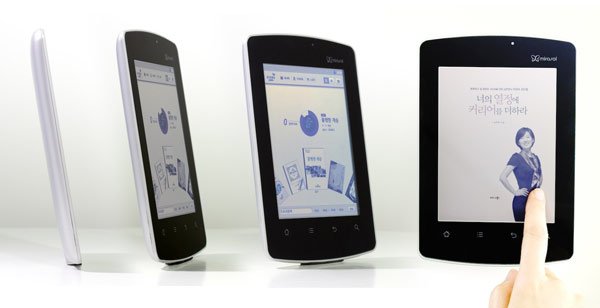 There have been a lot of monochrome e-ink and LCD e-readers on the global market, however, each of them has its own advantages. The LCD consumes more energy while monochrome e-ink has low refresh rate and can be used for reading only. The introduction of Mirasol color e-ink eReader absolutely will help diversify the market and give consumers more choices.
The Kyobo eReader is hitting shelves in Korea now for the price of 349,000 won (US $310). It will be available globally after official announcement at CES 2012 in next January. Stay tuned for more information of the appealing slate.
Disclosure: As an Amazon Associate, I earn from qualifying purchases. The commission help keep the rest of my content free, so thank you!