When it comes to software giants like Microsoft, Google, Apple – even a small thing can make it to a big news. As it is heard from some source, Microsoft is planning to make some significant changes in the next Windows 8 version codenamed 'Threshold'. One of the major changes is the addition of Start Menu and will be available as an option in the next update of Windows.
With the advent of Windows 8, Microsoft eradicated the Start button which was present in the franchisee's older Windows versions like Windows 7. After heavy criticism from the experts and the users, Microsoft was compelled to add the Start button in the Windows 8.1 UI. Now as it is heard, there is again a reversal with Microsoft adding Start Menu to its 'updates' list while preparing itself for the so called Windows Threshold. Be it an option or a must addition, we all can expect something out-of the-box from 'Threshold'.
Start Menu vs. Start button – a deep insight
As i was surfing through many technology blog's in the past couple of days, what hit me was Microsoft's swinging approach to the growing needs and demands of the market. What Microsoft is planning is to include the changes made in 'Threshold' as an option on the desktop version. The current edition of Windows can run Windows 8 apps alongside the desktop but the upcoming versions are said to disperse this form hugely by allowing all the Metro apps to float as separate windows on the desktop. I have seen that there are several third party apps like Nexus, ModemMix, Stardock's ModernMix that already potray this feature. But i guess that Microsoft will add some more original spices to provide more flexibility for its newly styled apps.
Three separate versions for Windows
When i was discussing with one of my tech-blogger friend about this new Threshold and its utilities, he gave a concept which came to me, not as a shocker but more like a pleasant surprise. As i heard it, Microsoft is going for a very simplified version of Windows which will constantly update the Windows 8 styled apps and will be available for all Windows ARM based tablets, PC's and phones.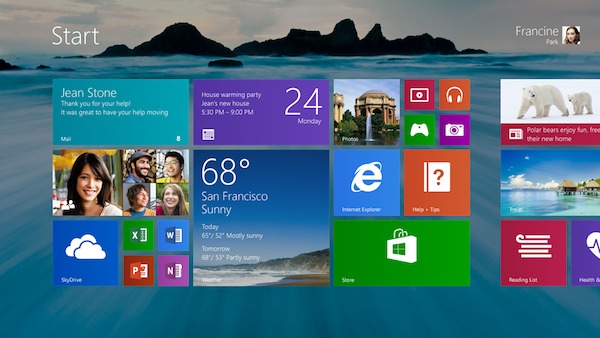 On the other hand, there will be traditional consumer version which will be designed keeping the present scenario of the PC market and will fully hold the desktop Windows apps. It will be a step higher than the 'general' layman Windows version. If you are a hardcore gamer, go for this version blindly!
The last but not the least – the 'marketing' version of Windows named as the enterprise version which will feature all the policy management and the enterprise technicalities you would expect. Obviously, it wont be updated as frequently as the consumer SKU's because according to me there is no need of that! After reading all these news, it has been confirmed that Microsoft is investigating separate consumer and enterprise versions of Windows. Microsoft will release 'Threshold' by spring 2015, if not later.
My view on Threshold
The best thing that i liked about Microsoft way of working out stuffs is that they never look back. Even after introducing their best and most versatile OS after XP, they always seem to be a step ahead of themselves. Even after bringing back the 'Start' button in Windows 8.1, they are looking to modify Windows further with an addition of Start Menu considering the problems faced by their customers. Several points are there which needs verification but still if we take the bigger picture – Microsoft is playing the right shots to stay on the line, if not crossing it! This is a very good sign for a company like Microsoft.
Disclosure: We might earn commission from qualifying purchases. The commission help keep the rest of my content free, so thank you!